BobT Saturday Jun 14 10:35 AM

June 15, 2008: Bears in June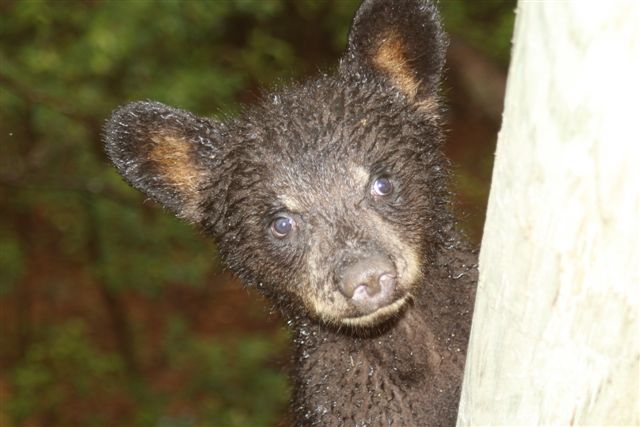 On a recent visit to our home in the Smoky Mountains, there was a momma bear with three cubs under our deck. The deck is about 40 feet off of the ground. This cub climbed one of the log polls holding the deck up, and wanted to pay us a visit. Momma down below didn't see to be too upset that her baby was withing arms reach of us. She was content to stay on the ground keeping a close eye on her curious cub.

---

Cloud Saturday Jun 14 11:08 AM

cute pic. not the cutest bear cub I've ever seen. it's fur looks all oily or something--strange.

How nice you have someplace to escape the heat!

---

Sundae Saturday Jun 14 02:22 PM

Wow.
And I was all excited seeing a fox the other night.

---

zippyt Saturday Jun 14 02:47 PM

Hey Yogie !!

---

tw Saturday Jun 14 04:26 PM

"When in May, go away". But that's a different type of bear.

---

classicman Saturday Jun 14 04:45 PM

lol @ zippy

---

Gravdigr Saturday Jun 14 05:15 PM

Hey hey, fuck the Ranger, Boo Boo!

---

Tulip Saturday Jun 14 05:54 PM

awww...I never knew that's how baby bears look like.

Bob: Do you live in a forest?

---

xoxoxoBruce Saturday Jun 14 09:34 PM

Cool, BobT.
I'll bet mama could climb that pole pretty damn fast, if she though she needed to. Looks like it was raining a mite, too.

---

newtimer Saturday Jun 14 09:49 PM

(Knock-knock)
"Excuse me. Is this where you humans are giving out free rainboots? I really hate to walk in the mud."

---

BobT Sunday Jun 15 12:23 AM

To answer a few questions. He looks "oily" because he is SOAKING wet! It had been pouring just before they showed up at our bird feeder. The mom checked out the feeder, tasted a few of the seeds, and climbed down off of the railing onto the deck.

The cubs are only cute from a distance. They are kind of "rangy" looking up close. Especially when they are soaking wet! I think because of there are THREE cubs trying to "make a living" off of only one sow's teats food is in short supply. It is much more frequent to see a sow with only two cubs at most.

My house is up on a mountain in Gatlinburg, TN. The altitude is about
2,500 feet. Just at the base of the mountain is the entrance to the National Park. The sightings of bears roaming the neighborhood is not at all uncommon. We have had several storms that have adversely effected the supply of nuts and berries, so they are looking for unguarded trash cans. The city has ordinances that require bear proof garbage receptacles, but nothing is foolproof.

---

hijk553 Wednesday Jun 18 01:01 PM

best chanel watches

Chanel watches and Chanel replica watchChanel Watch and Chanel replica watches at www.watchepay.com. We are China largest Chanel replica watches . We started to manufacture replica watches since 2000 and now unite 12 manufacturers for setting up the largest wholesale watch net.

---
Your reply here?

The Cellar Image of the Day is just a section of a larger web community: a bunch of interesting folks talking about everything. Add your two cents to IotD by joining the Cellar.