xoxoxoBruce Friday Jun 13 12:30 AM

June 13, 2008: Mysophobia

From BBC News, via Neatorama. Picture from Picdaus, apparently taken by Ross Parry.



Quote:

Six-week-old Cinders appears to suffer from mysophobia, a fear of dirt, after refusing to join her siblings as they splashed around in the mud.

Owner Andrew Keeble from Thirsk, North Yorks, said his daughter Ellie, 12, suggested kitting her out in the tiny footwear which had been on a key ring.
"Lo and behold they fitted her like a glove," Mr Keeble said.

"She's scared of mud, but her brothers and sisters are quite happy in it.
"We've never come across this before. They are born ready to go and explore, but she never really liked going in the mud."

I don't know where they'll get the next bigger set of boots from, but maybe they'll only need three. After all, you can't eat a special pig all at once.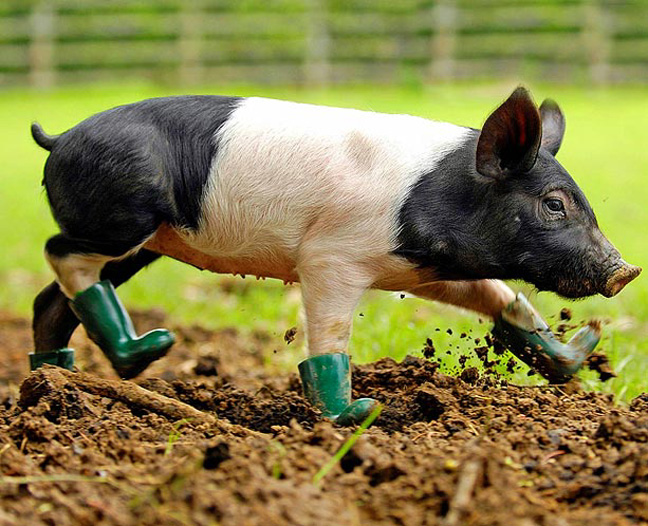 Quote:
Mr Keeble and wife Debbie, both 42, run a sausage company and keep about 200 pigs on their 1,000-acre farm.
But the father-of-four said there was no chance that Cinders would be slaughtered.
"She's more of a pet really now and she's going to live a very long and happy life," he said.

The young saddleback has been chosen by the couple as a mascot for their campaign to raise money for the Farm Crisis Network, which supports struggling farmers.
---

Flint Friday Jun 13 12:34 AM

That's a house pig, there.

---

OB Friday Jun 13 12:46 AM

'Pig appears to be Nazi goosestepping.

---

HungLikeJesus Friday Jun 13 12:47 AM

Vincent: Ah, so by that rationale, if a pig had a better personality, he would cease to be a filthy animal. Is that true?

---

lumberjim Friday Jun 13 12:58 AM

reminds me of diving pig

---

Pearcie (AUS) Friday Jun 13 01:04 AM

Quote:

Originally Posted by

HungLikeJesus

Vincent

: Ah, so by that rationale, if a pig had a better personality, he would cease to be a filthy animal. Is that true?

That'd have to be one charmin muther-f*ckin pig!

---

sweetwater Friday Jun 13 09:33 AM

Just look at that pig's trotters kicking in her little green boots. She sow funny looking - what a ham!
OK, I'm done now.

---

HungLikeJesus Friday Jun 13 09:40 AM

Happy Friday the 13th.

---

newtimer Saturday Jun 14 01:37 AM

Geez! This pig will do anything to avoind being turned into a pack of sausages.
First she tried to disguise herself as a big Oreo cookie. That didn't work.
Next she put on boots and tried to convice people that she's a person. That won't work.
What next? She'll start rounding up sheep and pretend that she's a sheepdog???

---

footfootfoot Saturday Jun 14 01:51 AM

Like Klinger from MASH

---

richlevy Saturday Jun 14 08:01 PM

When they serve her up, they should keep the little booties on, like the paper socks they put on lamb chops to keep the grease off your fingers.

---

ed Sunday Jun 15 06:59 PM

pig

look close you will be woking for lhese pigs soon.

read 1984

---

ed Sunday Jun 15 07:01 PM

sorry read animal farm.

---

xoxoxoBruce Sunday Jun 15 07:04 PM

That's right, ed, so we should eat as many of them as we can.

---

deadbeater Monday Jun 16 07:40 PM

Two legs good, four legs better!

---

onetrack Wednesday Jun 18 10:28 AM

Mmmmmm .. now, instead of Pigs in Blankets .. we can enjoy Pigs in Boots ..



I wonder if they taste any better? .. or would they taste a little rubbery? ..

---
Your reply here?

The Cellar Image of the Day is just a section of a larger web community: a bunch of interesting folks talking about everything. Add your two cents to IotD by joining the Cellar.