xoxoxoBruce Monday Jun 9 09:54 AM

June 9, 2008: Wedding Cake

This was described as a "Redneck Wedding Cake", but the spikes makes me think it's two bucks.
Maybe a NAMBLA cake?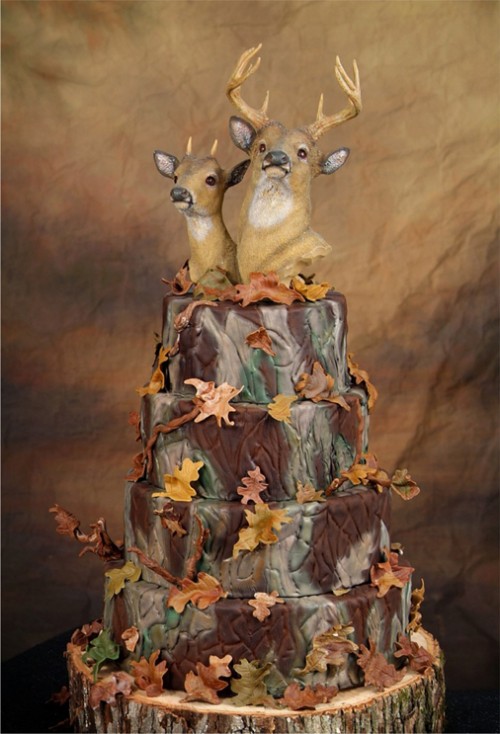 ---

birdclaw Monday Jun 9 12:47 PM

Oh deer!

That is one ugly cake.

---

Shawnee123 Monday Jun 9 12:50 PM

What cake? All I see are a couple deer-dudes.

---

hulk Monday Jun 9 01:49 PM

It must have been an emotional wedding--even the cake was in tiers!!

---

Shawnee123 Monday Jun 9 02:06 PM

Leaf those people alone. I herd they were just horny, anyway.

---

TheMercenary Monday Jun 9 02:15 PM

Broke Buck Mountain, the sequel.

---

Clodfobble Monday Jun 9 02:19 PM

I wonder if the leaves are decorative, or edible. It would take a lot of work to make all of those out of phyllo.

---

Flint Monday Jun 9 03:08 PM

I'd think maybe the leaves are made out of chocolate.

---

Shawnee123 Monday Jun 9 03:20 PM

---

Flint Monday Jun 9 03:24 PM

When the stripper jumps out of this cake, somebody might shoot her.

---

Shawnee123 Monday Jun 9 03:25 PM

Or him, if xob's theory is correct.

---

sweetwater Monday Jun 9 07:55 PM

It's the perfect cake for a shotgun wedding.

---

jinx Monday Jun 9 08:17 PMfondant is the standard material for cake sculptures.

---

lumberjim Monday Jun 9 09:27 PM

yeah, either fondant or riquerawl

---

newtimer Monday Jun 9 11:16 PM

Amazing. Somebody made an entire cake without using any doe.

---

Kagen4o4 Tuesday Jun 10 03:02 AM

ARGH!!! I CANT TAKE ANYMORE PUN!!

---

sweetwater Tuesday Jun 10 08:53 AM

Oh, deer!

---

val5150 Tuesday Jun 10 10:02 AM

I'll bet the bridesmaids dresses were safety orange! NO ONE looks good in saftey orange!

---

Shawnee123 Tuesday Jun 10 10:03 AM

visi-pun ™

---

Imigo Jones Tuesday Jun 10 10:56 AM
something like would set you back at least ten or twelve bucks.



. . . Haaa--I just Googled "Redneck Wedding Cake,"
and this is the first result:




I don't know the going rate for Hostess products

,
but that's still got to be up above ten bucks for parts,
not incl. labor and the EPA compliance fee.

---

Shawnee123 Tuesday Jun 10 11:02 AM

lol @ EPA compliance fee.

Yep, OSHA might have something to say about that cake, as well.

---

jefffsmith Tuesday Jun 10 12:43 PM

Hey, check out the rack on the groom!

---

Shawnee123 Tuesday Jun 10 12:44 PM



Hi jefff!

---

richlevy Tuesday Jun 10 08:24 PM

I thought I could buck the trend, but sheepishly gave in to temptation.

---

Elspode Tuesday Jun 10 10:54 PM

How could anyone fawn over that cake?

---

Kagen4o4 Wednesday Jun 11 07:54 AM

i guess punning in this thread is a piece of cake.

---

classicman Wednesday Jun 11 09:26 AM

Was it a tasty cake?

---

footfootfoot Wednesday Jun 11 10:03 AM

look, i can just go back to work on my house...

---

Imigo Jones Wednesday Jun 11 11:46 AM

Doh!


Spike and antler "growth depends on nutrition and heredity. Antlers can also be found on female deer. Normally the doe has spikes that remain in velvet. The spiked doe remains fertile and can produce young."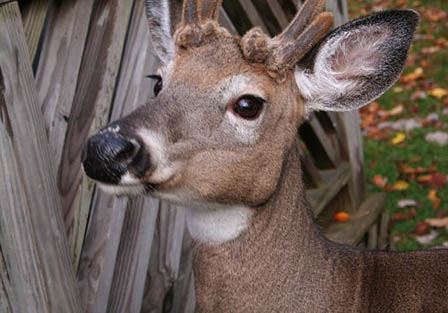 "The doe with ANTLERS," or just spikes,
from "The Haunted Fishing Lodge."

Best discussion I saw:




"Several situations cause does to develop pedicles and grow antlers. The causes include hermaphroditism, increased levels of testosterone, adrenal cortex tumors, and possible sharing of reproductive hormones in the womb between male and female twins. . . .

"The bottom line about hermaphrodites is that they can really confuse you. . . .

"Up to 1 in 900 white-tailed does had antlers in one sample in Michigan. Most antlered white-tailed does are spikes and usually are still in velvet during fall and winter. . . .

"A condition known as freemartin has been observed in cattle for years. It occurs when male and female placentas become fused in the womb. When the male begins to develop its reproductive tract, the hormones circulate into his sister's bloodstream and affect the development of her genitalia. This theory is further strengthened by antlered does being more common in deer with normal twin births, such as white-tailed deer, mule deer, and roe deer. . . .

"And what about the hermaphrodites? Do they chase themselves in circles when the rut begins?"

---

sweetwater Wednesday Jun 11 05:24 PM

The article doesn't mention the difference, if any, between male and female jackalopes.

---

RellikLaerec Friday Jun 13 10:36 AM

The cake maker is obviously from Italy! It's venison!

---

Imigo Jones Friday Jun 13 11:56 AM




Eighteenth-century depiction of adolescent jillalopes harnessed to transport parents

Jillalopes were long considered subhuman in Western "civilization" and, when large enough, put to labor usually reserved for horses and cattle. With advances in surgical techniques and the virtual elimination of postoperative infection, jillalopes can now be safely deantlered in a procedure known as an antlerectomy.

Deantlerization cannot be performed, however, until the jillalope reaches physical maturity and her antlers have shed their velvet, typically at age 14 to 16. Premature antlerectomy (or accidental breakage) causes two more pairs of antlers to sprout in the place of the single pair. Recent research into antler-suppressing hormones, which prevent the formation of antler tissue, seems promising, though only on second-generation (postantlerectomy) tissue.

Antiantler hormones are not currently available outside strictly controlled research studies. Pharmaceutical giant Eli Jilly & Co. is prepared to market antiantler hormones under the trade name Lernaea™ as soon as FDA approval is given. Many parents of jillalopes urge the FDA to waive the normal lengthy testing requirements for new-drug approval, making help available to all sooner than later.

We will then see Jillalopes given antlerectomies as youngsters; maybe someday the pedicular tissue giving rise to antlers can be removed while the jillalope is yet esconced in the womb. With Lernaea™, the antler tissue won't return, and the jillalope will by all outward appearances look like a "normal" girl and be able to live a full, normal life.

Lernaea™ should not be taken by jillalopes who are nursing, pregnant, or who are thinking about becoming pregnant.
Side effects of taking Lernaea™ may include watery eyes, dry eyes, itchy eyes; double vision, blurred vision, cloudy vision, tunnel vision, and visions.
Other side effects may include partial color blindness, change in iris color; cornea smut, algae bloom in the aqueous humour, fluorescence of the vitreous humour; long, full, voluminous lashes, . . . [several hundred potential side effects omitted for sake of pithiness] . . . , and parthenogenic pregnancy.
Talk to your doctor about whether taking Lernaea™ is right for you.

Although modern society pays lip service to the value of diversity and the acceptance of jillalopes, almost all are still stigmatized and discriminated against from birth through the time of deantlerization (or beyond) for a condition they cannot help. On the surface this may seem to be blatant bigotry, but history shows that parents of non-jillalopism-challenged girls have legitimate concerns: grievous tine-caused injuries occur somewhere every day at daycare, at the playground--anyplace jillalopes mix with normal girls.

As if the antlers alone weren't dangerous enough, jillalopes possess an unbecoming aggression more typical of jackalopes and boys, believed to be due to the natural, testosteronelike hormonal cocktail that induces pedicle and antler development in the first place. The antlers only get larger and give rise to more points, and the hormones only more strongly sociopathogenic, with time.




Class picture at the Hillcrest Developmental Academy for Special-Needs Girls,
formerly the Hillcrest Home for Wayward Jillalopes

Jillalopes are thus usually segregated into all-jillalope institutions by the age of 5 or 6. In recent years there has been a growing movement to mainstream them into regular public schools, but in all but a handful of American states and northern European countries, this is generally regarded as just "too P.C." an experiment when you're talking about the safety of non-jillalopes.

The deantlered postadolescent jillalope--her surgical scars camouflaged by a fashionable hat or lovely scarf, her aggressive tendencies reduced by medication to a level deemed manageable by her parents, doctors, and school officials--may feel ready to enter the exciting world of the typical teen and, after thorough counseling, enrol at her local high school. "Wow, hey, guys! You going to watch the Camp Rock premiere next week? The Jonas Brothers are so-o-o-o dreamy! I am so going to poke Demi Lovato's eyes out and marry Joe!" High school is a time for growth and discovery--and don't forget fun! Every girl--antlered or not--deserves a chance to experience it.

Most jillalopes are reluctant to admit to their new friends that in their past lives they were so "different," though, so when asked, "How come you didn't go to Sami Sosa Middle School with everybody?" or "Why didn't I see you around here at Wilma Rudolph High last year?" a jillalope will typically say something like "Oh, we just moved here" or "I used to go to parochial school."

---

spudcon Friday Jun 13 08:54 PM

Thank you, IJ, I didn't realize this kind of discrimination was still happening here anymore. I think it's time we make reparations to all the families of jillalopes. I'm surprised Jesse Jackson's Rainbow Coalition hasn't been pressuring the networks to publicize this disgrace.

---

val5150 Sunday Jun 15 01:04 PM

Great article Imigo Jones!

Now,I have to wonder if the bride knew that she was being represented as a hermaphrodite on her wedding cake!

---

Gravdigr Wednesday Jul 20 02:52 AM

Two wedding cake pics I couldn't find a better place for...

An iPhone cake: iDo?

Van Gogh's Starry Night? I woulda thought Munch's 'The Scream' would be a better fit...

---

SPUCK Wednesday Jul 20 06:16 AM

That Van Gogh cake is heinous!

---
Your reply here?

The Cellar Image of the Day is just a section of a larger web community: a bunch of interesting folks talking about everything. Add your two cents to IotD by joining the Cellar.