xoxoxoBruce Friday Jun 6 12:55 AM

June 6, 2008: Snouts

No, it's not photoshoped.
No, there's no religion involved.
No, there's no point in waking them.
It's a Friday image, deal with it. :p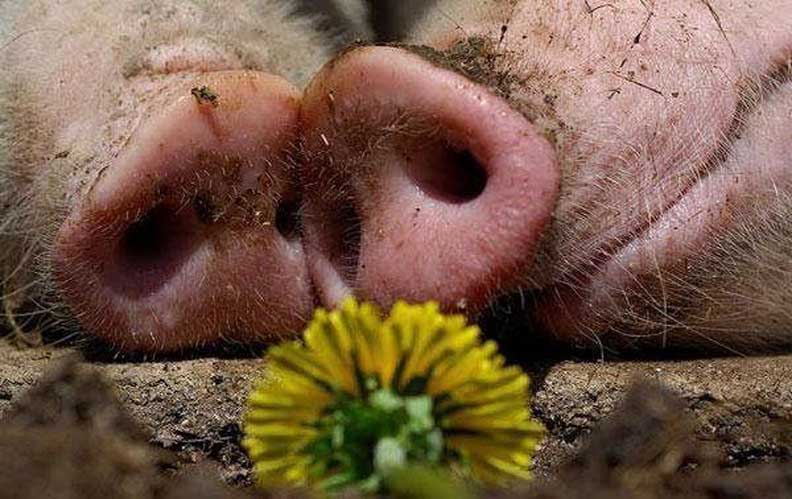 ---

lumberjim Friday Jun 6 12:57 AM

that's fucking awesome. that might even be the awesomest thing i've seen all day. it reminded me that you can rate these threads now. ^right up there...^

---

JuancoRocks Friday Jun 6 01:18 AM

Fred Astaire....Mode on....
"When were out together dancing......Cheek to Cheek...."

---

SPUCK Friday Jun 6 05:50 AM

Snouts...snouts... hmmm.. Reminds me of some SciFi book.. ?? Some one help me out here..

---

DanaC Friday Jun 6 06:00 AM

Ohhh I love piggy snouts!

---

glatt Friday Jun 6 08:43 AM

Scrapple

---

Hillrick Friday Jun 6 09:59 AM

Everyone thinks pigs are real cute...until they knock you down while you are feeding them and they eat you! Dunh dun dunh.

---

classicman Friday Jun 6 10:21 AM

Recipe please.

---

dar512 Friday Jun 6 10:29 AM
---

classicman Friday Jun 6 10:38 AM

niiiice. :drooling:

---

spudcon Friday Jun 6 11:47 AM

---

dar512 Friday Jun 6 12:33 PM

---

HungLikeJesus Friday Jun 6 12:51 PM

Based on the beards, I think they're boy snouts, not girl snouts or cub snouts.

---

bartman Friday Jun 6 02:06 PM

Shouldn't this be in the bacon thread

---

Flint Friday Jun 6 02:30 PM

---

Emoticon Friday Jun 6 05:57 PM

---

DanaC Friday Jun 6 07:24 PM

Brilliant! I for one welcome our snouty overlords!

---

dar512 Friday Jun 6 07:30 PM

Welcome to the Cellar.

---

BigV Friday Jun 6 07:42 PM

Good call.

Welcome to the cellar. Your sense of wry humor, as evidenced by spelling your member name as clear text, is a good indication that you will fit in well here. Not to mention your taste in books.

---

skysidhe Friday Jun 6 10:01 PM

I hope when I am an old lady my chin hairs don't grow that long.

---

newtimer Friday Jun 6 11:37 PM

"Snout. Snout. Let it all out."

- Tears for Fears

---

SPUCK Saturday Jun 7 06:03 AM

That's it! The last Niven book before he sold us all out, (the SOB). It also had the absolute worst sell-out cover ever. Instant giveaway of a the whole story of a 600 page novel, one glance at the cover. After reading it I tore the cover off and then loaned it out.

And I 2 welcome you this hall of psychotics Emoticon.

---

sweetwater Saturday Jun 7 07:36 AM

So it looks like they don't like butter. Ummm, does anyone still hold the dandelion under someone's chin to see if the chin-owner likes butter?

---

xoxoxoBruce Saturday Jun 7 11:41 AM

Good question, sweetwater.

Although technically you're supposed to use a buttercup, I've seen it done with a dandelion quite often.
I also wonder if kids do that any more, or are they too busy with electronic gadgetry?

---

jinx Saturday Jun 7 12:52 PM

My kids do.

---

Sundae Saturday Jun 7 12:55 PM

If you pick a dandelion you wet the bed.

---

spudcon Saturday Jun 7 09:06 PM

So that's why that happens!

---

Gravdigr Monday Jun 9 05:59 AM

The back of the pig and the front of the pig: TWIST & SNOUT!!!!

---
Your reply here?

The Cellar Image of the Day is just a section of a larger web community: a bunch of interesting folks talking about everything. Add your two cents to IotD by joining the Cellar.