Clodfobble Friday May 30 11:38 AM

May 30, 2008: Uncontacted Indigenous People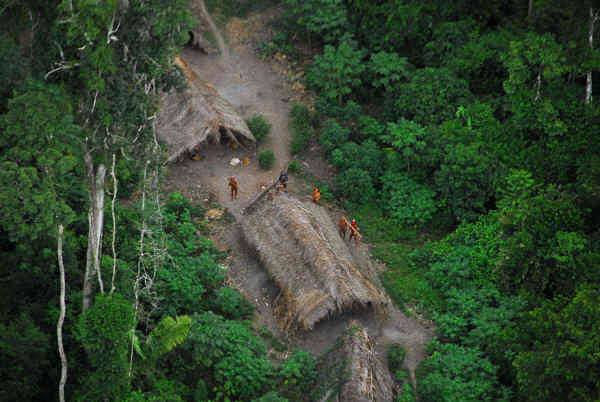 This story has made the rounds all over a variety of sites. These tribal people are a group living along the border between Brazil and Peru, and are known as an "uncontacted tribe." As in, these people are completely unaware of the existence of millions of other people living modern lives on the planet. With the exception of the occasional airplane they see flying overhead, of course, which they usually shoot a few arrows at just to be sure.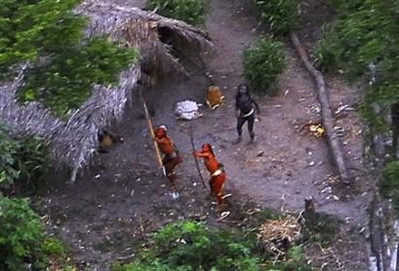 I don't know about you, but that blows my mind, that there are people still so completely (and deliberately) isolated from the rest of humanity. Makes me wonder what's truly humane. If a child were locked in a basement his whole life, but given basic life necessities, it would still likely be called abuse. The director of Survival International, Stephen Corry, had this to say:

"The world needs to wake up to this, and ensure that their territory is protected in accordance with international law. Otherwise, they will soon be made extinct." So this culture of people is considered a separate species now? Are we benevolently protecting their way of life (without their input as to whether they would want that,) or arrogantly treating them like animals?

---

TheMercenary Friday May 30 11:40 AM

The rest of the story:
http://cellar.org/showthread.php?t=17381

---

xoxoxoBruce Friday May 30 11:51 AM

---

kerosene Friday May 30 11:53 AM

---

Clodfobble Friday May 30 12:16 PM

I don't know. I think it's arrogant to think we know what's best for them, either way. To deliberately refuse to contact them might be just as inappropriate as forcing them to use modern plumbing. Lots of tribes have successfully kept their culture even after encountering people from Western cultures. Some have chosen to incorporate modern things into their lives, some haven't.

---

kerosene Friday May 30 12:25 PM

I think you are probably right. For some people, there must be a "I know what's best for them" mentality that takes over, so I guess I figure someone is going to come along and screw things up for them.

---

xoxoxoBruce Friday May 30 12:28 PM

But we must make sure everyone, even in the remotest Amazon, has a chance to see Sex in the City.

---

TheMercenary Friday May 30 12:31 PM

---

corydodt Friday May 30 12:51 PM

millions of modern people? Really? That sure is a lot. :P

---

corydodt Friday May 30 12:53 PM

Here's my point of view: they will be contactd, one way or another. Eventually, the modern world will catch up to them, no matter how hard we try. Space on the planet is finite, after all.

Would you rather them learn about the existence of modern man when a bulldozer takes out their lean-tos, or should they have a head start?

---

Clodfobble Friday May 30 01:40 PM

---

Sundae Friday May 30 02:12 PM

I think, given their remote location and the conditions their culture has evolved to live in, they would lose more than they gained by contact.

I have no doubt it will happen at some point, but for the time being ignorance is bliss. Or if not bliss, then at least a continuation of a centuries long way of living, which has at least worked well enough to ensure survival.

---

TheMercenary Friday May 30 03:23 PM

---

nephtes Friday May 30 03:26 PM

Mind sharing with the class?

---

Diaphone Jim Friday May 30 03:29 PM

I read about these folks in this morning's paper and thought about them for an hour or two, did a little research, including looking back over a book called "Yanomamo, the Fierce People," by Napoleon Chagnon, left over on my shelf from grad studies in 1968.
Then here they are on IOTD!
A couple of thoughts: The threat to the tribes along the Peru-Brazil border comes almost all from Peru. Brazil has done some good things with newly contacted tribes, including a hands off policy.
A quote today from a Brazilian official implementing that policy says it well: "While we are getting arrows in the face, it is fine. When they become well-behaved, they are finished."

---

lumberjim Friday May 30 03:54 PM

The Prime Directive

The Sub Prime Directive

---

Clodfobble Friday May 30 05:16 PM

I think deliberately hiding from them and keeping them in isolation lowers them to the level of a scientific experiment. They are humans, and our greatest strength as a species is sharing knowledge with each other. They might have a cure for cancer, for all we know. The policy should be leave them alone if they want to be left alone.

---

Chinditz Friday May 30 05:42 PM

Why is there a guy in a gorillasuit in both pictures?

---

HungLikeJesus Friday May 30 06:12 PM

Those poor, poor people. They don't even have a Mal-Wart. How much longer can they survive?

---

Oafed Friday May 30 07:40 PM

Is it just me or is their skin color VERY red or VERY black? Too bad we don't have some close-ups! We should secretly study them or something

---

xoxoxoBruce Friday May 30 11:26 PM

The red ones seem to be the ones shooting arrows at the chopper. I wonder if they color their designated bowmen brightly, like nature puts bright colors on poisonous critters?

---

DucksNuts Saturday May 31 07:54 AM

That looks exactly like my sims game!!

Im not convinced its legit

---

freshnesschronic Saturday May 31 08:10 AM

I would have no idea what the hell to do concerning this.
Just, wow.

---

xoxoxoBruce Saturday May 31 01:12 PM

We could test 'em.

---

Griff Saturday May 31 02:01 PM

Damn tax evaders.

---

spudcon Saturday May 31 06:10 PM

The archers and the guy in the gorilla suit are trying to scare the chopper away from the tribe's big ball of aluminum foil.

---

xoxoxoBruce Saturday May 31 10:47 PM

That's Frank's foil.

---

Oafed Sunday Jun 1 02:10 AM

Nope! Not Frank!

Dude Bruce - that is totally not "Frank". It's some savage chick.


---

Cicero Sunday Jun 1 03:21 AM

LJ that must have been one of your best posts eva!!!



lol! That rocked!!!

---

spudcon Sunday Jun 1 06:36 AM

Well, whoever or whatever he/she is, he/she's using a hula hoop.

---

Elspode Sunday Jun 1 12:54 PM

I think it makes sense to leave these people in their original state. I mean, we want to leave unlogged forests and shit, right? Why not leave a culture that sprang from that hopefully virginal arboreta?

There's a theory that goes something along the lines of "How will we know how shit is supposed to work if we fuck with it before we've learned everything about it?" I think leaving these people relatively unsullied falls under that heading.

Besides, they've now got some bitchin' new tales to tell around the fire about how Og chased off the flying monster with his mighty bow and magickal incantations. I mean, its not like they've got scriptwriters standing by to go on strike like we do...

---

tombstone Sunday Jun 1 01:37 PM

Point one: Seems to me all discussions about what is "best" for them are moot, if coming into contact with us is going to kill off 50% of them due to lack of immunity to our diseases.
Point two: Seems to me that showing their pictures and pinpointing their locations--"Here they are! Let them alone!"--is tantamount to screaming "Don't think of feathers!" Doomed, either way.

---

Imigo Jones Sunday Jun 1 04:33 PM
1. Tribespeople hear "giant silver wasp" approaching and spring into action according to time-proven plan.
2. Hot "savage chick" parades out into a clearing, attracting attention of chopper pilot.
3. Chick removes blouse and brassiere, drawing chopper in.
4. Archers pop out and bring chopper down.
5. Sheet metal and other chopper parts added to big ball.

---

xoxoxoBruce Sunday Jun 1 05:31 PM

---

tombstone Sunday Jun 1 07:02 PM

I wish I could concur. Unfortunately, the Brazilian government took the pictures, and allowed as to how this tribe is on the boarder with Peru and threated with Peru's logging. I can't feel optimistic for them.

---

Sundae Sunday Jun 1 07:42 PM

Tombstone has a good point Bruce. Also, given that the governments of both countries have little to no control in the logging areas of the rainforest at present (hence the call for other countries to refuse the import of hardwoods) it seems likely the tribe will be assimilated into generator dependency within the next ten years. How else will they keep their Cocoa-Cola cold?

---

spudcon Sunday Jun 1 08:25 PM

---

Easy Sunday Jun 1 08:48 PM

Clearly the best course of action is to make them into a reality TV show.

Drop a Coke bottle containing a camera into their village and see if they go all "Gods must be crazy".

---

xoxoxoBruce Sunday Jun 1 10:27 PMmight do something, is making the governments, and the World, aware of these tribes.

---

Oafed Monday Jun 2 09:58 AM

---

smoothmoniker Monday Jun 2 11:15 AM

What's their infant mortality rate? How many of them die of starvation when local food is scarce and traded food is unavailable? How many die of diseases long since cured by modern medicine?

Every one of those deaths are people sacrificed to the idea of cultural purity. What's the preventable death count that we're willing to force on them by refusing contact?

These people aren't a science experiment in post-colonialism white European guilt. The are people, and have a right to shared benefits of human advancement.

---

spudcon Monday Jun 2 11:32 AMyou'll probably be their food.

---

HungLikeJesus Monday Jun 2 11:34 AM

Why should we be obligated to contact them? It's their turn to call.

---

Clodfobble Monday Jun 2 11:35 AMtheir own good. Now you tell me it's actually for our own good?

---

Shawnee123 Monday Jun 2 12:01 PM

I say leave them the hell alone. We don't know shit about what's "best" for them. So many people on here sound like we'd be doing them a big damn favor by bestowing ourselves on them.

---

jinx Monday Jun 2 12:05 PM
Maybe these people should come save us!

---

HungLikeJesus Monday Jun 2 12:06 PM

Too late. I've already sent that one an e-mail.

---

smoothmoniker Monday Jun 2 12:29 PM

I don't understand this kind of reasoning. If someone in this tribe gets cut, and the cut gets a bacterial infection, would that person be better off with or without penicillin? If you think without, then you and I are using a sense of the word "better" that is simply unfathomable to me.

Communication, progress, advancement of knowledge, trade, these are the normal practices of human society, and you'd better have a damn good reason for preventing them. The prevention of them costs lives - not theoretical, notional lives, actual people who die because we did not share with them knowledge that would have saved them.

Why is the act of forced cultural isolation in Myanmar a moral outrage, while in this case it's some higher "enlightened" obligation to withhold from these people the incalculable benefits of participation in human society.

---

TheMercenary Monday Jun 2 12:41 PM

Why not just drop a cell phone and ask them all these questions? Oh and lets drop in a few IPods. Steve Jobs wants to control them.

---

classicman Monday Jun 2 01:34 PM

---

spudcon Monday Jun 2 02:45 PM

They will probably live their lives to the fullest, as long as their chief forces them to wear seat belts and helmets. And as long as every member pays the Tribal Witch Doctor General one buffalo for Universal Health Insurance.

---

Undertoad Monday Jun 2 11:29 PM

The sooner we contact them, the sooner we can get their money.

---

SPUCK Tuesday Jun 3 05:13 AM
18 years...


Now I ask. What would they do if they actually stuck an arrow into the tail rotor.. Four tons of aluminum, steel, plastic, cameras, radios, seats, carbon fiber, and 100 gallons of gasoline crashes down on them and ignites in the middle of their village..

---

Shawnee123 Tuesday Jun 3 08:47 AM

Have we learned nothing from the sleestacks?

---

DanaC Tuesday Jun 3 08:59 AM

Not all that the modern world offers is beneficial. What's the infant mortality rate in the Sudan, in Zimbabwe, in Mogadishu? What's the life expectancy in the shanty towns of Rio? How much modern medicine is available in Bangladesh?

Modern civilisation relies upon inequity. The market as we understand it cannot bring the benefits of prosperity to all, there is always a loser. This is the case even in wealthy nations. What's the life expectancy of a black boy in the projects? What's the infant mortality rate in the poorest parts of europe?

They will not be sharing in many of our advances, but for all we know they may not be sharing in some of our less savoury civilised practices either. There was a tribe contacted for the first time about tqwenty years ago (can't recall its name now). They were a collectivist society to a large extent. If there was plenty nobody starved. If there was scarcity, all hurt. Their culture has been fundamentally altered by modern contact. A new elite has become separated off from the rest and a new group of poor who have not succeeded under the new system. They have become fragmented and their young are leaving in droves to do menial work in the nearest cities. They still have only minmal access to modern medicine because of their geographic distance and relative poverty. But they do have t-shirts.

---

smoothmoniker Tuesday Jun 3 10:35 AM

I'm not trying to be an apologist for the whole of human society.

I am saying that there are benefits to be gained from connection with the rest of society, benefits that a slight of geography has denied these people. It's incredibly condescending to choose for them, that they ought to be preserved in their present state, without those benefits.

Dana, you're worried that if they are exposed to new ideas, and offered a choice, they might make the wrong choice. You're withholding the option to choose because you have decided that they are better off without the choice.

---

Shawnee123 Tuesday Jun 3 10:42 AM

Oh for god's sake, next thing you know we'll be hearing from those who need to get in there and shove a bible into these people's hands lest they burn in hell forever for not knowing teh LAWD.

I'm amazed at the arrogance of people who believe we have anything to offer them that they need. They've been existing there for hundreds of years...but let's get in there and show 'em how a can opener works. "Hey y'all, I betcha you get a load of this here can opener you'll want to live just like us."

Sad, really, how egocentric we are.

The people who are colored brightly are thought to have donned the pigment after the first fly-over, after which they were ready when the giant bug thing came back.

Logging is a threat, and that should be looked into. It's not the 2 acre lot behind your McMansion, folks, it's the freaking Amazon forest.

---

HungLikeJesus Tuesday Jun 3 10:47 AM

It's just like the aliens that keep visiting our planet. I think we're better off without them.

---

DanaC Tuesday Jun 3 10:49 AM

In terms of making choices for them. No, I don't believe I know better than them, nor do I believe that they are incapable of making choices. But the choice to reveal the modern world to them is ours and if we exercise it we make a choice on their behalf: we make them aware of our world. If they have not chosen to venture out as explorers and 'discover' this world for themselves, what right have we to take that world to them? What right have we to remove their choice in that regard? Granted they may have made that choice with no knoweldge of what is out here.....what right have we to enforce such knowledge? Once the knowledge is there, it is there.

---

Shawnee123 Tuesday Jun 3 10:58 AM

Well said, DanaC. Your analogy regarding explorers venturing out makes sense. What some others are speaking of is, to me, imposing ourselves on a culture that we have no right to impose upon. We take away their choice; whether or not we believe it is an un-informed choice is completely irrelevant.

Then again, they'd like some can openers.

---

DanaC Tuesday Jun 3 11:08 AM

I can see arguments for and arguments against making contact with these people. Like most questions regarding humanity it isn't an easy one to answer. I don't know whether the best thing is to contact or not. I just know that it isn't as simple as bringing the benefits of civilisation to those who are potentially trapped in a less enjoyable way of life. Sure, they may suffer more in terms of infant bereavement than we do, but they may also suffer significantly less mental illness, depression and social isolation than many of our peoples do.

There is no easy answer to this. They are people, and shouldn't be treated like some beautiful but endangered rhinos. Protection zones to prevent contact? Not so sure of that. Sounds a bit like turning them into a protected species. Actively seeking to contact them? Profoundly dangerous in terms of potential negative effects. We could potentially wipe them out with disease or fracture their society by dint of our very presence.

Or, they could be freed from damaging and frightening superstitions, brought a longer life. Mothers could be freed from the grief of burying half their babies. Injuries would not necessarily cripple but be better healed and less likely to infect with anti-biotic treatments. For all we know they are an unhappy society just waiting for some kind of catalyst for change.....

---

smoothmoniker Tuesday Jun 3 11:11 AM

Ok, put away that innate liberal cultural self-loathing for a second, and think about the best, the absolute best that modern society has to offer.

Medicine that can prevent death. Knowledge of how the physical world works. Gender equality (which both history and anthropology have shown us is something developed and chosen, not something indigenous to any culture).

We DO have something to offer them, and they are better things than they currently have. I don't buy the myth of the "noble savage", and this insane idea that all of human advancement has been an ever-increasing regression from the perfect unspoilt natural state.

---

Shawnee123 Tuesday Jun 3 11:12 AM

Then again, we have no idea of their infant mortality rate...if "think of the children" is a viable argument. Perhaps having lived outside of what we know to be society has afforded them immunities and benefits of which we could never dream. However, this notion only opens up the "let's study and see what we can learn" can of worms.

Best if we had never known of them, I think.

I don't buy the myth that our evolvement is the be-all end-all basket of goodies you make it out to be, moniker.

But kudos on the knee-jerk "damn liberal" argument. That's effective. We have evolved, haven't we? Let me slink away in shame for disagreeing. Yawn.

Nice.

---

smoothmoniker Tuesday Jun 3 11:12 AM

Sorry, I didn't see your last post, Dana, before I wrote mine. I was responding to the earlier sentiments.

---

HungLikeJesus Tuesday Jun 3 11:16 AM

---

Shawnee123 Tuesday Jun 3 11:17 AM

---

Undertoad Tuesday Jun 3 11:18 AM

In "caveman" times, one's life expectancy would be about 25 years.

By 1850, in modern cultures, if you made it past infancy and childhood, you could expect to see age 45.

Two generations into the industrial revolution, heading into WW2, having achieved refrigeration, telecommunication, and solved many infectious diseases, life expectancy reached 60.

If you were born in 2008 in first/second-world countries, you can expect to see 78. That's 2-3 years longer than it was in 1990.

Do we have it better? Fuck yes we have it better. Do we know more than they do and should we share it? Fuck yes we should, and their grandchildren will thank us for it. Do they want a can opener? Fuck yes they want a can opener. As it is they have to shoot their food with bows and arrows, and smoke it or otherwise preserve so it will remain edible long enough so half the tribe doesn't starve. The utter and obvious "magic" of getting a big serving of non-rotting, nutritious food not covered in bugs would be the best gift anyone could possibly give them. A can opener would solve some of their biggest problems in life. To not give them one, as well as cans, a cheap way to preserve and store food for long periods, is heartless and inhumane.

The advancement of humanity is a wonderful thing. Don't go taking it for granted, and don't say it doesn't mean anything only because all the benefits aren't spread to every single person on the earth. We create problems yes, but we solve two problems for every one we create. To think otherwise would be to usher in a new dark age.

---

Shawnee123 Tuesday Jun 3 11:20 AM

Amazed at the arrogance here. Just amazed.

Life expectancy of a "caveman" can hardly be compared to the lives of these people who can also have evolved physically, just not in ways we know of. You can't make that assumption.

---

Ibby Tuesday Jun 3 11:22 AM

Fucking hell

thank you tony. you said it a hell of a lot better than i could.


I'm for preserving cultural diversity as much as any other bleeding-heart liberal out there, but it isnt OUR job to preserve THEIR culture. It's THEIRS. and it would be cruel and wrong to deprive them the chance to take advantage of all the benefits our technology has to offer.

---

HungLikeJesus Tuesday Jun 3 11:25 AM

The real question is this: Who is happier, they or we*?

Based on a lot of posts I see on the Cellar, I would say that they are.



*them or us?

---

xoxoxoBruce Tuesday Jun 3 11:27 AM

How can they, " take advantage of all the benefits our technology has to offer", when they have no money? Do we make them slaves or pets?

---

Ibby Tuesday Jun 3 11:27 AM

i can see no reason not to give THEM the option of sticking with their current state or changing. I think its pretty fucking arrogant of us to make that decision for them.

---

xoxoxoBruce Tuesday Jun 3 11:31 AM

It's not a fair option without giving them the knowledge of the consequences, also.

---

DanaC Tuesday Jun 3 11:34 AMbest that the modern world can offer? That's a huge assumption to make. The risks inherent in wreaking sudden and profound change upon a society are great indeed to be taking on their behalf, based upon an assumption that could well prove false. Are we introducing life-saving medicines and a more fulfilling life, or are we introducing a new conception of poverty and unease?

Noble savage? Doesn't exist and never has. But who's to say they're savages? And for all of our progress how arrogant to say we are better. The city dwellar looks at the rural villager and thinks how strange and uncomfortable to know everybody and have everyone know your business, how strange and how small their world. The villager looks at the city dwellar and thinks how cold to be so anonymous, to have nobody looking out for you, nobody knowing you but your immediate family, no roots beyond your front door. Neither way is more or less civilised than the other and both are very different. We are looking from afar at these people, we only know our own world, how can we possibly know how it compares to theirs. Mathematical formulas of disease and morbidity cannot give us that answer. We don't know what their cultural understanding of the world is, what art they pass from generation to generation.

There is no consensus on the gender question, in the fields of history or anthropology. There are enough anomolies to throw doubt on most theses and there are enough patterns to add weight. We do not know how these people construct gender. It has been constructed differently at different times in different places and cultures have historically had a knack of constructing gender, or allowing enough flexibility in the model, to effectively respond to their needs. Again there are anomalies, most particularly when there are competing needs. If there is a social need for girl babies, but an economic need for boys, we can end up with cultures breaking the fine balance in births that allows them continue.

We don't know anything about these people. There is enough variance amongst the known patterns of development exhibited by 'primitive' cultures that we really can't make too many assumptions.

---

Undertoad Tuesday Jun 3 11:46 AM

OK then, modest proposal time. Obviously we can't just preserve them in some sort of aquarium-like Truman Show; they will be contacted somehow, perhaps they will migrate right into civilization;

So, we send an emissary to explain we're from a tribe next door and sorry about those helicopters;

And then, we'll just say, oh hey, we come in peace and all that... we've figured something out that we'd like to tell you about. It's called a yoke. What we did, we figured out that if you put a bar of wood across two animals' shoulders, they can do a third more work. Do you have any inventions that you can share with our tribe?

And if they like the yoke idea, they will share with us one of their things. Maybe they've found a berry that cures headaches, or a secret to relaxation in the nighttime, or the names of particular Gods that they worship. And we will take their idea/invention/thinking and put it on the web, so that we all can share in what they've done.

And then the next day, we share another thing. (Cans, probably.) Until they don't want to share any more.

Fair enough?

---

DanaC Tuesday Jun 3 11:51 AM

*chuckles* nice idea.

---

spudcon Tuesday Jun 3 01:51 PM

How do any of us know what their culture has knowledge of or not? We've only seen a couple of pictures. Despite all of our previous encounters with primitive civilizations, we definitely do not know about this one. They may have infant mortality rates better than ours.

---

Clodfobble Tuesday Jun 3 02:25 PM

That's right, they might. Someone should go ask them about that.

---

Shawnee123 Tuesday Jun 3 02:28 PM

Yeah.

---

Shawnee123 Tuesday Jun 3 02:31 PM

---

Sundae Tuesday Jun 3 03:02 PM

I'd love to know how we could possibly improve their infant mortality rate given their remote location and lack of anything resembling money.

I know that's already been said, but worth reiterating for those who believe that not initiating contact makes us King Herod.

---

spudcon Tuesday Jun 3 03:29 PM

I don't know what the answer is, I just think we're presumptuous to think we know about their life spans, medicines etc.

---

Flint Tuesday Jun 3 03:51 PM

Maybe their ancestors encountered Europeans, long ago, and barely survived the encounter, only to hide deep, deep within the jungle and teach their children and their children's children: "BE VERY AFRAID OF THE WHITE INVADER. HE WILL ENSLAVE YOU, STEAL YOUR LAND, RAPE YOUR WOMEN, AND YOU WILL DROP DEAD FROM HORRIBLE ILLNESS."

That might be a really convincing precedent for them not to trust outsiders; possibly difficult to overcome long enough to teach them about canned food...

---

SPUCK Wednesday Jun 4 05:29 AM

Maybe we could just give them some blankets.






---

classicman Wednesday Jun 4 09:48 AM

---

xoxoxoBruce Wednesday Jun 4 11:47 AM

---

TheMercenary Wednesday Jun 4 11:54 AM

Dude that was so wrong.



---

SPUCK Thursday Jun 5 05:52 AM

Bruce got it.

---

Coign Thursday Jun 5 10:53 AM
No idea of infant mortality? Are you seriously saying they work less and have a better mortality, infant and lifespan, then we have? Do you think for a MOMENT that out of a thousand plus different cultures and tribes they somehow are different and found the fountain of youth and are living in some utopia of perfect health?

Give me back your damn bible. The earth was not created in seven days, it is not a thousand years old, dinosaur bones were not planted by god, magic doesn't work, and Xenu is not the reason you have a bunch of thetans causing the bad in your life.

It is called empirical evidence. I will agree that in history a more civilized country has been defeated by a more barbaric one, but I can not believe you really believe that civilization does not promote a better way of living.

And civilization is not created equal. There are different levels to it. We live better than the those in ramshackle "2nd World" countries. They live better than those in "3rd World" countries, and they live better than those in the mud huts in the middle of deepest Africa.

No, we are not all equal, but those of us at the top live better and those at the bottom are climbing that ladder right behind us.

Arrogance you call it? I call it read your damn history books and understand the meaning of empirical evidence. This is not a question of faith and morality, it is another example of the faithful trying to say, "Quake in the face god for his wrath shall strike down the mighty."

Well fuck your god.

---

DanaC Thursday Jun 5 12:00 PM

What the fuck has God got to do with it?

---

xoxoxoBruce Thursday Jun 5 12:15 PM

Coign is railing against an argument nobody made.

---

Shawnee123 Thursday Jun 5 12:27 PM

yeah...who's he talking to? What a maroon...what an ignoranamous.

Hey dickweed, all I said was how do we know what their infant mortality rate is...they're UNCONTACTED.

Did you see this part of my post?



Now pull your pink panties out of your ass and your post out of your tail.

cuckoo cuckoo

---

DanaC Thursday Jun 5 12:51 PM

---

Shawnee123 Thursday Jun 5 12:53 PM

I think he's contacted them. Crap, there goes the whole "uncontacted" mystique.

---

DanaC Thursday Jun 5 12:57 PM

lol

---

Coign Thursday Jun 5 03:05 PM

My argument is based on you making the assumption that they have better health plan and are overall happier based on NOTHING! That is called faith.

I base my argument that their life would be better by introducing civilization on historical FACTS. That is called science.

That is why I brought a god into it. It is not the American God I specify, or Yahweh, or Xenu, or what ever magical power you think makes them healthier then me. I mention all of them because each one is an example of YOUR type arrogance.

I don't care if you use the term higher power, god, or pixie dust. You making an assumption that contradicts greater empirical evidence means you have FAITH not reasoning to backup your argument.

The work less comment was because I use it as one (and only one) of my goal posts in a happiness measurement. And historically if they are hunter/gathers as these pictures indicate to me then they work a shitload. If you have to work 160 hours a week to feed your tribe you are not spending free time in the pursuit of happiness.

Yet you call those who use reasoning to say that we should contact them and introduce civilization to them arrogant? No we are not arrogant, we are civilized, and realize that magic does not make a person healthy.

---

DanaC Thursday Jun 5 03:12 PM

You are making huge assumptions about these people and the effects contact would have and then accusing anybody who raises potential problems with that model of acting on blind faith, whilst attributing to them assumptions which they have not made.

---

Shawnee123 Thursday Jun 5 03:14 PM

Where the fuck did I make any assumption that "they have better health plan?" Where the fuck did I make any assumption?

All I did was pose that, since we know nothing about them, PERHAPS they have a lower infant mortality rate than we could know. We don't know! How is it, if you're so civilized and advanced, you are still such a neanderthal?

PERHAPS. It's Engrish. Speak it.

Listen fuckwad, you're getting on my last nerve. Use me as your little hopping post for whatever cause you're trying to advance...but try to be accurate about what I said. And don't make assumptions about what I might think of as my faith. You know less about me than you do the forest-dwellars.
Or stick a cock in your mouth, a healthy one please.



Did I remember to say Fuck You? Oh, sorry. Fuck you.

---

Shawnee123 Thursday Jun 5 03:15 PM


---

Coign Thursday Jun 5 03:16 PM

My HUGE assumptions is based on thousands of case histories. What are your HUGE assumptions based on?

I assume that to start them on the road to civilization WILL make their life better. Why do you want to keep them working, sick, and ignorant? Because history tells me that is what they are.

---

Shawnee123 Thursday Jun 5 03:20 PM

NEITHER OF US MADE ANY ASSUMPTIONS YOU ASSUMPTION MAKING ASSHAT.

What a loser.

---

Coign Thursday Jun 5 03:22 PM

This is the basis of the FACT that EVERYTHING is a theory and is the base argument for creationism. Because it is a theory it could be eventually proven wrong. Therefore maybe magic does exist.

I tend to believe that the apple (without any further extenuating circumstances) will fall to the ground. And you know what? I bet you I will be right.

Using what has been shown in the past I am willing to bet these people are hungry, sick, and unhappy. And you know what? Since I believe the apple will hit the ground, I bet you I will be right.

---

Shawnee123 Thursday Jun 5 03:23 PM

Duhhhhhhhhhhhhhhhhhh, what apple? I'm too stupid to get the apple thing. Do you eat it?

Oh, and HUH?

---

Coign Thursday Jun 5 03:24 PM

The rest of it is just us backing up our argument. I use "what we know" as my basis for argument and you use "what you don't know" as the basis for your argument.

Faith vs. Science again at war.

---

DanaC Thursday Jun 5 03:25 PM

You are pulling out historical agreement where none exists. It is the nature of historians to argue and find flaws with each others' theses. How detailed are your case studies? Are they from archaeological studies, in which case they are blurred by the lack of detailed records and the vast swathes of blank and unlit terrirtory. Are they from recently observed cultures, in which case the observation is through modern eyes.

We. Do. Not. Know. How. Happy. They. Are.

In what way am I making 'HUGE assumptions' by stating that we do not know enough about these uncontacted people to make assumptions about them?

---

Coign Thursday Jun 5 03:27 PM

I'm sorry, were you not taught science in school?

What analogy would you like me to use?

---

Shawnee123 Thursday Jun 5 03:31 PM

You're making the assumption that I made any assumption. What do you not get?

You're also making an assumption that I'm an uneducated moron waving a bible around. You are not actually reading anything you are responding to, just picking out bits and pieces so you can babble on about what a grand scientist you are.

Well Dr Franken-steeeen, you obviously don't know me. I'm the last person to hide behind religion, or anything else.

kthxbai

---

DanaC Thursday Jun 5 03:36 PM

The dilemma of contact: voluntary isolation and the impacts of gas exploitation on health and rights in the Kugapakori Nahua Reserve, Peruvian Amazon

http://www.iop.org/EJ/article/1748-9..._4_045005.html



http://www.independent.co.uk/news/wo...774.html?r=RSS

---

Shawnee123 Thursday Jun 5 03:46 PM

Here's an analogy you can use:


Newton beat the living fuck out of Coign because Coign was such an unprecedented asshole. This led the way to further research into assholiness and the subsequent smack-down of t-dub wannabe trolls everywhere. Science IS good.

---

Coign Thursday Jun 5 03:47 PM
Have you read any of your own posts in this thread?

Someone says that they have a low mortality rate. You reply that they can't know that.

Why not? Why can't that person know that if he hasn't read and been taught and learned that primitive tribes have lower lifespans and higher mortality rates than a more civilized culture?

Because he hasn't been there? Because he hasn't contacted the tribe? But there have been a hundered tribes discovered before and a hundred times it has been the case. But that past history doesn't mean that he knows what the lifestyle is like about these people?

And I'm sorry you are not making any assumptions. You are just telling him he is wrong.

Isn't that an assumption?

And it isn't the first time you have said, "You can't say that cause you don't know."

Why not?

What gives you the power to say he is wrong?

Do you have ANY basis to point to the fact that he is wrong?

---

Coign Thursday Jun 5 03:50 PM

It smacks of religion and gets me riled up and I tend to lash out a bit harder than I normally would.

Go ahead and call me an asshole. I deserve that. A number of my comments were.

But don't call me wrong unless you KNOW something I don't.

---

HungLikeJesus Thursday Jun 5 03:59 PM

Why is it that if the indigenous people are spending their days hunting and fishing, that's work, but if we spend our days hunting and fishing, that's vacation?

Ah, perspective.

---

DanaC Thursday Jun 5 03:59 PM

If you are suggesting that they have a lower lifespan than we do then you may have a point, but what is on offer is not our lifestyle, but a few little forays into modernity. If you are suggesting that the poorest 'modern' community is healthier and longer lived than 'primitive' hunter gatherers then you are wrong.

Compare the health and lifespan of settled subsistence farmers with primitive hunter gatherers and you will almost certainly find that the hunter gatherers are healthier, live longer, are more resistant to disease, work less and have a healthier and more nutritious diet.





http://www.eco-action.org/dt/futureprim.html

---

Shawnee123 Thursday Jun 5 04:01 PM
Whatever. T-dub.

---

classicman Thursday Jun 5 04:02 PM

Coign meet tw, whats that you are tw? in that case nevermind

---

classicman Thursday Jun 5 04:02 PM

lol - great minds think alike

---

Shawnee123 Thursday Jun 5 04:04 PM

:hugs:



---

DanaC Thursday Jun 5 04:06 PM

Also, if you think that anthropology has in any way reached a consensus on most of this stuff you are sadly mistaken. There have been near fist fights and decades long feuds over subtle distinctions of societal development in these tribes. There have also been new generations of observers who have brought wholly different techniques and observations to tribes who we previously thought we understood.


[eta] if you went to a convention of those anthropologists who've documented the first contacts you are talking about and tried to tell them any assumptions could be made on the grounds of what they already knew, you'd be laughed out of the building. Just a thought.

---

Shawnee123 Thursday Jun 5 04:08 PM

A hundred, coign? Cite?

I never quoted any actual "statistics" if that's what we can call your arbitrary "hundred." Some science guy.

---

Coign Thursday Jun 5 04:19 PM

I am sorry. Maybe I am a little slow. You compare me to and/or say I am President Bush.

Your basis for this is that (I'm assuming here because I don't really understand your insult) you are saying Bush promotes taking things on faith and on the contrary I am trying to promote educating yourself and look at things from a reasoning point of view?

Let me break this down even further to really point out the complete dichotomy of this insult.

Lets say taking things on faith is white and taking things on past scientific basis is black.

You insult me by calling my black attiude is the complete opposite and is white?

Then you pat yourself on the back and give high fives to all your friends for an awesome insult.

You know I can't even be insulted by that. I am just really confused as your elation over your clever retort.

You would have hurt my feelings more if you would have called me a poopy-head.

And since this argument has dissolved down into insults that don't even make slightest sort of sense I bid you good day and will stop posting in this thread.

---

DanaC Thursday Jun 5 04:22 PM

Hooray!

Actually Coign nobody compared you to Bush.

---

Shawnee123 Thursday Jun 5 04:22 PM

I said you were President Bush?

You are seriously demented. Don't start anything you can't take. And yes, at the risk of sounding like a troglodyte, you started it.

Take your balls and go home.

---

Coign Thursday Jun 5 04:39 PM

Sorry, I said I will quit posting but Dana, unlike Shawnee, is bringing up interesting arguments and ones I can talk about and discuss.

While posting and reading more about this tribe I did come across this article and did want to discuss the ramifications behind it.



http://ap.google.com/article/ALeqM5i...OgH_wD9105MUG0

I quoted what I felt was pertinent and will agree with Dana that "past" first encounters have a 50% chance of killing off the tribe.

But I think we are all working from partial knowledge here. Which nation is doing the contacting? Have steps been taken to insure a first contact is not going to wipe them out due to a common cold? (Easily prevented in a controlled situation, don't let sick people make contact.) Is it a nation at all making the contact or is it illegal loggers and undesirables that have no interest in the tribe in the first place?

That I don't know. But I am arguing that you need to make that contact. You need to give those people a choice. Give them as much information as they are willing to listen to.

I am all for letting a civilization turned down society and eventually doom themselves if they choose. But we are not the people to say, "Well they would just be better off without us." I say we can not make that life-altering decision for them.

And lastly.





Psychiatry on the other hand is an art. There are more exceptions than there are rules.

And although I do hate responding to Shawnee, I actually was shooting for a "low" number when I said hundreds. In this modern day, as the article above states, there thought to be as many as 64 currently uncontacted tribes. And my hundreds were to include tribes since we started gathering information on the unknown neighbor over the hill.

---

Shawnee123 Thursday Jun 5 04:40 PM

I'm not going to respond to coign, except...poopyhead!

---

Coign Thursday Jun 5 04:43 PM

I thought it meant The Dubba as in the President Bush. Insults mean nothing if your target does not understand what the hell you are saying.

Or as it was put to me eariler.

SPEAK ENGRISH!

---

Shawnee123 Thursday Jun 5 04:44 PM

Poopyhead!

---

DanaC Thursday Jun 5 04:58 PM

Anthropology and history share many characteristics. There is a good deal of crossover. The use of the word theory in physics may denote a solid assumption. The use of 'theory' in social sciences bears more resemblance to it's use in the humanities. Much less about assumption and more about conjecture and hypothesis.

---

Coign Thursday Jun 5 05:19 PM

So let's put this in quantifiable knowns and use a short-term view of the situation.

Do we attempt contact in a controlled friendly manner and attempt to warn or possibly relocate them, or do we allow loggers to decide that they should just shoot them on sight because they are a hostile force in a land they want to illegally log in the middle of a location that does not have a law enforcement?

---

DanaC Thursday Jun 5 05:33 PM

According to that article I posted earlier, they are exhibiting behaviours that in geographically close tribes means a 'war footing'. This suggests they are telling us they don't want us to contact them.

As I said earlier in the thread, I do not know if the right answer is to contact them or not. Even in a 'controlled' manner, contact can bring hidden dangers to those contacted. One of the lessons that can be learned from history on this score, is to expect things not to go as planned.

---

Shawnee123 Thursday Jun 5 05:48 PM

Aha! I get it now. Coign works for the logging industry. I'm really not being facetious.

---

Aliantha Thursday Jun 5 06:21 PM

Bringing modernism to indigenous people under the guise of 'it's for their own good' or 'they'd be better off' or 'save their heathen souls' even, is not a good enough reason to disturb a culture.

With regard to cultures that've been introduced to modern society there are many who try to hold onto their traditional way of life, but it just doesn't seem to happen. In all cases, once a tribe is contacted by the outside world, their culture is forever tainted. It's like opening pandoras box. Once it's done it's done and you can't close it again.

Haven't we learned by now that indigenous cultures historically do not thank us for bothering them...taking their land...interrupting their lives?

---

spudcon Thursday Jun 5 09:00 PM

I think Coign was mistaking everyone else for my post below.(Health care, etc.) I think it was prophetic of me to point out the mindset of those who want to civilize these folks, because they know what's better for the natives. They don't need someone taking care of them, anymore than we need someone telling us what's best for us.




We laugh at honor but are shocked to find traitors in our midst. -- C.S. Lewis

---

spudcon Thursday Jun 5 09:01 PM

P.S. poopyhead.

---

Cicero Thursday Jun 5 10:17 PM

They will thank us some day for robbing them of their heritage and stealing all of their valuable resources...oh wait......no.

Really. It's not what we could do for them, it's what they can do for us, isn't it? Is not having that Nike t-shirt really going to kill them, and rob them of everyone else's poor decision to look like an idiot?

They won't be dying in a car accident any time soon....

Imagine the guilt of pulling them out of the jungle only for them to die in a train wreck a month later. Wouldn't you suck then?

---

spudcon Thursday Jun 5 10:28 PM

Can't argue with that, Cic.

---

Undertoad Friday Jun 6 08:45 AM

Imagine the guilt of not contacting them and having them die of dysentery or simple infection. That's the 99.9999% more likely scenario.

Oh you've written off that guilt for cultural preservation! Good for you.

---

DanaC Friday Jun 6 08:48 AM

The record on contacting such tribes suggests that the dangers of wiping them out in a handful of years is higher than the risk of them simply dying out uncontacted. The very fact that they've successfully avoided the modern world without dying out of dyssentry or simple infections suggests that they're doing fine without us.

---

Undertoad Friday Jun 6 09:08 AM

I'm noticing that only things that affect the entire tribe are meaningful in these arguments; and if individuals die of dysentery, inevitable where there's lack of clean water supply, or of infection, inevitable without antibiotics, they are irrelevant.

---

Flint Friday Jun 6 09:52 AM

And I wonder what their philosophical interpretation of someone dying from dysntery is, considering that if it's as likely as you say it must be (assuming they don't have their own medicinal practices) they might just deal with it as a fact of life. People are born, people die. We're assuming that they are as incapable of dealing with this reality as we are.

You can't assume that they place a value on the chronological span of an individual human life in the same way we do; and you can't say they would be wrong for doing that. You can't apply your own moral constructs as a justification for taking action in order to standardize their SOPs.

---

smoothmoniker Friday Jun 6 10:33 AM

The moral weight of a preventable death is in no way contingent on the social group's ability to "deal with it as a fact of life."

---

Undertoad Friday Jun 6 10:40 AM

If it's the needs of the tribe that are important, our tribe's need to assimilate them outweighs their tribe's need to preserve their culture.

---

Coign Friday Jun 6 10:58 AM

What I don't get is why everyone against contacting them seems to makes the argument that they don't need a Starbucks or Nikes.

I am not talking about introducing an LCD TV and Paris Hilton. I am suggesting we try and teach them about the dangers they face. Let them know that they will most likely not be able to live there forever because loggers are coming and they may not survive that conflict.

Oh and by the way, this technique is called washing and keeping clean. It means you can be healthier.

If Og never shared the wheel with his neighbor because he was looking out for cultural preservation where would we be today? I put by vote behind enlightenment. I would not want a culture that keeps me ignorant.

I try to stop thinking of us all as separate cultures. Human culture conflict is why we have a war in the middle east. (Not the US's war, I am talking between the local tribes already there that the US, for good or for ill, is trying to stamp out.)

Culture is pleasant when it is in a museum, it is bad when you think someone is trying to take it from you and need to kill over it. Or in this case troll over it.

I have traveled to Brazil twice, and once western Europe and once Eastern Europe. I would be just as happy living in most of the places I have been. No two democratic nations have ever gone to war with each other. (Officially anyways. There have been some "topples.")

I repeat, culture is nice when it can be appreciated. It is hell when it is all you are.

---

Sundae Friday Jun 6 11:08 AM

---

Flint Friday Jun 6 11:14 AM

---

spudcon Friday Jun 6 11:42 AM

If we could drop a hologram in their midst, and speak to them in Og language, and just show them what they're missing without editorializing, then they could make their own decisions. I don't see any of those things happening in the immediate future, so empirical evidence says they're screwed.

---

jinx Friday Jun 6 12:03 PM

Isn't it inevitable that half to most will die when they are contacted by foreigners?

---

smoothmoniker Friday Jun 6 12:42 PM

In which case, OMG, can you BELIEVE that David C won American Idol! LOL

---

Sundae Friday Jun 6 12:48 PM

How is it preventable Smooth?

---

Flint Friday Jun 6 01:09 PM

Is every preventable death the absolute right thing under every circumstance? Take a minute to ponder that.

What about a life unnaturally prolonged by life support machines or massive doses of toxic medications? What if the person is braindead? Then you have a QUALITY OF LIFE issue.

There is a trade-off to save that life. It isn't 100% right all the time; it isn't beyond discussion.

A "preventable death" means one thing to you, but it opens a big can of philosophical worms. Firstly, you can't prevent death. It's a part of life; there's a death for every birth. This is the natural order. You can DELAY death, but by what means? You will always bring about a set of related consequences.

The question is whether the trade-off is worth it, and you can only answer that question for yourself. You aren't a spokesperson for UNIVERSAL moral constructs.

---

TheMercenary Friday Jun 6 02:14 PM
---

Sundae Friday Jun 6 02:56 PM

Interestingly, it seems to be the forum's liberals who advocate - or at least suggest - leaving them alone. No-one has yet addressed the issue that they are in a remote location, with no money and nothing viable to trade, so how will the modern world benefit them? Oh of course, they suck off the Government teat. It's odd to hear those with more right wing views than me espouse that. Trouble is, both Brazil & Peru's teats are pretty hard to locate. If they ever had any milk it is long gone. If these people become a citizen of either of these countries they could have a far more dangerous life. And in my mind, that means they are probably - of course I can't say for sure - better off not being contacted.

Where would they end up otherwise - in Peruvian "society"? Unlikely. And this is not a country with a safety net for those at the bottom of the heap. In this "civilisation" people starve, people die, people work 12 hour days. And yes, I donate money to try to help this situation. I'm not impervious to pointless death.

From The Independent in 2006 - credit Johann Hari.
I doubt much has changed.

It's a long article which I found very interesting when I read it last year. I've only included some highlights here but if they interest you I urge you to read the rest.





---

jinx Friday Jun 6 08:37 PM


---

Cicero Friday Jun 6 09:28 PM




I don't know who I'm being "lumped" in with, but suffice it to say if I have no party affiliation, no one can claim it for me.

My party does not currently exist.




You should interrupt their lives with modern medicine. They aren't safe!! lol!!!

They could die. Ludicrous!

They should contract one of our diseases so we can cure it, for their safety? Is this sound logic? We should cure them of "the bloody flux"? Do they even have that? Do they have the plague? The black death? This is a revisit to the time once again we came to "help savages". They don't know what they are doing until we give them small pox or something. We should give them whiskey too, fuck it. Maybe some narcotics to cure their "savageitis".
:p

They don't look like they've been paying any taxes. Assholes. Put them in jail.

---

HungLikeJesus Friday Jun 6 11:51 PM

I wonder if the American Indians are better off since they were "contacted" by Europeans. And what about the Australian Aborigines?

---

xoxoxoBruce Saturday Jun 7 12:08 AM

Just because "we" haven't contacted them, doesn't necessarily mean they haven't been in contact with neighboring tribes or that they are unaware there are people of different colors/cultures out there. Maybe they don't give a shit.

If they are threatened by loggers, I don't see the value of warning them, warn the damn loggers to leave them alone.

---

smoothmoniker Saturday Jun 7 12:09 AM

They weren't contacted, they were colonized. Nobody has suggested that we do that here. But, if that's the straw man you'd like to set on fire, by all means, go right ahead.

---

dar512 Saturday Jun 7 12:38 AM

---

DanaC Saturday Jun 7 05:49 AM

---

smoothmoniker Saturday Jun 7 11:28 AM



Preventable death is bad. There may be some circumstances where it is preferable to the alternative, where competing factors make it morally allowable, or even the morally preferable option.



The exception is the braindead case, where the discussion is over whether simple organ-sustainment counts as life.





But, like I said, if we can't agree on the bare minimum that preventable death is "A Bad Thing," keeping in mind the clarifications given above, then I think we have no possibility of meaningful conversation about anything else.

Did you hear that Lindsey Lohan slept with Bobby Brown's son? OMG! That Brown family is out to ruin every good thing in hollywood LOL!!!!1!

---

Flint Saturday Jun 7 12:22 PM

You like to hear the sound of your keyboard going clickety-clickety-clack, don't you?

Of course, there's nothing pig-headedly arrogant about making decisions you know nothing about for people you know nothing about.

---

Undertoad Saturday Jun 7 12:23 PM

Well that response is a fine substitute for thinking.

---

Flint Saturday Jun 7 12:27 PM

And going around in completely disconnected circles was getting us...where?

I get his point. He's right because he's right, and his rightness is a rightness that doesn't have to be explained or examined.

---

smoothmoniker Saturday Jun 7 12:38 PM

yes, that's basically exactly what I said. I certainly didn't clarify and defend a substantive idea with direct bearing on the conversation about infant mortality and modern medicine.

---

Sundae Saturday Jun 7 12:42 PM

Neither did you explain how people with no money get modern medicine on the borders of countries that can't provide their existing citizens with life saving medicines or clean water.

---

smoothmoniker Saturday Jun 7 01:02 PM

"Ma'am, your babies keep dying because you shit upstream from where you drink."

Just one example of how a modern medical idea might help save lives, without the need for money or evil pharmaceuticals. We can brainstorm some others, if you like.

---

Sundae Saturday Jun 7 01:03 PM

Oh sorry. I thought they were uncontacted, not stupid.

---

jinx Saturday Jun 7 01:07 PM

If they're that stupid, and their babies keep dying - how is it that they exist at all?

---

smoothmoniker Saturday Jun 7 01:08 PM

Yeah, it only took 30,000 years of human development, the sharing of ideas from hundreds of cultures, and countless deaths to discover that fecal traces could cause dysentery. Don't assume that it's obvious because its already part of our common understanding of the world. There are still people in the world who discount the connection, and die because of it.

But, this isolated group probably figured it out all on their own. Of course WE DONT KNOW THAT, BECAUSE WE REFUSE TO SHARE OUR KNOWLEDGE WITH THEM.

---

Sundae Saturday Jun 7 01:16 PM

Animals don't shit where they eat. These people live closer to nature than Europens have for a millennia.

But of course we don't know whether their babies are dying of dysentry, because we're not risking them catching diseases they are not immune to.

---

smoothmoniker Saturday Jun 7 01:31 PM

You realize how much that makes you sound like a game warden?

Clodfobble's initial post is right on target. It is the right of human beings to share in human knowledge - you think they forfeit that right by virtue of their cultural fragility. That's the kind of argument you make about an endangered species, not human beings.

---

Undertoad Saturday Jun 7 01:32 PM

We do know. 1 in 4 babies around the world who die, die from lack of clean water. Half the hosiptal beds in the world are occupied by people who drank bad water.

---

Flint Saturday Jun 7 01:36 PM

Wherever there is an overwhelming temptation to make assumptions based on cultural perspective...
. . . ...I feel an intellectual obligation to present a devil's advocate.

And besides, haven't you people ever heard of the PRIME DIRECTIVE before ??? . . . Case closed.

---

jinx Saturday Jun 7 01:36 PM

Right - their formula - introduced to them by the modern world - is being mixed with dirty water. I doubt these folks baby's face that danger, as nursing babies don't need water.

---

Flint Saturday Jun 7 01:39 PM

Preposterous on it's face!

---

xoxoxoBruce Saturday Jun 7 01:39 PM

It is also the right of human beings to avoid others, and not be imposed on by anyone. They are perfectly capable of making contact with other people, if they wish.
There is apparently many tribes that don't want to make contact, and some who have, that don't want to again.

Besides, if you bring all them high falutin ideas, how they gonna keep them wimmin in line?

---

DanaC Saturday Jun 7 02:00 PM

It's been said already but it's worth repeating: their behaviour appears indicative of a conscious attempt to avoid contact. Why would we take away their conscious decision to remain aloof ? Because we know they know little about us? If only they knew more about us they'd realise how silly they're being?

In that picture they were doing all but setting up the 'Keep Out' signs.

---

xoxoxoBruce Saturday Jun 7 02:38 PM

In their language, red paint and arrows are, a keep out sign.

---

Flint Saturday Jun 7 03:08 PM

Man hasn't thrived due to being stronger or fatser than our competitors; our strength is adaptability.

We've been able to adapt to vastly diverse settings, crafting unique skills for each set of challenges.

These people have their own set of adaptations. There's no guarantee that we can introduce any adaptations to them that will be useful to their environment. What we will introduce them to is a new set of things to adapt to.

I can think of alot of examples where the things that a people had to adapt to overwhelmed them; and even the new skills we showed them only served to undermine their existing adaptations to their environment, making them less able to survive.

Our adaptations aren't what they need to survive where they are. They've got that part figured out. All we can do is show them how to be more like us. The unexamined assumption that bothers me is that the more like us you are, the better off you are.

---

Undertoad Saturday Jun 7 03:43 PM

Loretta: And from our father's father's fathers.

Reg: Yeah.

Loretta: And from our father's father's father's fathers.

Reg: Yeah, all right Stan, don't delay with the point. And what have they ever given us in return?

Revolutionary I: The aqueduct?

Reg: What?

Revolutionary I: The aqueduct.

Reg: Oh. Yeah, yeah, they did give us that, ah, that's true, yeah.

Revolutionary II: And the sanitation.

Loretta: Oh, yeah, the sanitation, Reg. Remember what the city used to be like.

Reg: Yeah, all right, I'll grant you the aqueduct and sanitation, the two things the Romans have done.

Matthias: And the roads.

Reg: Oh, yeah, obviously the roads. I mean the roads go without saying, don't they? But apart from the sanitation, the aqueduct, and the roads...

Revolutionary III: Irrigation.

Revolutionary I: Medicine.

Revolutionary IV: Education.

Reg: Yeah, yeah, all right, fair enough.

Revolutionary V: And the wine.

All revolutionaries except Reg: Oh, yeah! Right!

Rogers: Yeah! Yeah, that's something we'd really miss Reg, if the Romans left. Huh.

Revolutionary VI: Public bathes.

Loretta: And it's safe to walk in the streets at night now, Reg.

Rogers: Yeah, they certainly know how to keep order. Let's face it; they're the only ones who could in a place like this.

All revolutionaries except Reg: Hahaha...all right...

Reg: All right, but apart from the sanitation, the medicine, education, wine, public order, irrigation, roads, the fresh-water system and public health, what have the Romans ever done for us?

Revolutionary I: Brought peace?

Reg: Oh, peace! Shut up!

---

Flint Saturday Jun 7 03:56 PM

---

jinx Saturday Jun 7 04:02 PM

I would love for someone to answer the question that SG asked several times already, about how you plan to supply the tribe with all these modern wonders - and why the people living closest to them, who were contacted hundreds of years ago are still going without them.

To me, the original question seemed to be not "do we contact them and give them everything we think they should have" - but "do we contact them by taking what we want (logs) from them and leaving them to suffer the consequence of our meeting".

---

smoothmoniker Saturday Jun 7 05:59 PM

I don't plan to supply them with anything apart from the knowledge that there is a wider world of human advancement, and they have the right to participate in it.

Once they know that, if they still intend to live in isolation, then I have no problem with that. They're entitled to that privacy, and to the undisturbed continuation of their current way of life. As it stands right now, we're depriving them of the freedom to make that choice. We are insisting that they remain ignorant of the state of modern human society.

I'm not proposing that we do to them, or for them, anything. Maybe that's the point of confusion here.

---

smoothmoniker Saturday Jun 7 06:03 PM

By the way, I'm also opposed to infringing on their territory for commercial logging. I'm not arguing in favor of that. My point is very, very limited. I'm arguing that preserving the culture of an indigenous people by withholding all contact is cruelty, perpetuated by post-colonial guilt and cultural self-loathing on the part of western society.

---

xoxoxoBruce Saturday Jun 7 06:21 PM

Show them Oprah, then tell them they can't afford a HD converter. (US joke)




---

jinx Saturday Jun 7 07:30 PM


---

Clodfobble Saturday Jun 7 07:39 PM

---

jinx Saturday Jun 7 08:14 PM

There are a lot of possible realities. The possibility that a small group of researchers will go to talk with them, and offer them all the information, but none of the materials, that they need to catch up with 'us' - is, I think, slim. A fantasy scenario really.

---

smoothmoniker Saturday Jun 7 08:17 PM

Yes, by all means, let's limit our discussion to things that can actually be accomplished by a bunch of nerds typing away in an online forum.

Theory and philosophy is all we do here. That and hilarious penis jokes.

---

DanaC Saturday Jun 7 08:20 PM

I'm guessing, given the war paint and general 'go away' tone in that photo, that said small group might not be welcomed with open arms.

---

jinx Saturday Jun 7 08:22 PM

In that case SM, I think they should be contacted by a small group of Hooters waitresses and Chipendales with a bunch of winning lottery tickets.

---

Aliantha Saturday Jun 7 08:23 PM

They might end up dead even. What then? Does the tribe member get charged with murder? It's almost laughable. In fact, I did lol at that thought.

Just leave them alone.

---

Clodfobble Saturday Jun 7 09:04 PMpeople inside the huge loud flying creature.

---

smoothmoniker Saturday Jun 7 09:54 PM

---

lumberjim Saturday Jun 7 10:42 PM

there are a lot of assumptions being made about what these people know. How do you know they haven't communicated with us long ago and decided that we're bad news......a more likely scenario in my mind....

And how can you expect to communicate all the potential benefits and repercussions of their exposure to modern society in a meaningful enough way for their choice to be made clearly and properly. Hubris! They've survived as long as they have in isolation because they know how to. They have the right to their privacy. If they want to meet us, they'd come to us....we're not THAT far away from them.

just because you CAN help someone, doesn't mean they want your help. Don't we have better shit to do, anyway?

---

Flint Saturday Jun 7 10:50 PM

We're weighing all the benefits we have to offer on one hand, and on the other: ??? (nothing). We don't know anything about them, so naturally we assume that they need our fancy bullshit. What I'm arguing against is that we have some kind of moral obligation to interfere with them, presumably because they are unable to fend for themselves. Meanwhile, if they have any kind of oral history of contact with Europeans, then I'd say there is about a 99.999999999% chance that they are avoiding us on purpose. . . . And I didn't just pull those numbers out of my ass.

---

Cicero Sunday Jun 8 01:27 PM

C'mon guys! The photos are taken out of helicopters and you can see people on them. Someone already said it. They are a rural tribe who get information late, but not that late.

If they are evading loggers and on the run, they want nothing to do with it, and they aren't stupid.

When they want contact with us, we will know it, possibly by the spear in our ribcages.

They have seen and are running from what we do already, because we are scary sob's. It's not because we have "metal monsters". It's because we are destroying their shit and they know we are more sophisticated. They have every good and noble reason not to contact us. I can't say the same for us.

The babies dying are from larger populations in third world countries that have already been colonized (contacted). Which is how you could get a statistic in the first place. We don't have census or stats from the uncontacted. They don't vote, go to our hospitals, or talk to aid workers. So your world stats do not apply to the uncontacted.

---

xoxoxoBruce Sunday Jun 22 12:48 PM

.

---

spudcon Monday Jun 23 12:08 AM

See, we learned from them long ago. Piercings, tattoos, half naked people, looks like the latest attempt at reviving Woodstock. And you guys called them primitive.

---

Undertoad Monday Jun 23 12:21 AM

Secret of the "lost tribe" that wasn't: Tribal guardian admits the Amazon Indians' existence was already known, but he hoped the publicity would lift the threat of logging





---

xoxoxoBruce Monday Jun 23 01:14 AM

From UT's Guardian link;



I was under the impression, from the gitgo, he knew they were there, but took the pictures because the government needed proof, in order to act.

---

classicman Tuesday Jun 24 10:19 AM

Just an update -





---

xoxoxoBruce Tuesday Jun 24 10:41 AM

Uh, see posts 198 and 199.

---

classicman Tuesday Jun 24 11:29 AM

oops & now 200 - oh well

---

dar512 Monday Jul 7 10:32 AM

They were only lost because the driver was new and refused to stop and ask for directions:
.
.

---

HungLikeJesus Monday Jul 7 11:08 AM

Why does that guy in the front have a table leg?

---

xoxoxoBruce Monday Jul 7 11:10 AM

It's all he needs.

---

Shawnee123 Monday Jul 7 11:16 AM

Bunch of those damn supposed "uncontacted" indigenous peoples were wandering around in my back yard yesterday. Damned if I was gonna contact them!

---

Flint Monday Jul 7 11:19 AM

---

Shawnee123 Monday Jul 7 11:22 AM

And get whacked by King Goolie-Ga-Ga of the Table Leg Gods?

---

HungLikeJesus Monday Jul 7 12:14 PM

Field trip!

---

lookout123 Monday Jul 7 02:10 PM

It is their version of a guy driving a super lifted quad cab truck with a booming system to the office each day.

---

HungLikeJesus Tuesday Feb 10 01:49 AM

Amazon Indians accused of cannibalizing farmer

From here:





---

xoxoxoBruce Tuesday Feb 10 02:06 AM

---

Scriveyn Tuesday Feb 10 02:13 AM



culinary derived from the Indian tribe's name?

---

monster Thursday Mar 24 04:29 PM

here's some video footage:

http://www.bbc.co.uk/news/world-latin-america-12360013

---

infinite monkey Thursday Mar 24 04:36 PM

Dude, they have motorcycles? Oh wait. Commercial.

Seriously, why can't we leave those people alone? I'm sure I bitched about it in here somewhere.

---

monster Thursday Mar 24 05:17 PM

They had to get footage in order to persuade the logging companies that they existed and needed to be left alone. That's what I understood from the story anyway.

---

infinite monkey Thursday Mar 24 06:44 PM

Sorry, I didn't read it. I was just being a smartass.

They are really interesting. I was thinking as I luxuriated (is that a word?) in my bath, that maybe I should go live with them. Wouldn't I be an oddity. Then I thought about what they must eat and stuff, and all the spiders.

---

Slight Saturday Mar 26 04:22 AM

Higher res without adverts or William Hurt

---

Spexxvet Saturday Mar 26 08:53 AM

A map of where they are, from Slight's link.

http://www.uncontactedtribes.org/where

They obviously saw the plane. Is that considered contact? Do they now worship the giant noisy bird god who doesn't need to flap his wings?

---

SPUCK Sunday Mar 27 06:10 AM

---

infinite monkey Monday Mar 28 08:36 AM

I think we make a lot of assumptions about uncontacted indigenous people. It's not the episode of Gilligan's Island where the native guy runs amok and Wrong Way Feldman crashes into them.

They probably don't just worship EVERYTHING.

---

Undertoad Tuesday Aug 20 10:02 AM

http://www.theguardian.com/world/201...cho-piro-tribe

Peru: alarm over appearance of isolated Mashco-Piro tribe

Authorities perplexed as more than 100 members of clan that has almost no contact with outsiders threaten to cross river





---

Undertoad Friday Aug 30 10:22 PM

Video of our heroes and their breasts.



---

Undertoad Friday Aug 30 10:25 PM

We scared 'em. They should be scared, they go around the jungle all nekkid.



---
Your reply here?

The Cellar Image of the Day is just a section of a larger web community: a bunch of interesting folks talking about everything. Add your two cents to IotD by joining the Cellar.