xoxoxoBruce Wednesday May 28 03:00 AM

May 28, 2008: Bombing Wildfires

A new system of fighting wildfires.


Quote:

The packages falling from the back of a C-123 cargo plane were delivering what could soon be help to crews fighting wildfires across the country. The Precision Container Aerial Delivery Systems boxes each had 250 gallons of fire retardant.

The system, demonstrated May 7 in Kingman, Ariz., can make firefighting more effective and less expensive, substantially expand the fleet of aircraft that can fight fires, and allow direct airdrops onto fires around-the-clock.

PCADS comprises triple-walled corrugated cardboard boxes with a plastic bladder inside. The box lid is attached to the bladder with straps. The lid, acting like a small parachute both slows the decent, and also pulls the straps that rip open the bag releasing the water or fire retardant.

"PCADS gives firefighters a broad range of benefits," said William Cleary, Boeing PCADS program manager. "It can be used on any cargo plane with a rear cargo ramp, vastly expanding the fleet of available aircraft.

Since the system delays the opening of the bladders, they can be dropped from a higher altitude, over any terrain using GPS, which also means safe 24 hour operations. That's something the current tanker fleet can't do."

"Given that fires in the Western U.S. alone are estimated to have cost more than $1 billion in damage and firefighting expenses in both 2006 and 2007, PCADS could have huge benefits in saving lives, property and money," said Ben Curtis, PCADS lead for Weyerhaeuser.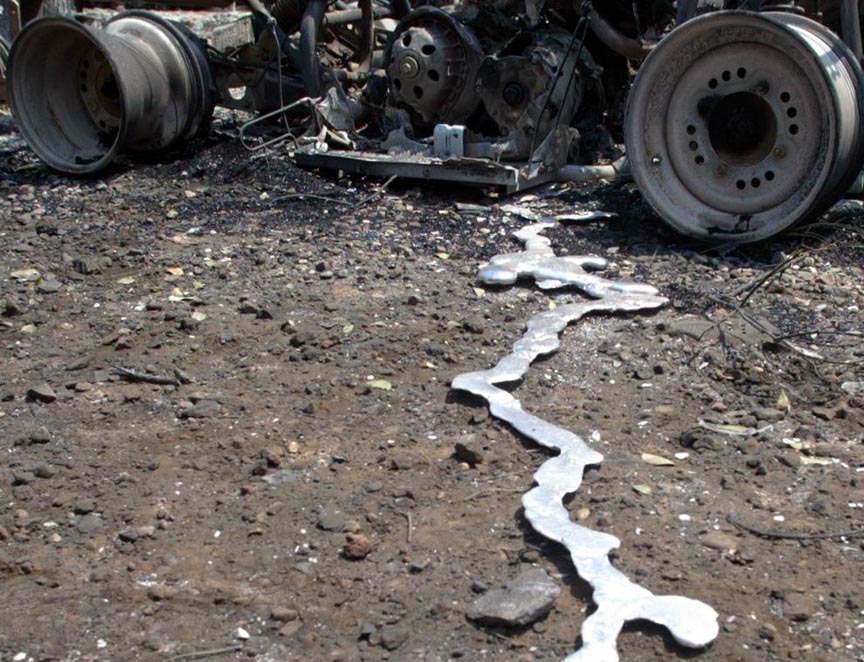 Bob Ferguson photo

In the case of a huge fire threatening population centers, being able to press any rear ramp plane into the fray, without equipping them with tanks and plumbing, would be a big advantage.

---

Scriveyn Wednesday May 28 04:12 AM

Chemical AirLInes

---

xoxoxoBruce Wednesday May 28 12:23 PM

Here's a Black Spruce, going up like a Roman Candle, at an Alaska wildfire last week. Very quick, very hot, very dangerous to get near.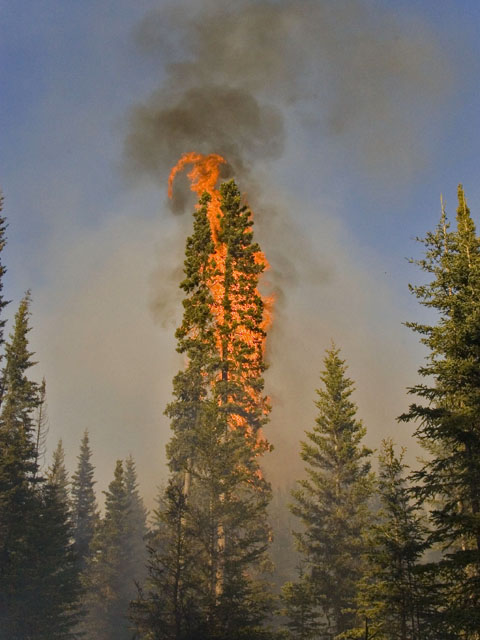 ---

glatt Wednesday May 28 12:34 PM

I was just reading an article in the Washington Post this morning that said that a new USDA commissioned report has found that the effects of global warming are already being felt in the United States, and that the increase in wild fires out West is due to global warming.



Quote:

Forests in the interior West, the Southwest, and Alaska are already being affected by climate change with increases in the size and frequency of forest fires, insect outbreaks and tree mortality. These changes are expected to continue.



---

weiwei Friday May 30 11:32 PM

抗震救灾

wow gold!All wow gold US Server 24.99$/1000G on sell! Cheap wow gold,wow gold,wow gold,Buy Cheapest/Safe/Fast WoW US EU wow gold Power leveling wow gold from the time you wWorld of Warcraft gold ordered!wow power leveling wow power leveling power leveling wow power leveling wow powerleveling wow power levelingcheap wow power leveling wow power leveling buy wow power leveling wow power leveling buy power leveling wow power leveling cheap power leveling wow power leveling wow power leveling wow power leveling wow powerleveling wow power leveling power leveling wow power leveling wow powerleveling wow power leveling buy rolex cheap rolex wow gold wow gold wow gold wow gold

---

hijk553 Wednesday Jun 18 01:06 PM

best replica watches

Welcome to www.watchepay.com, part of the Samuels family serving you since 1998! Check out the amazing offers we now have for 2008. Global replica has been selling Swiss Rolex replica, fake Rolex and replica watches for almost a decade. Global replica represents one of the best Italian & Swiss replica Rolex watch manufacturing companies with a vast product line. You can find Rolex replica watches and fake watches of course the best selling Rolex Replica models: DateJust, DayDate, Submariner, Yacht-Master, Daytona, GMT-Master, Explorer, and Chronographer. fake watch Global Rolex replicas are the best fake Rolex watches on the market. Italian vs. Swiss With an Italian replica Rolex, you'll get best swiss watches as close as possible to a Swiss Rolex with out spending all the money on a genuine Swiss. You'll get Italian craftsmanship, close weight, genuinely accurate engravings, coupled with a 31 Vespa movement. All that and our 2 year warranty make the Italian Rolex an ideal watch at the $329.00 price point. NOTE: A common misconception is that only the movement is different in the Swiss vs. Italian debate. This is not the "case". The differences are both internal and external. Aesthetically they are similar this is true, but the level of accuracy is very different. With a Swiss replica Rolex, you'll get no closer to a genuine Rolex. Truly undetectable and surpassed by no other replica. The Swiss Rolex is number one as the leader in replica watch. With a Swiss Rolex, not even a jeweler can detect a Swiss replica. This is a watch that will pass even the strictest of inspection tests. With weights precise down to the gram and engravings and markings that will fool even the toughest of critics. The Swiss Rolex is a natural choice if buying a replica Rolex and simply wanting the best. In a world of "designer knock-offs," there are still some things that cannot be replicated - such as the quality of time spent wearing an Italian or Swiss Rolex. In this welcoming oasis of elegant materials and Old World craftsmanship, you are not just wearing the finest watch in the world, you are experiencing what has been considered the world's gold standard of luxury for over a century.

---
Your reply here?

The Cellar Image of the Day is just a section of a larger web community: a bunch of interesting folks talking about everything. Add your two cents to IotD by joining the Cellar.