xoxoxoBruce Saturday May 24 12:56 AM

May 24, 2008: 'Gator Pwned

Wally Gator said, I ain't scared of no fat ol' dumb Hippos.
He'd just climb topside and get a free ride... King of the World.
But Poppa Hippo said, We don't need no stinkin' gators... pwned.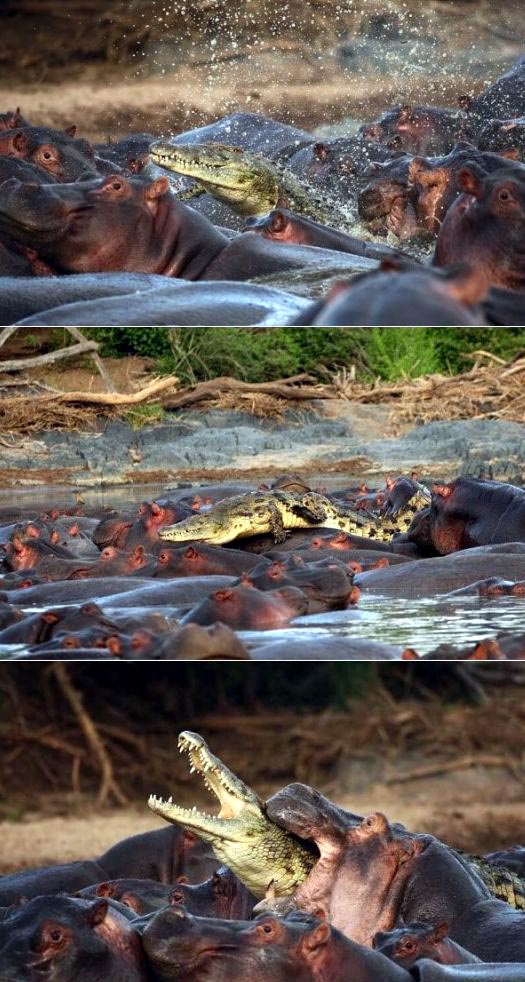 ---

Kagen4o4 Saturday May 24 02:55 AM

lol. r'tard

---

Sundae Saturday May 24 04:44 AM

Stupid gator. Hippos am dangerous.
And too much to eat all at once.

---

JuancoRocks Saturday May 24 05:12 AM

"I think I just ate about 8 pairs of nice boots"

Take that you scaly bastard!

---

SPUCK Saturday May 24 05:15 AM

Poor crock. It's not like he could stay in the water under all those crappers!

---

Trilby Saturday May 24 07:20 AM

Poor crock indeed! He gots what he deserved. Hippos are not to be toyed with. Unless you have a cute stuffed toy hippo or the game Hungry, Hungry Hippo. then you can toy with them.

---

ajaccio Saturday May 24 09:51 AM

---

xoxoxoBruce Saturday May 24 10:54 AM

It's hard to believe a bloat of Hippos, snuck up on him.

---

Trilby Saturday May 24 12:30 PMVictimology!

---

Cicero Saturday May 24 12:56 PM

I still don't know what pwned is.


---

xoxoxoBruce Saturday May 24 01:41 PM

It means bitten by a Hippo, of course.

---

Undertoad Saturday May 24 02:33 PM

You can usually find such things on Encyclopedia Dramatica where a great deal of internet culture is explained.

---

Flint Saturday May 24 02:33 PM

---

Sundae Saturday May 24 02:59 PM

Chomp!
Hippo'd your precious car. Ha!

---

Cicero Saturday May 24 03:44 PM


Thanks. I could have just googled but I knew one of you would come up with a good reference material link. So I may direct all stupid internet questions to a specific place....niiiice.

Didn't you guys ever play hungry, hungry, hippo? They eat anything that they can catch with their mouth right?

---

footfootfoot Saturday May 24 03:46 PM
"Go your pwn way"

---

TheMercenary Saturday May 24 10:54 PM

Gator is good, we eat it a few times each year.

Those pics are most likely not gator but croc.

---

xoxoxoBruce Saturday May 24 11:14 PM

Ah, that's a crock.



Yeah, you're right. I realized that after I posted it, but fixing it is above my pay grade.

---

jklm443 Sunday Jun 15 11:31 AM

cheap conan gold

cheapest conan gold,age of conan gold,buy age of conan gold,cheap age of conan gold,cheapest age of conan gold

---
Your reply here?

The Cellar Image of the Day is just a section of a larger web community: a bunch of interesting folks talking about everything. Add your two cents to IotD by joining the Cellar.