xoxoxoBruce Thursday May 8 02:22 AM

May 8, 2008: Volcano

Flickr images by Alex Gutierrez Espinoza.
Erupción del Volcán Chaitén.
Chaitén, Provincia de Palena, X Región de Los Lagos, Chile.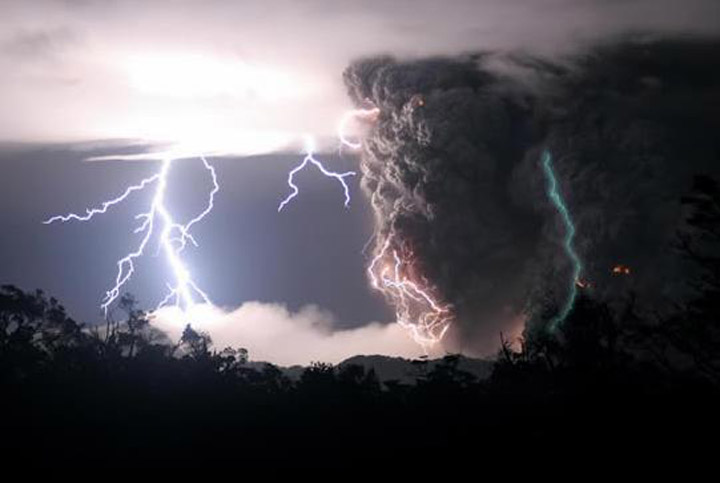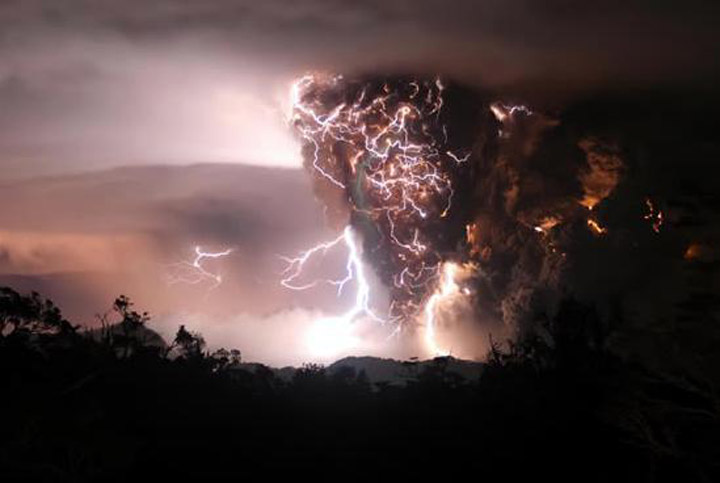 This ought to do wonders for global warming.

---

Eclipse Thursday May 8 02:35 AM

That looks awesome and scary at the same time. Almost like the perfect recipe for milkshake.

---

newtimer Thursday May 8 03:25 AM

Reminds me of V-Ger.

---

SPUCK Thursday May 8 06:00 AM

Yeah V-Ger..

That is so alien looking.. WOW maybe?

---

spudcon Thursday May 8 06:07 AM

Looks like the giant fireworks snake from South Park.

---

Gravdigr Thursday May 8 08:40 AM

Smells like photoshop...

---

glatt Thursday May 8 08:45 AM

Awesome image. I love how the lightning is finding its quickest path to the ground through the hot ash.

The blue lightning bolt in the first image looks fake, but I think it's lens flare and is just a mirror image (flipped upside down) of the bright lightning flash to the left.

---

Nikolai Thursday May 8 08:45 AM

Love the lightning storms you get with volcano eruptions, makes it seem like doomsday with the clouds going black with the thunder and lightning

---

el fantastico Thursday May 8 09:12 AM

it looks like there are 2 sets of eyes on the right side of the 1st photo. that is extra creepy.

---

dar512 Thursday May 8 10:15 AM

Unfortunately, the original is not large enough to turn into decent wallpaper.

---

Imigo Jones Thursday May 8 02:35 PM

I've found some nice pics of other volcanoes, but not with such a striking (whoops

) combination of lightning and dense ash.


Sakurajima, Japan




"Explosive eruption with lightning at Sakurajima Volcano . . . 18 May 1991"
Larger version



Mt. [St.] Augustine, Alaska

"Scientists: Lightning good indicator of volcano eruptions

". . . For the first time, scientists were able to collect data fully describing lightning activity during the 2006 Mount Augustine eruption, according to an article published last week in the journal Science. . . .

"During the initial Augustine eruptions in 2006, airline pilots reported lightning in the ash plume. This prompted McNutt to install new lightning detection instruments . . . capable of detecting the exact location and source of each lightning bolt. . . .

"Volcanic ash clouds are similar to thunder clouds, explaining why lightning is often seen during large eruptions. In volcanic ash clouds, an electric charge is generated from the friction of ash particles expelled into the air, particle collisions and rock fractures.

"Ash clouds from large eruptions are composed of particles of various sizes. Larger particles tend to be negatively charged and fall to the base of the cloud while smaller positively charged particles remain near the top, re-creating the same electric distribution seen in thunderclouds. As charges and particles build up[,] energy is released in the form of lightning."
Full article from University of Alaska Fairbanks newletter.




"Lightning strike over [unidentified] volcano"


"Electrical Activity During the 2006 Mount St. Augustine Volcanic Eruptions

"By using a combination of radio frequency time-of-arrival and interferometer measurements, we observed a sequence of lightning and electrical activity during one of Mount St. Augustine's eruptions. The observations indicate that the electrical activity had two modes or phases. First, there was an explosive phase in which the ejecta from the explosion appeared to be highly charged upon exiting the volcano, resulting in numerous apparently disorganized discharges and some simple lightning. The net charge exiting the volcano appears to have been positive. The second phase, which followed the most energetic explosion, produced conventional-type discharges that occurred within plume. Although the plume cloud was undoubtedly charged as a result of the explosion itself, the fact that the lightning onset was delayed and continued after and well downwind of the eruption indicates that in situ charging of some kind was occurring, presumably similar in some respects to that which occurs in normal thunderstorms."
Abstract from Science mag; page has links to full text (registration required to view).


Galunggung, Java, Indonesia


"Lightning above the summit and glowing pyroclasts on the flank of Galunggung . . . September 16, 1982."


"Confocal images of rat optic nerve glia, intracellular dye-filled with lysinated rhodamine dextra (a, b), or immunofluorescence labelled with the NG2 anibody (c, d)." :p

---

BigV Thursday May 8 05:20 PM

Here are a couple shots of Mt St Helens I took during a trip to Ghost Lake. Apologies for the poor quality of the rookie stitching job on the panoramic shot. I like how you can see the orange glow from the lava at the top of the rebuilding dome, and how the steam is escaping from the top.

---

Kasszia Friday May 9 12:28 AM

Wow. That is just amazing! Photoshopped or not, an amazingly beautiful picture.

---

YellowBolt Friday May 9 12:35 AM

---

LabRat Friday May 9 01:20 PM

So, I Jones, what's your story? The neuronal pics made me do a double take. I have diolistically labelled neurons as well as used NG2 antibodies. How you know about that stuff, Willis?


P.S. Welcome

---

glatt Friday May 9 01:35 PM

You think the neuron images were intentional? I just assumed he linked to an image that he thought was lightning after seeing a thumbnail of it next to a volcano article.

---

Sundae Friday May 9 02:04 PM

Probably not, it's Inigo's text after the images, with his :p
I spose he might have found them googling, but regardless it's pretty cool

---

LabRat Friday May 9 02:40 PM

I assumed he was pointing out the similarities. Which I enjoy finding in nature too btw. Certain trees in the winter look uncannily like astrocytes and certain kind of neurons in their branching patterns.

---

glatt Friday May 9 02:44 PM

Oh, yeah. Visually, they fit right in. Amazing really. Some kind of fractal law working there. Or something.

---

LabRat Friday May 9 03:39 PM

God's just not all that creative. . .


maybe even lazy.

---

Sundae Friday May 9 05:19 PM

[Atheist] Or maybe we just evolved to see patterns [/Atheist]

---

Imigo Jones Friday May 9 07:13 PM

BigV, great pics! That must have been really something to stand there and behold the mountain, both the immediacy of its mass but also sensing what that glow and steam meant.




To get more precisely oriented: The shot above is from the northeast (see map below). "We ask that you credit the source of the images as 'Image courtesy of USDA Forest Service, Mount St. Helens National Volcanic Monument.' " 'Kay.
MSHNVM Photo Gallery




North is straight right.
So, facing the mountain, V, you were to the left (south or SE) of Spirit Lake for those shots?

Nice.

Of course, it's also really something knowing what occurred there when we were younger.

The photographer who caught this amazing sequence was somewhere out "your" way, only probably farther south:




"Explosions (red) begin to rip through the landslide (green)
[Original illustrations by T.R. Alpha]"




"Exploded rock debris (red) forms a pyroclastic surge that quickly overtakes the landslide (green)"

Photo sequence: "08:32:21.0 am . . . 08:33:18.8 am"
Page with GIF animation of Rosenquist pics.
The graphic on this page briefly tells the photographer's story. He was 10 miles away.




This graphic (and two added to pic sequence) shows MSH from straight east, or south of you, BigV. Also, the first photo inset must be from the south or southwest of the eruption.

Short USGS page on the mechanisms of magma intrusion, landslide, and explosion of the north face of Mt. St. Helens.
Site map for ton of USGS pages on Mt. St. Helens.
Index for megatons of volcano pages, but inexplicably omitting Io.


---

barefoot serpent Monday May 12 01:44 PM

some more pix from Chile -- including the ash plume from space.

---

TheMercenary Monday May 12 03:55 PM

Fantastic pics and links.

---

Imigo Jones Sunday May 18 08:57 AM

barefoot serpent, cool pic. I have a question below.

Today's the 38th anniversary of the eruption of Mt. St. Helens.




I remember that day as being disastrous at the two opposite corners of the United States, with Mt. St. Helens in Washington and riots in Miami. Here's a page with the text of the Mt. St. Helens story.

So, barefoot serpent, I was going to ask whether you remember the east-west movement of the MSH ash plume back in 1980. It arrived over the Midwest on, I think, May 20. Even at this distance and dilution, the air smelled faintly of sulphur.

More odd was how the light was changed. Whether from sulphur in the air between you and objects down on ground level, or from atmospheric filtering of the sunlight, everything looked barely tinted yellow, as though the CSI: Miami cinematographer had grabbed the wrong filter. Actually, the yellow wasn't that strong (CSI: Miasma is like swimming in orange juice), but just enough to give you the sense that something was wrong. It was like how the light of a partial solar eclipse, or even of a heavy ozone day, is strange.

---

SPUCK Wednesday May 21 05:00 AM

Ha! I was in a broken down Renault 10 on the side of the freeway outside of Spokane wondering what all the gray snow was.

---

SPUCK Wednesday May 21 05:11 AM

These are my favorite MSH shots.

---

SPUCK Wednesday May 21 05:13 AM

Notice these are all before and after shots of the same spots.!!!

---

HungLikeJesus Wednesday May 21 10:40 AM

As Bruce says, why are there no "during" shots?

---

dar512 Wednesday May 21 03:36 PM

Because people were busy screaming and running away?

Actually, there had been plenty of warning that things would be happening, so that area was evacuated.

---

Flint Wednesday May 21 03:40 PM

---

barefoot serpent Wednesday May 21 03:56 PM

---

dar512 Wednesday May 21 05:51 PM

---

xoxoxoBruce Thursday May 22 01:42 AM

I was 50 miles north, in Centralia, WA.
They used snow plows to clear the 4 to 6 inches of ash in the motel parking lot. I've been wearing this belt buckle ever since.

---

dar512 Thursday May 22 09:42 AM

---

xoxoxoBruce Thursday May 22 10:45 AM

Working for Westinghouse in Philly, at the Centralia power plant, till the middle of July that year.

---

skysidhe Thursday May 22 10:59 AM

I remember my boyfriend and I driving along when we heard it on the radio. I looked over my shoulder and there was a huge plume in the far distance.

---

xoxoxoBruce Thursday May 22 11:22 AM

Harry Truman @ Spirit Lodge.

---

SPUCK Friday May 23 05:29 AM

I think the last two shots are Spirit Lake up close..

---

Imigo Jones Tuesday Jun 17 07:49 AM

Tonight on "Nova"

Nova
"Mystery of the Megavolcano"

A look at a "supervolcano" that erupted some 74,000 years ago in Sumatra and may have precipitated a global deep freeze. Scientists examine evidence in Greenland's ice cap, from beneath the ocean floor, and in ash recovered from across southern Asia. [This quoted from local PBS listings; following material all from Nova "Mystery of the Megavolcano" site, various pages, except for comments in brackets, some font changes, etc. One oil painting. Some smileys.

]




Sixty-two-mile-long Lake Toba, seen in the center of this satellite image, was created by the largest explosive volcanic eruption of the past 100,000 years.

A Supersized Volcano
Beginning in 1949, when Dutch geologist Rein van Bemmelen discovered massive deposits of volcanic rock along the perimeter of Lake Toba on the Indonesian island of Sumatra, scientists knew they were onto something big. The thousand-square-mile area around the lake, it appeared, was a gargantuan caldera once filled not with water but with steaming volcanic ash and pumice. As volcanologists pieced together evidence of the cataclysmic event that took place there 74,000 years ago, as well as two earlier eruptions, Toba seemed so immense it was deemed a "supervolcano." In this interactive [link to slide show on page], see a portrait of the eruption of 74,000 years ago and how it dwarfs even the most disastrous "regular-sized" eruptions of our own era. . . .

To qualify as a supervolcano, a volcano must produce at least 240 cubic miles of magma, or partly molten rock, in a single eruption—about the same volume of water the Mississippi River dumps into the Gulf of Mexico during a single year. . . .




Imagine this view of the devastation caused by the 1991 eruption of Mt. Pinatubo covering a whole state or region rather than just the surrounding area, and you get an idea of what a supereruption could unleash.

Flash slide show: Highlights
Magma released, cubic miles of material
Mt. St. Helens, 1980, 0.12 cu mi
Pinatubo, Philippines, 1991, 1.2
Krakatau, 1883, 2.9
Tambora, 1815, 12
Toba, 72K B.C., 672
Over the course of one or two weeks, Toba erupted about 5,600 times the amount of magma released by Mt. St. Helens in 1980. [But see boldface after map.] . . .




The most recent [supervolcano] (Taupo, in New Zealand) occurred 26,500 years ago. One from 74,000 years ago (Toba, in Indonesia) left behind a caldera, or giant crater, about the size of Rhode Island. The biggest one yet identified (La Garita, in Colorado) coughed out 1,200 cubic miles of volcanic materials. On this map [links on page to interactive world map; click numbers 1-12 for descriptions of known supervolcano sites], sample a selection of the aptly named, though thankfully extremely rare, natural cataclysms known as "supereruptions." . . .

A supereruption would not only take out the summit but the entire mountain and much else besides. The caldera that underlies Yellowstone National Park—"caldera" essentially means humongous crater—is over 50 miles long and nearly 30 miles wide. You could fit four Manhattans placed end to end inside. The amount of magma, or molten rock, thrown out by its most recent supereruption 640,000 years ago was a staggering 240 cubic miles, with an ash volume two to three times that.

The intensity of such convulsions matches the magnitude. In A.D. 79, Vesuvius belched out an astounding 100,000 cubic yards of magma per second over a 24-hour period. Yet this is chicken feed compared to supereruptions, which can emit volcanic debris at up to 100 million cubic yards per second. . . .




Cotopaxi, Frederic Edwin Church, 1862
Original 85 inches long; interactive Artchive page zooms to about 24 inches.

All that erupted material wouldn't just fall nearby or waft harmlessly away like Semeru's ash clouds, either. If something the size of that 640,000-year-old Yellowstone eruption occurred under New York City, it would not only obliterate all five boroughs but bury what was left as well as large portions of Long Island, New Jersey, and Connecticut under half a mile of pyroclastic flow deposits (see diagram at right). Pyroclastic flows comprise all the heavy stuff that collapses out of an ash cloud, and in supereruptions they can travel up to 60 miles away at speeds of 100 yards per second—again, unimaginable fury. . . .

The devastation would spread much farther than the surrounding region. A stone monument atop Semeru memorialized several people who had died there after breathing volcanic fumes. But a supereruption would kill millions. "If you're close enough to the eruption—and in a supereruption that can mean thousands of miles away—if you breathe in the ash in an unprotected way, you're breathing in tiny glass needles,"

says geologist Michael Rampino of New York University. "They cause the blood vessels in your lungs to pop. Water in your lungs combines with this volcanic ash, and essentially you drown in a kind of soup or cement of wet volcanic ash."

---
Your reply here?

The Cellar Image of the Day is just a section of a larger web community: a bunch of interesting folks talking about everything. Add your two cents to IotD by joining the Cellar.