xoxoxoBruce Friday May 2 02:15 AM

May 2, 2008: Speaking of Birds

Speaking of birds, a bald eagle swoops down and claws 3 yr old lisa hemm.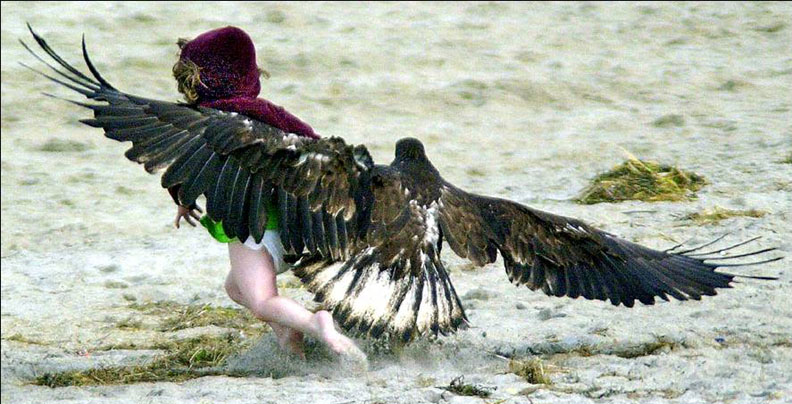 ---

SPUCK Friday May 2 05:14 AM

She'll need therapy for years...

Stoopid birds.

They have hit our chickens 4 times.. Never managed to actually kill or carry one away. You'd think they'd figure out a bird their size is to heavy.

---

Sundae Friday May 2 06:47 AM

Eagle Fashion Police, she was asking for it.
Maroon and lime green? Hello?

Wonderful photo though.

---

bigw00dy Friday May 2 06:58 AM

What would be an even more interesting photo would be one taken right after the fly by...

---

DucksNuts Friday May 2 07:59 AM

Whotf would just stand by, watch and take pics?

Awesome pic....but

---

Sundae Friday May 2 08:09 AM

Ducks, are you saying..... shopped?

---

LabRat Friday May 2 09:50 AM

It was trying to get the diaper off that kid, since obviously the parents haven't gotten around to potty training her yet. . .

---

runswithknives Friday May 2 11:13 AM

Modern day Little Red Riding Hood and the big, bad...Bald Eagle..

---

BigV Friday May 2 11:17 AM

Bald eagle? More like BOLD eagle, to imagine it could make off with prey four times its size. Great picture.

---

barefoot serpent Friday May 2 11:35 AM

hope she's not running toward a cliff

---

runswithknives Friday May 2 03:26 PM

Its the new Coppertone Sunscreen label.

---

sweetwater Friday May 2 04:16 PM

I think you are all misinterpreting this photo. The bird is not attacking the kid, the kid is attacking the bird - she stole the bird's fish and is off to the bait shop to hawk [sorry] it for a candy. The bird is merely trying to recover stolen goods.

---

footfootfoot Friday May 2 09:31 PMhttp://pictopia.com/perl/ptp?provide...hoto_id=409113

---

warch Friday May 2 10:05 PM

Maybe its just a well intentioned but misguided Frodo-esque rescue attempt....

---

monster Friday May 2 11:56 PM

shopped. and so badly it doesn't even merit a recipe.....

---

newtimer Saturday May 3 12:49 AM

Am I the only one who noticed that this 'bald' eagle doesn't have the customary white head that real bald eagles have?

---

Undertoad Saturday May 3 12:53 AM

Now that you've pinned down the date...

---

xoxoxoBruce Saturday May 3 01:00 AM

---

BeltNah Saturday May 3 07:46 AM

Strong Bastards

They can pick up and carry some heavy things. I have seen them take lambs and cats. Have a look on you tube for the eagle that picks up mountain goats and takes it to its nest or the one that drops them off the cliff to kill it. There is another video that shows one take a sloth straight off a tree and keep flying like it was nothing. Probably different types of eagles but still amazing.

---

runswithknives Saturday May 3 11:41 AMMy Name is Earl.)

---

TheMercenary Sunday May 4 05:49 PM

---

skysidhe Sunday May 4 06:32 PM

There was an attack on a 13 year old at a ball park recently. Weird. What's going on with these birds?

---

xoxoxoBruce Sunday May 4 07:59 PM

.

---

dar512 Sunday May 4 10:59 PM

Good evening.

---

skysidhe Sunday May 4 11:12 PM

'Heavy Breathing'


lol not me! A.H.'s

---

SPUCK Monday May 5 05:19 AM

No that's; Goed eve en ing.

---

xoxoxoBruce Monday May 5 02:47 PM

Even hawks are not spared.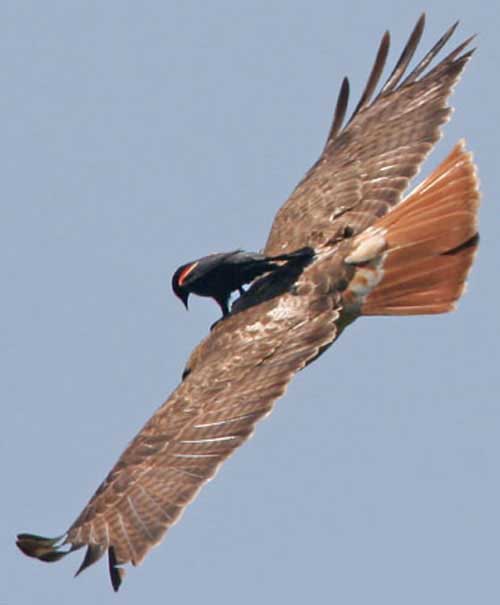 ---

TheMercenary Monday May 5 03:13 PM

Now there's a way to save gas! Birds have discovered carpooling.

---

dar512 Monday May 5 04:26 PM

---

sweetwater Monday May 5 04:37 PM

I like the photo: redwinged blackbird on a redtailed hawk. I wonder when the redheaded woodpecker and redlegged partridge got their turn to go air surfing.

---

skysidhe Monday May 5 06:01 PM

lol everyone

---

SPUCK Tuesday May 6 05:00 AM

Hell No he's not getting a RIDE..

He's the pilot!

---

kerosene Tuesday May 6 05:54 PM

---
Your reply here?

The Cellar Image of the Day is just a section of a larger web community: a bunch of interesting folks talking about everything. Add your two cents to IotD by joining the Cellar.