xoxoxoBruce Saturday Mar 29 01:01 AM

March 29, 2008: Door to Hell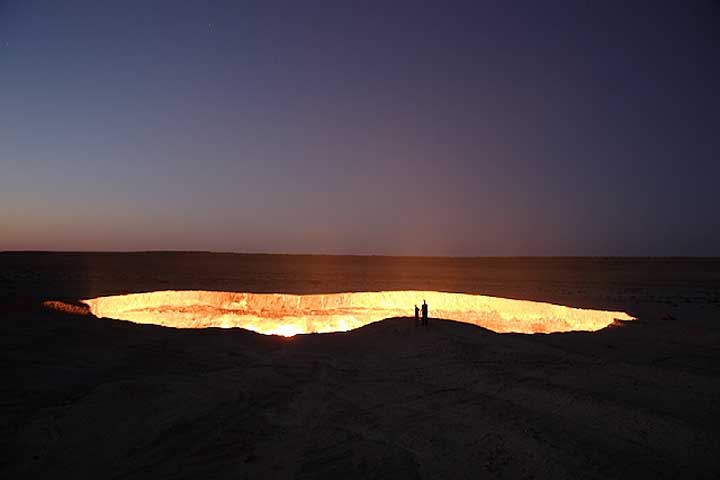 Looks like the worlds biggest BBQ pit to me.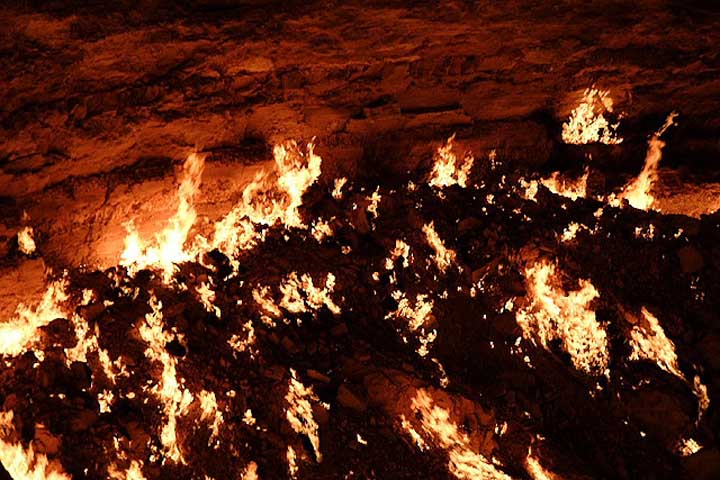 More pictures and a video here.

---

JuancoRocks Saturday Mar 29 01:23 AM

Door to Hell

I see bar -b -que written all over this......Let the recipes follow

---

TorasMommy Saturday Mar 29 04:21 AM

Maybe a nice temp to roast up some little birdies and marshmallows.

Anyone got a long enough stick?

---

Sundae Saturday Mar 29 07:46 AM

WOW

I love IoTD.

---

TheMercenary Saturday Mar 29 09:12 AM

Looks more like molten lava.

---

YellowBolt Saturday Mar 29 11:05 AM

Reminds me of Centralia, Pennsylvania.

---

monster Sunday Mar 30 02:54 PM

That was interesting, thanks, Yellowbolt. Now I feel the need to go there!

---

spudcon Sunday Mar 30 04:50 PM

---

spudcon Sunday Mar 30 04:56 PM

Closer to home, I just found out that a contractor for the former GE Aerospace factory had been dumping industrial waste just upsream from our reservoir from 1966 to 1973. Cleanup begins here in May.

---

jinx Sunday Mar 30 07:15 PM
One time we went thru they were having a parade, with fire trucks and everything. Pretty ironic really...

---

Karenv Monday Mar 31 12:00 AM

Back to Uzbekistan, it seems if we could put out Saddam's oil field fires during Gulf One, that this could be brought under control. Unlike Centralia, this is right out in the open. It would help reduce global warming and might allow reclamation of the gas.

---

LabRat Monday Mar 31 02:10 PM
So would everyone doubling up on the baked beans and skipping the grilling altogether this 4th of July.

---

toranokaze Monday Mar 31 02:24 PM

Cool pic Bruce.

It is very well named. Much of the orgional imagery for hell came from a place called Gehnna were they burned trash. This Gehnna Jesus said was like Hell with never ending fire and worms that will not die.

---

Kolbenfresser Tuesday Apr 1 04:08 AM

Coordinates of Darvaza

Itís actually called 'Darvaza', and it is in Turkmenistan, not Uzbekistan. Itís situated in the middle of the Kara Kum desert, about 6 miles north of Darvaza.
40į15'7.36"N 58į26'22.84"E

---

Flint Tuesday Apr 1 10:35 AMSilent Hill?

HUMAN SOULS.

---

shina Tuesday Apr 1 11:20 AM

That would be a site to see. Never knew it existed. Thanks!

---

glatt Tuesday Apr 1 11:49 AM

---

sweetwater Tuesday Apr 1 03:53 PM

Funny - when I saw the pinpoint numbers I copied and prepared to GoogleEarth them, which is what I assume you were doing also. Remarkable. Though I feel a twinge of guilt for peering through the Google lens to the site. It is as if I'm making it even hotter with my gigantic magnifying glass.

---

xoxoxoBruce Tuesday Apr 1 11:02 PM

Hey thanks, Kolbenfresser.


Better info is always appreciated.

---

BrianR Wednesday Apr 2 03:39 PM

I don't get it.

They were drilling for gas.
They found gas.
They lit gas on FIRE???

What am I missing?

---

xoxoxoBruce Thursday Apr 3 12:04 AM

While they were drilling, the ground collapsed, swallowing the equipment and the camp. They couldn't recover anything because the hole was full of gas. They lit it to keep the gas from leaking out and killing people, then wrote it off and walked away.





Oh, and the Devil won't let them put it out.

---
Your reply here?

The Cellar Image of the Day is just a section of a larger web community: a bunch of interesting folks talking about everything. Add your two cents to IotD by joining the Cellar.