xoxoxoBruce Thursday Mar 6 12:09 AM

March 5, 2008: Sic 'em Salty

Hey Doron, get a picture of me teasing this ol' croc.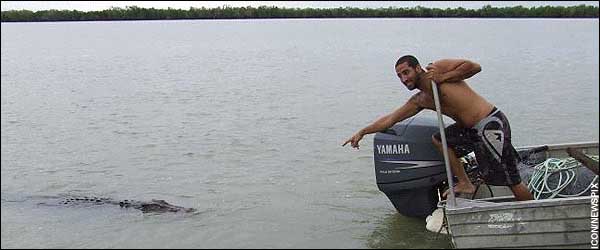 Oy Vey!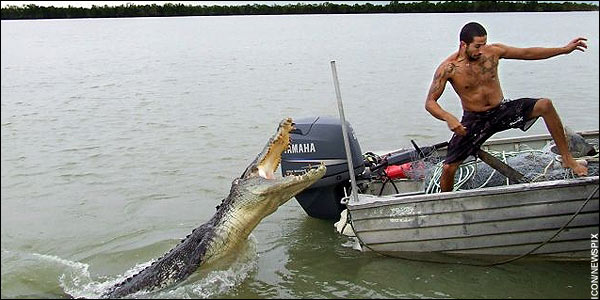 classicman found this item in the Telegraph.

---

OB Thursday Mar 6 12:18 AM

How rude. The croc clearly just wanted a kiss, having noticed its admirer.

---

spudcon Thursday Mar 6 12:47 AM

I don't know why that guy is so afraid of a dozen pair of shoes.

---

Aliantha Thursday Mar 6 01:05 AM

Crocs can propel themselves almost entirely out of the water. In fact, they can get just about their whole body length verticle out of the water if they're motivated enough.

I'd say that fella got off very lightly under the circumstances.

---

Aliantha Thursday Mar 6 01:19 AM

Check this one out


Attachment 17067

---

rupip Thursday Mar 6 03:18 AM

I am glad to live in Austria NOT in Australia ... at least what the beasts (crocs, snakes, spiders, jellyfish,...) are concerned.
Kangaroo und emu are funny - but not tasty.

although I could do with some of the Australian beaches ...

beautiful

---

sweetwater Thursday Mar 6 08:38 AM

"hey saltie, pull my finger! c'mon, pull my finger and see what ha-HAA-AHHHHH!"

---

Trilby Thursday Mar 6 08:47 AM

I have an unnatural fear of crocs and 'gators. I think one ate me up in another life. ewwwwww they give me the shivers. i hate water animals.



'cept dolphins and nice whales; not those black and white kind who kill for sport. Oh, and I like seals, too. And penguins. but that's IT.

---

Beest Thursday Mar 6 08:49 AMEmu and Kangaroo is good eatin' very low in fat, high in protein, much healthier than beef etc.

Low in fat means a bit more care in the cooking so they don't dry out.

Never had any, don't know what they taste like...

---

Trilby Thursday Mar 6 08:50 AM

I have an unnatural fear of crocs and 'gators. I must have been eaten by one in a previous life.

I hate all water dewllers--except dolphins, nice whales (not those Killer things) seals, penguins and the Lady of the Lake. All the rest can piss off. Esp. the ones with tentacles and sharp, viscious teeth that want to bite me.

---

Beest Thursday Mar 6 08:56 AM
but nothing could live in it,
except mutants

ever thought of New Mexico, I hear they're short of water,
But not mutants

---

xoxoxoBruce Thursday Mar 6 10:47 AM

---

Saphyre Thursday Mar 6 12:02 PM

Why do all near disasters seem to start with, "Hey, check this out"? Doesn't qualify him for a Darwin, since there's no carnage, but gotta at least give the guy a B for effort.

Meanwhile, saltie's thinking 'daim, missed again'.

---

TheMercenary Thursday Mar 6 12:56 PM

---

Gravdigr Thursday Mar 6 02:01 PM

Also, don't be down on the croc, he just wanted a kosher meal.

---

Cicero Thursday Mar 6 04:22 PM



lol!

Well...He does look like quite a tasty jew....*shrug*


---

mrputter Thursday Mar 6 06:49 PM

Crocodile Fillets with Rosemary Sauce (Recipe)

Crocodile Fillets with Rosemary Sauce

Ingredients:
4 x 200g/7oz Crocodile or Alligator Fillets
2 tbsp Lime Juice
2 Spring Onions, chopped
25g/1oz Butter
1 teasp Olive Oil
12g/1/2 oz Fresh Rosemary Needles
60ml/2fl.oz. Dry Vermouth
120ml/4fl.oz. Fish Stock
60ml/2fl.oz. Single Cream
Salt and Black Pepper

Procedure:
Season the crocodile fillets with salt and pepper.
Heat a large non-stick frying pan until very hot, add the fillets and dry fry for 2 minutes on each side.
Sprinkle with the lime juice, set aside and keep warm.
Heat butter in another frying pan, add the spring onions and sauté for 1-2 minutes.
Add the rosemary and vermouth and boil rapidly until reduced by 2/3rds.
Add the cream and reheat until hot but not boiling.
Season with salt and pepper then strain into a sauce boat.
To serve - transfer the meat to a warmed platter and pour the sauce over the top. Serve immediately.

Serves 4.

---

Scriveyn Friday Mar 7 02:07 AMhonorable mention

---

dar512 Friday Mar 7 01:22 PM

Dennis: Oh, but you can't expect to wield supreme executive power just because some watery tart threw a sword at you.

---

Coign Friday Mar 7 03:08 PM

---

TheMercenary Monday Mar 10 09:00 AM

---
Your reply here?

The Cellar Image of the Day is just a section of a larger web community: a bunch of interesting folks talking about everything. Add your two cents to IotD by joining the Cellar.