xoxoxoBruce Sunday Mar 2 01:25 AM

March 2, 2008: Tree jewelry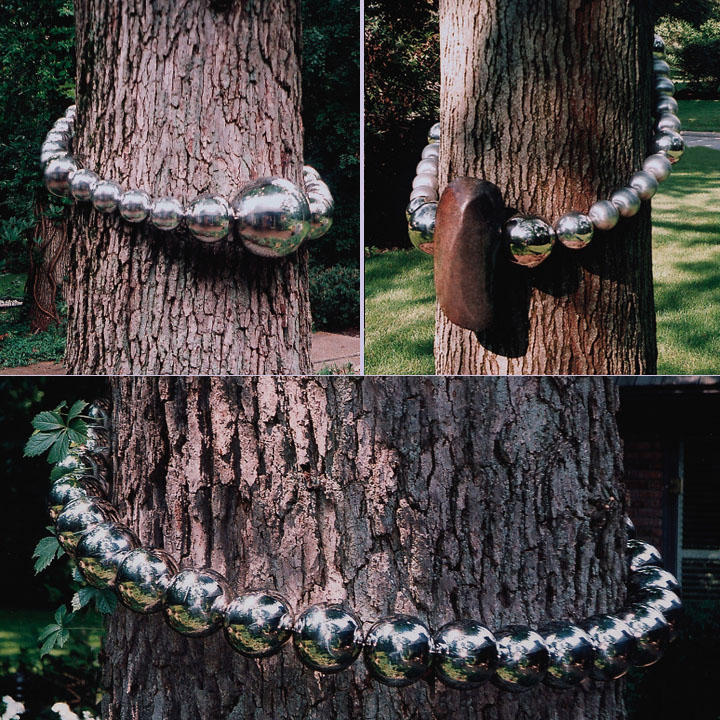 I'll admit to buying jewelry, to get a little bush for my wood, but this is crazy. You'd probably need 24 hour security, too.

---

magilla Sunday Mar 2 08:47 AM

Wonder if they know that will eventually kill the tree.

---

xoxoxoBruce Sunday Mar 2 11:36 AM

They appear to be pretty loose, but eventually they would be covered over.

---

Gravdigr Sunday Mar 2 11:53 AM

'Shopped. And, I think I'll pass. My old oak tree will have to be happy with a yellow ribbon.

---

Cloud Sunday Mar 2 12:53 PM

the pics don't seem 'shopped to me--the reflections look right. Or do they?

Wouldn't it take an awfully long time for there to be adverse consequences to the tree? Seems like people would remove the "jewelry" before then.

---

ukamikanasi Sunday Mar 2 01:33 PM

I prefer the tree sweater:

http://redshirtknitting.com/?page_id=271

---

spudcon Sunday Mar 2 04:29 PM

The next time someone mentions that I spend too much time in the Cellar, I'll direct them to the Chicago and Seatle areas, where folks put jewelry and sweaters on their trees. My life seems much more productive now. Thanks, tree huggers.

---

Saphyre Monday Mar 3 02:17 PM

Bling for a birch - what won't they think of next?

---

deek Monday Mar 3 05:35 PM

I think I'll give my favorite tree a pearl necklace!

---

Buckrogers47 Monday Mar 3 06:29 PM

I pity the fool that mess with Mr. Tree!

---

monster Monday Mar 3 08:29 PM

---

xoxoxoBruce Monday Mar 3 10:49 PM

Welcome to the Cellar, deek & Buckrogers47.

---

runswithknives Tuesday Mar 4 12:46 PM

Hell, i gave my birch a pearl necklace this morning!

---

Shawnee123 Tuesday Mar 4 01:49 PM

Stupidest thing ever, and I am so jealous that I didn't come up with the idea!

---

Cloud Tuesday Mar 4 02:01 PM

for you guys: isn't there a tree fetishist board somewhere you can go to? (squick)

---

richlevy Wednesday Mar 5 08:11 PM

I wish I'd thought of it. Instead I hooked up my tree with cable. Now all it does is stand around all day watching Knots Landing.

---

TheMercenary Thursday Mar 6 12:58 PM

talk about getting wood.

---

xoxoxoBruce Wednesday Apr 16 11:18 AM

Of course you could also, really dress it up.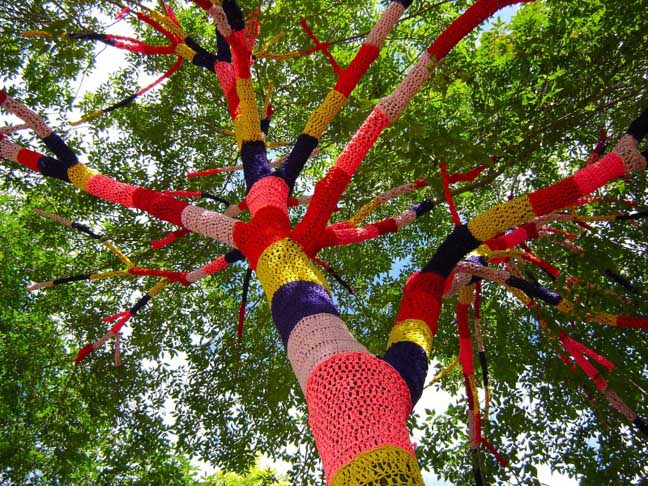 ---

Razzmatazz13 Wednesday Apr 16 11:44 AM

Bruce has just given me my next project.

---

spudcon Wednesday Apr 16 01:18 PM

---

xoxoxoBruce Wednesday Apr 16 11:35 PM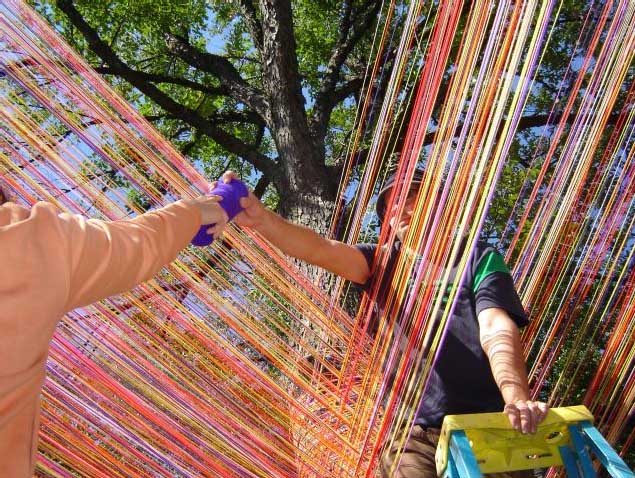 ---

Razzmatazz13 Thursday Apr 17 12:19 AM

Nah, I'll do it like the sweater from the other link, just a ton of em all the way up the tree. Don't worry, I already have a plan.

---

richlevy Thursday Apr 17 09:40 PM

Just go out and buy one of these.

---

Shawnee123 Friday Apr 18 09:59 AM

Buy a potholder loom and cover the tree in potholders. Oh, and I guess this is a good place to ask: is anyone else bothered by wet yarn? It's like fingernails on a chalkboard to me.

---

Tree Fae Sunday May 11 12:59 AM

Okay, this might be an old thread but I just had to comment.
As a Tree Fae I must say we all enjoy being decorated up. This just reminded me that I haven't done anything for the trees at my new home. My other house the trees all were prettied up. I love the bracelets/necklaces and will be looking to see what I can create for my sweet gum to wear.

---
Your reply here?

The Cellar Image of the Day is just a section of a larger web community: a bunch of interesting folks talking about everything. Add your two cents to IotD by joining the Cellar.