xoxoxoBruce Friday Feb 1 05:55 AM

February 1, 2008: Playground

Old people have been taking their grandchildren to the playground, for evah.
Now in Manchester, England, kids are taking their grandparents to the playground.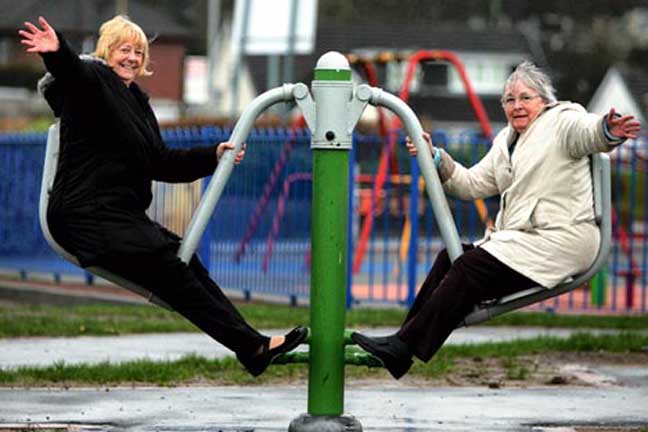 From the Daily Mail.

---

Sheldonrs Friday Feb 1 08:31 AM

I understand the bathrooms have extra large changing tables too.

---

glatt Friday Feb 1 08:47 AM

Make sure the older folks do the safe stuff though.

We all went to the playground with my MIL (early 60's) over Christmas. I was riding around on one of the kids' razor scooters while they were on the jungle gym thing, and after I stopped doing it, my MIL got on the scooter. She was very awkward and unbalanced on it, but her two grown children didn't yell at her to get off it, so I wasn't going to say anything. She rode it for a minute or two in tentative, awkward circles around the basketball court. Just about ten seconds after I told my wife her mom was making me really nervous on that thing, she wiped out. Fortunately she didn't break any bones, but she had a nasty black eye, and multiple cuts and bruises. I was able to fix her broken glasses well enough to get her home.

So I think that 60+ year old women (or men) who just finished recovering from hip replacement surgery shouldn't be trying out a razor scooter for the first time. But hey, if they have safe playground equipment for seniors, I'm all for it.

---

torgut9 Friday Feb 1 09:01 AM

Fortunately they have totally free health care for everybody in Europe.

---

ZenGum Friday Feb 1 09:10 AM

Welcome Torgut9!





Hmmm, been lurking a while, have you?

Stir the pot with your first post eh?

---

runswithknives Friday Feb 1 11:31 AM

Sure looks like Grandma is used to having her hands around something that big. Eh? Eh?



I'll excuse myself now...

---

Cloud Friday Feb 1 12:06 PM

don't be ageist, people. It's a great idea. Wish there was a park like that near me. And I'm all for having fun, at any age. And those ladies look like they're having fun.

At least the one on the left!

---

Shawnee123 Friday Feb 1 12:15 PM

Ageist? You're kidding, right? Was someone slamming these ladies? No, just making normal Cellar type jokes. They're women, too...you sexist bunch of jerks.



And, as a 43 year old woman who still rides with her feet on the shopping cart ledge on the way to her car...it's great stuff.

---

Cloud Friday Feb 1 12:41 PM

I am, perhaps, just a tad sensitive on the subject.

---

Shawnee123 Friday Feb 1 12:43 PM

You? You're awesome! I just wanted to point out no one was being mean-spirited...and from your pics if you're "old" then we all can look forward to it!

---

xoxoxoBruce Friday Feb 1 12:44 PM

It's only old ladies in the park because the old men are still working to pay for all that free health care.


The one on the left has that Sundae Girl grin.

---

monster Saturday Feb 2 10:40 AM

And no, you shouldn't say grandmum.

turgid9 might try a little harder to stir the pot. s/he's more likely to annoy people by treating Europe as a single country.

---

Elspode Saturday Feb 2 10:53 AM

---

xoxoxoBruce Saturday Feb 2 12:05 PM

---

monster Saturday Feb 2 12:34 PM

Grandma -just like the Daily Mail said in it's headline. Or Nana. Nana is very popular (because of the sweets in her handbag). And usually Grandad (one d in the middle), although sometimes grandpa.

---

monster Saturday Feb 2 12:36 PM

I had Nana and Grandad, and Grandma
Beest had Nana and Nanar

---

monster Saturday Feb 2 12:37 PM

By the way, the real answer to where the blokes are is in the pub, for goodness' sake! British blokes are real men and don't take to all this new fangled exercise and vegetables crap.


---

xoxoxoBruce Saturday Feb 2 12:39 PM

Why don't the English speak English?

---

Cloud Saturday Feb 2 02:31 PM

I'm Grammy. My mother was Grandmother. (it didn't come up too much). Don't remember what I called mine.

---

fredsonic Monday Feb 4 10:54 AM



---

Shawnee123 Monday Feb 4 02:19 PM



Don't worry, we have to push "1" on a touch tone phone for English now, lest we offend spanish speaking peoples by assuming they speak English or by making them press 2 if we don't have to press 1.

---

fredsonic Tuesday Feb 5 09:02 AM

[quote=Shawnee123;429678]Because Bill Gates is an American? (Even in the US we don't spell it "collonial" btw.)



I stand corrected.

---
Your reply here?

The Cellar Image of the Day is just a section of a larger web community: a bunch of interesting folks talking about everything. Add your two cents to IotD by joining the Cellar.