xoxoxoBruce Wednesday Jan 30 12:50 AM

January 30, 2008: Herding Cats

This is the greatest exercise in frustration and futility ever devised. Agility competition.... for cats.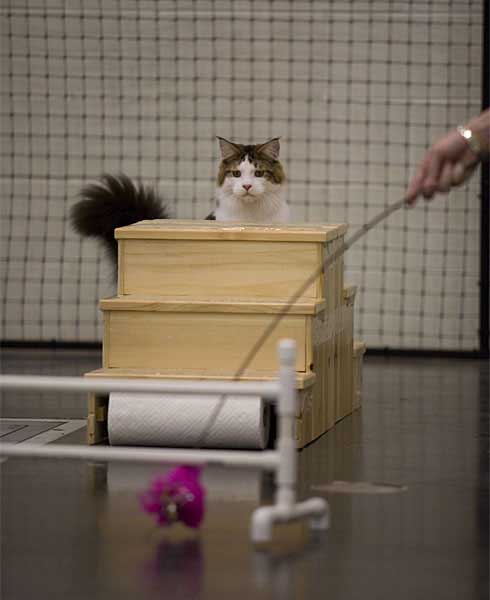 Agility competitions are not about how agile the animal is, everyone knows cats are agile. Agility competitions are about the animal, usually a dog, racing against the clock through an obstacle course, as directed by the owner/trainer. You know, taking direction, following orders, obeying commands....cats????
From USA Today...
---

fredsonic Wednesday Jan 30 03:43 AM

Try working with children.

---

Gravdigr Wednesday Jan 30 04:43 AM

You've never been ignored until you've been ignored by a cat. They just have a way of making you cease to exist. I am a man, and I love my cat. Heh, kinda sounded like a Cataholics Anonymous meeting there didn't it? "My name is Gravdigr, and I love my cat."

---

fredsonic Wednesday Jan 30 05:10 AM

Cats, you either love em or hate em. They are what air rifles were invented for.



---

SPUCK Wednesday Jan 30 06:14 AM

---

Sundae Wednesday Jan 30 07:05 AM

I could get Diz to do a competition like that as long as I had a pen, some earplugs and some chicken. That cat is mad for all three.

---

ogwen69 Wednesday Jan 30 09:46 AM

Dogs have owners
Cats have staff...

---

TheMercenary Wednesday Jan 30 11:06 AM

---

Shawnee123 Wednesday Jan 30 11:07 AM

---

fredsonic Wednesday Jan 30 11:11 AM

Or the cats that crap in the garden. And also lick their testicles...

Lets not fall out over this.

---

ZenGum Wednesday Jan 30 11:18 AM



Hiya fred! Did you get welcomed, BTW?





Now leave my damn cat alone!

---

morie Thursday Jan 31 07:45 AM

Morie

---

fredsonic Thursday Jan 31 08:19 AM
Thanks, I'll take that as a welcome.
I still dislike cats though. You're right, I am jealous.

Q. Why do dogs lick their balls?

A. Because they can!

---

classicman Thursday Jan 31 08:43 AM

.

---

TheMercenary Thursday Jan 31 10:29 AM

What targets of opportunity! And all in one place.

---

ZenGum Thursday Jan 31 10:39 AM

Maybe they're chasing the goats?

---

TheMercenary Thursday Jan 31 11:05 AM

Or waiting for the flocks of migrating birds to arrive.

---

SPUCK Friday Feb 1 05:34 AM

Where's a Golden Eagle when you need one...

---
Your reply here?

The Cellar Image of the Day is just a section of a larger web community: a bunch of interesting folks talking about everything. Add your two cents to IotD by joining the Cellar.