Clodfobble Thursday Jan 24 03:36 PM

January 24, 2008: Ice piano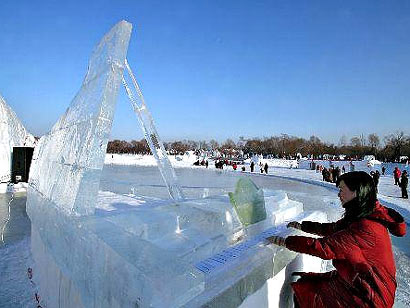 This working piano made of ice was unveiled at the 20th International Snow-Sculpture Art Expo in Harbin, China. Designed and built by a local landscaping company, the instrument can not only be played by tourists, it can also automatically play more than 30 classical pieces.

I question how easy it is to keep in tune, being outside in even moderately fluctuating temperatures.

---

Flint Thursday Jan 24 03:48 PM

Alan White (Yes) has a drum kit made of glass:

---

Wombat Thursday Jan 24 05:09 PM

I suspect the piano is just a basic electronic keyboard with a lot of ice decoration.

---

Nikolai Thursday Jan 24 08:35 PM

Coldplay on the piano anyone or how about the Artic Monkeys?

---

lumberjim Thursday Jan 24 08:37 PM

yeah. It really should be labeled Ice Organ. If it was a true piano, there would have to be wires and hammers and stuff. Im not seeing that kind of stuff there. id like to see more detailed shots of the innards

---

ZenGum Thursday Jan 24 09:01 PM

yeah, but if there was an IotD labeled "Ice Organ" people would be so disappointed when it turned out to be, you know, kind of like a piano.

I reckon about half of the cellar just crossed their legs tightly.

---

monster Thursday Jan 24 09:54 PM


....now no-one goes home disappointed

---

Ibby Thursday Jan 24 10:51 PM

I've been there!
Harbin is the fucking COLDEST place. It's in fucking siberia.

We're talking, -35, -40 degrees when I was there.
So cold, they made entire THEME PARKS out of ice.


Nowadays, the ice sculptures have to be judged within a day, so they don't melt. I only went four years ago.

---

Elspode Thursday Jan 24 11:47 PM

But on the bright side, snow cones are really cheap.

---

YellowBolt Friday Jan 25 07:52 AM

IOTD has covered the Harbin festival before, if you want to read a bit more about it.

---

morie Friday Jan 25 11:04 AM

somehow, i dont think that is a 100% ice paino so how did it get into the ice sculpture competition?

Morie

---

Shawnee123 Friday Jan 25 11:19 AM

The paino slept with one of the judges.

---

ZenGum Friday Jan 25 11:22 AM

...which resulted in A Major case of frostbite to the crotchet...

... which caused him to B flat ...

.... and she could C minor problems ...

... so he said, it will soon be pri-D sharp...

... and she said, is E natural?...

... and he said, F Off (key) ...

... and she said Hi, G, that's amazing ...

---

Shawnee123 Friday Jan 25 11:32 AM

Note to self:

Lock Zen in his room, throw away the key.

---

ZenGum Friday Jan 25 11:45 AM

C'mon, this is your forte as well as mine.
You know the score, as well as the rest.

What I want to know is, did the judge have a staff, and did the piano have a treble cleft?

---

Shawnee123 Friday Jan 25 11:52 AM

Your argument is sustained, though I don't care for your tone. I shouldn't mention it, knowing how bad your tempo is: it can explode in a minuet. Eh, I'll just pitch this out there, you duet the way you want.

---

ZenGum Friday Jan 25 12:06 PM

We'd had quite an intermission there, its about time for an encore. Aria-lise that this is a beat-up and I sound like a strumpet, but its a cymbal of my true thoughts.

---

Shawnee123 Friday Jan 25 12:14 PM

Well, ain't that just grand? Check hymn out, thinking he can just march in here and drone on like that. Chord you do me a favor and try a little modulation? I never mezzo nice a guy, but you've mode me over with your at-edude.

---

ZenGum Friday Jan 25 12:25 PM

Are you accusing me of violins?
I have to go in tenor fifteen minutes, so conductor-self well, and baton without me. I'll be Bach tomorrow. This was the mozartistic thread today.

---

Gravdigr Saturday Jan 26 03:00 PM

I think Zen's & Shawnee's G-strings are wound a little too tight.



---

chrisinhouston Sunday Jan 27 11:18 PM

Look on the bright side. During the Cultural Revolution, anyone wasting time creating such sculptures would have been arrested and sent to a re-education camp to confess their crimes against the motherland and Chairman Mao! Now they get money and fame for such works!

---
Your reply here?

The Cellar Image of the Day is just a section of a larger web community: a bunch of interesting folks talking about everything. Add your two cents to IotD by joining the Cellar.