DucksNuts Monday Jan 14 06:59 PM

January 14, 2008: Hunting Deer in Germany [Graphic]

These photos have been doing the rounds on the hunting forums the last few days and turning up in email.

All very neat and tidy really, minimal damage to the car.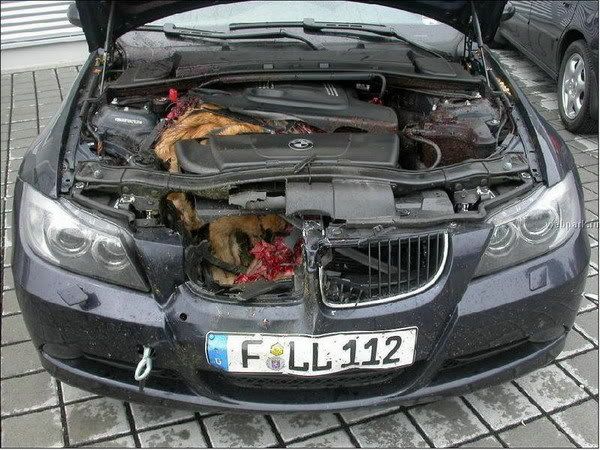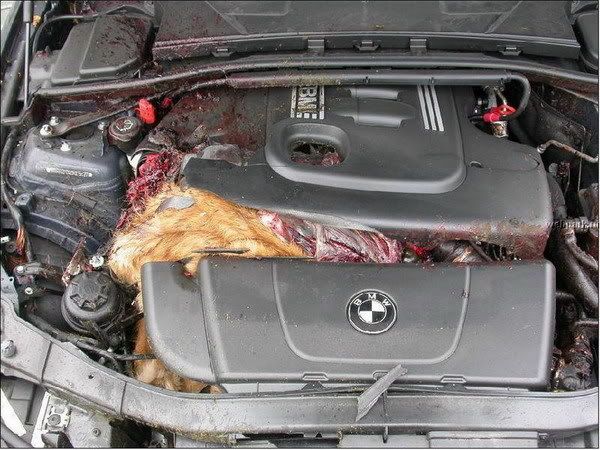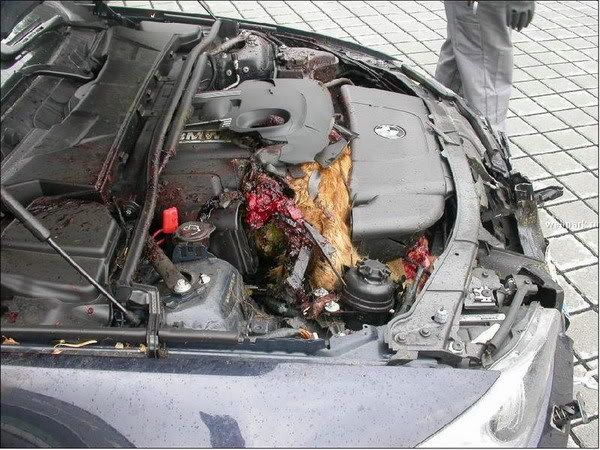 ---

busterb Monday Jan 14 07:25 PM

Clean the air filter? Maybe. Off ya go! BTW. How do they it's a deer???

---

binky Monday Jan 14 07:39 PM

that's fucking sick

---

binky Monday Jan 14 07:39 PM

not you buster the pics

---

Pearcie (AUS) Monday Jan 14 08:16 PM

Could Be Worse

It could be worse, blinky. Usually these pics are of a deer that's gone thu the windshield. Guts lining the inside of the car and organs on the floor. Now THAT'S F*cking sick!

---

fargon Monday Jan 14 08:21 PM

I think it's a dog.

---

zippyt Monday Jan 14 08:55 PM

deer soup ??
Deer burgers ??
Deer TarTar ???

---

jinx Monday Jan 14 08:58 PM

I agree with Fargon... looks like it used to be a dog.

---

xoxoxoBruce Monday Jan 14 10:43 PM

I've seen sites claiming;
1-140 lb deer at 140 mph.
2-100 lb deer at 140 mph.
3-140 lb deer at 120 mph.
4- Bambi at 140 mph.
5- Bambi at 120 mph.

I'm betting Bambi at 140 mph because it went in the grille and knocked the motor off it's mounts, instead of over the hood through the windshield.
Besides, how in hell would they know what it weighed? Some of it had to have gone out the bottom.... especially the fluids.

---

ZenGum Monday Jan 14 11:35 PM

Incredible. Amazing the way it went neatly through the grill opening. Poor little critter, but at least it would have been quick.

I'd like to put on an "I don't know anything about cars" look, call a roadside mechanic, tell him, "I was just driving along and suddenly it stopped working" ... and get a photo of his expression when he pops the bonnet (hood).





"Sir, I think I've found the problem."

---

monster Tuesday Jan 15 12:12 AM

is this "It's a Knockout"?

I'd like to play the Joker and call photoshop.

(maybe only middle-aged Brit dwellars will get that.....)

---

xoxoxoBruce Tuesday Jan 15 12:54 AM

---

DucksNuts Tuesday Jan 15 04:18 AM

Crap...sorry Bruce, it was the 15th here when I posted it, but other errors were probably the result of noooooo sleep

---

ZenGum Tuesday Jan 15 08:48 AM

Surely this is grilled deer.

---

Gravdigr Tuesday Jan 15 11:25 AM




---

xoxoxoBruce Tuesday Jan 15 11:31 AM

---

ZenGum Tuesday Jan 15 11:56 AM

I have to admit, Germans do things so much more neatly than Australians...

Attachment 16533

---

classicman Tuesday Jan 15 05:49 PM

Poor thing was just hoppin along and then ....

---

tulzscha Tuesday Jan 15 07:42 PM

Dog-sized, yes, but, um, not really enough physical evidence to go on. No cute widdle feetsies or headsies in evidence.

So, I'd wager 50lb deer, at ~100mph. Just mussed up the plastic cosmetic engine cover somewhat. But, well, no way to tell?

Bleargh.

---

Saknussem Sunday Jan 20 01:26 PM

Sales Pitch

Ja! und hier at Bambi Mangling Werks, we specialize in only ze FINEST unter-hood deer placement!

---

Crimson Ghost Sunday Jan 20 07:17 PM

We Germans now present the newest innovation, fur-lined engines.

Fahrvergnugen - The Pleasure of Driving

---

TheMercenary Sunday Jan 20 07:40 PM

---

Crimson Ghost Sunday Jan 20 09:40 PM

---

Elspode Sunday Jan 20 10:42 PM

Are we pretty sure that isn't either a shark or a dolphin?

---

NoBoxes Monday Jan 21 05:05 AM

I hope that poor deer didn't die in vain, I wonder if it made it through to the glove compartment?!




(deerskin gloves)

---

SPUCK Monday Jan 21 05:46 AM

I think it died of a vein problem though.

---

Sundae Monday Jan 21 11:46 AM
I keep telling HM to stop calling himself middle aged as I am only 10 months younger than him and nowhere near it yet.

But Bruce's cartoon made me snort involuntarily - a bad thing in the library.

---

fredsonic Thursday Jan 31 08:28 AM

Q. What was the last thing to go through that animal's mind when it hit the car?


A. It's arse!

---

prohunters Friday Dec 11 08:51 PM
In an effort to get people to send in their plans to share with the rest of the hunting community, Deer-Standsis hosting a deer blind plans submission contest with prizes.There are 4 Cabella's gift cards to win.... Please lat a look at : deer blind plans

---

monster Friday Dec 11 09:57 PM

Deer blind plans? Poke 'em in both eyes with a sharp stick. Do I win?

---

ZenGum Saturday Dec 12 12:36 AM

No idea.


(say it)

---

Tuba Loons Saturday Dec 12 12:40 AM

Human spam.

That is the sign of a well-heeled forum.


---

xoxoxoBruce Saturday Dec 12 01:50 AMHere's some

---

dar512 Sunday Dec 13 12:43 PM

---

xoxoxoBruce Sunday Dec 13 12:56 PM

I knew she was making a pun, but still didn't know if she knew what a blind was. Zen wasn't punning, which would indicate he didn't know, or was on his death bed.

When in doubt, I spell it out. That way I'm sure everyone is annoyed equally.

---

ZenGum Sunday Dec 13 08:43 PM

Bruce ... really ... thanks for you thoughts, though.

It's an old joke.

What do you call a deer with no eyes?

No idea.

With me now?

What do you call a deer with no eyes and no legs?

Still no idea.

Shall I continue?

What do you call a deer with no eyes, no legs, and no dick?

Still no f#$%ing idea.

What do you call a deer with no eyes, no legs, no dick, and no pulse?

Dead.

---

xoxoxoBruce Sunday Dec 13 09:55 PM

Ok, I missed that one, even though I've heard it before.

---

monster Sunday Dec 13 09:56 PM

hah

---

richlevy Saturday Dec 19 06:23 PM

Maria: "Now children, while your father drives let's practice."
Children: "Doe, a deer. A female deer..."
Freidrich: "Doe"
Maria: "That's very nice Freidrich, but sing with everyone else."
Freidrich: "No!" (points finger) "DOE!!!!!"

---

jinx Saturday Dec 19 06:42 PM

Homer: D'oh!
Lisa: A deer!
Marge: A female deer

---
Your reply here?

The Cellar Image of the Day is just a section of a larger web community: a bunch of interesting folks talking about everything. Add your two cents to IotD by joining the Cellar.