Undertoad Saturday Jan 12 01:55 PM

January 12, 2008: Funny delivery man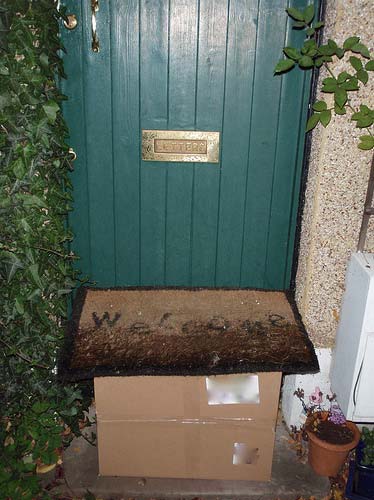 This flickr page is getting a lot of attention today. Read the caption and then look back at the image...


---

Griff Saturday Jan 12 02:39 PM

Now it is iconic.

---

xoxoxoBruce Saturday Jan 12 05:25 PM

I had a UPS man leave a large package(fully assembled rocking chair), in my cellar doorway, with the front-door mat over it to fend off the rain. He even left a note on the front-door, telling me where the mat was.
Love UPS!

---

busterb Saturday Jan 12 06:04 PM

UPS. Right, one of the a-holes must have tried, or sprayed, my dog. She hates the truck. The one I think did it is afraid of her.

---

Warren Peas Saturday Jan 12 06:22 PM

Ther you have it. Balanced reporting.

---

LJ Saturday Jan 12 10:42 PM

UPS guys get more tail than a toilet seat. jinx and the girls in her office all had a crush on Leon the UPS guy......

---

Clodfobble Saturday Jan 12 10:53 PM

So, uh, are we going back to MM/DD/YYYY format for IOTD dates? I just want to make sure I'm doing what all the cool kids are doing...

---

xoxoxoBruce Saturday Jan 12 11:53 PM

You are the cool kid, what are you doing?





and what are you wearing?

---

Undertoad Sunday Jan 13 12:45 PM

I set the date format wrong! Sorry.

---

Gravdigr Monday Jan 14 04:42 PM

When I ordered my ear-shatteringly sweet 1000 watt Pioneer A/V receiver, the UPS guy left it on my front porch in full view of the street, which is less than forty feet away. I spotted it three houses away when I came home. Of course the Pioneer logo was visible from two houses away!!

I am SO lucky someone didn't swipe it. If someone had five-fingered it, I would have probably went to the penitentiary. As it was, I went to the local UPS place and made an appointment w/said UPS man. When I got through cussing, he was red as a beet, didn't like it at all, but he never said a word back. Guess he was imagining how he would have felt if it had been his $1500 parcel with brand names and pictures of the receiver on it left pretty much on the side of the road...what a jerk.



---

Yznhymr Monday Jan 14 05:35 PM

Some people never let go of a grudge...

signed,

the jerk

---

xoxoxoBruce Monday Jan 14 10:49 PM

Oh, and if someone had taken it, they would have replaced it.

---

Shawnee123 Tuesday Jan 15 02:16 PM

Put it under the "matt"

---

lookout123 Tuesday Jan 15 02:56 PM

is that matt damon, or The Fonz?

---

Shawnee123 Tuesday Jan 15 03:32 PM

Sit on it! Aaaaaaayyy.

---

DucksNuts Tuesday Jan 15 06:29 PM

I would!!

---

beauregaardhooligan Wednesday Jan 16 11:27 AM

Ducky wants to be under the Matt?

---

Gravdigr Thursday Jan 17 07:56 PM



Thanx for the info Bruce, good to know.

---

TheMercenary Thursday Jan 17 08:59 PM

---

fredsonic Monday Feb 4 11:38 AM

Think yourselves lucky UPS leave things. In Britain we have the Royal Mail (Not Priince Phillip). They specialise in NOT doing such silly things as leaving your parcel. Ohhh no. They run up to the house, (I've seen them do it), pop a card through the door saying "Sorry we missed you" & tell you to come to the delivery centre where the queue goes out the door with people collecting parcels the Postman couldn't be arsed to leave.

That said, courier firms like UPS do the same things, but their depots are usually further away from my house.



---
Your reply here?

The Cellar Image of the Day is just a section of a larger web community: a bunch of interesting folks talking about everything. Add your two cents to IotD by joining the Cellar.