Clodfobble Wednesday Dec 26 05:50 PM

December 26, 2007: World's Heaviest Motorcycle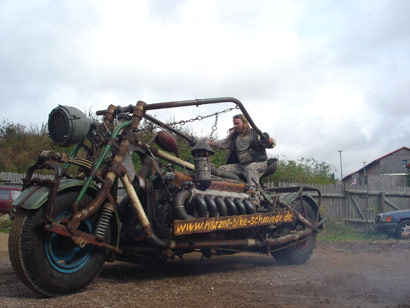 When you've got a genuine Russian tank engine lying around, how can you resist repurposing it? And really, tanks are so lumbering and oafish, and with the price of gas nowadays... something a little more sleek and maneuverable is obviously called for.

This giant motorcycle took the team of welders and mechanics at the Harzer Bike Schmiede in Zilly, Germany, almost a year to craft. It is 17'4" long, and 7'6" tall, and weighs four-and-a-half tons. 1.8 tons of that is the tank engine itself. The Guinness Book of World Records has just confirmed it is the heaviest motorcycle ever (though interestingly, there is no mention of the size dimensions breaking any records.) They are still hoping to obtain a special license to actually drive it on the road.

Creator Tilo Nieber has dubbed the machine "the Led Zeppelin." Apparently in Germany, Zep counts as "heavy metal" music.

---

Kerotan Wednesday Dec 26 06:30 PM



I am here all week!

---

Diaphone Jim Wednesday Dec 26 08:07 PM

It has a "springer" front suspension like a DKW or a Greeves: nice work!
9000 pounds: Lay it over at the store and all you need are about 15 or 20 willing standers-by to tip it back up.
Where's the fuel tank?

---

SPUCK Wednesday Dec 26 10:12 PM

Maroon fuel tank right where you'd expect it.

Not exactly the SIZE you'd expect...

---

TheMercenary Wednesday Dec 26 10:30 PM

Great!

Yea the fuel tank looks a bit small. My guess is that it hold just enough to start it. Minus the weight of the armor usually found on a tank the milage should be a bit better on that bike frame. How would you like to get that thing up to about 120 on a straight away? How far do you think it would take to stop that beast?

---

spudcon Thursday Dec 27 06:14 AM

Don't see a muffler. I asked the driver about it, and he said "Huh?"

---

Sheldonrs Thursday Dec 27 08:25 AM

All that space and it only seats one?

---

Hoof Hearted Thursday Dec 27 11:30 AM

I hope he doesn't try to catch it with his leg when it tips over. It'd smash him flat.

---

classicman Thursday Dec 27 12:14 PM

Parkin thats gotta suck too.

---

Gravdigr Thursday Dec 27 12:35 PM

http://www.harzer-bike-schmiede.de

Also, can anyone translate the text?

---

gtown Thursday Dec 27 02:19 PMtallest rideable motorcycle which is 11'3" tall and 20'4" long, but doesn't even hit 3 tons...what a lightweight...

---

slang Thursday Dec 27 02:45 PM

Fear the German crazy men. Don't steal the pics

The text directly under the photo has proper names in it and I can't figure it out.

"it was a big show with the bike schmiede and [the guys names] organized it" or something like that.

I'm American. Don't speak Deutsch any more.

---

Ibby Friday Dec 28 09:12 AM

yeah but i'll bet you speak DOUCHE purdy well huh?!




---

TheMercenary Friday Dec 28 12:15 PM

Damm cheater! A trike is not a bike. It is more akin to comparing a Chimp to a human, related but not the same.

---

slang Monday Jan 7 09:16 AM
I speak fairly well out of my ass as well.

---

TheMercenary Tuesday Jan 8 09:33 PM

---

toranokaze Thursday Jan 17 04:56 PM

I'm waiting to see the pic where he wrecks on that thing

---

fredsonic Wednesday Jan 30 08:56 AM

Here is more of the same...

"Gregory Dunham from the USA has constructed the worlds largest rideable motorcycle that is 3.429 m (11 ft 3 in) tall to the top of handlebars, 6.187 m (20 ft 4 in) long and weighs 2.948 tons (6,500 lb). It is powered by a 8.2 litre (502 cu in) V8 engine and has tyres that are 1.88 m (74 in) tall. The top speed is 65 mph with an economy of 6 miles per gallon."




---

classicman Saturday Feb 2 01:55 AM

try this

---
Your reply here?

The Cellar Image of the Day is just a section of a larger web community: a bunch of interesting folks talking about everything. Add your two cents to IotD by joining the Cellar.