Clodfobble Monday Dec 17 06:35 PM

December 17, 2007: Brave Mice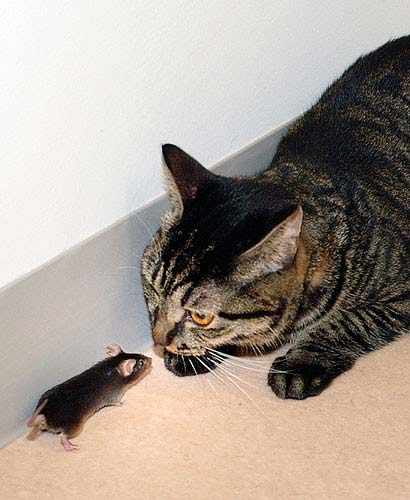 Fear is all in your head! Or at least it is for mice. That's what the Japanese researchers at Tokyo University set out to prove when they created a new breed of genetically modified mice that are not afraid of cats. By turning off certain smell receptors in the brains of their mice, the scientists were able to show that their newly-ballsy mice are only instinctively afraid of the predators' smell, rather than learning from experience that cats will gobble them up.

Alternatively, I suggest that they could design genetically odorless cats. Seems more useful in the long run to me.

---

barefoot serpent Monday Dec 17 06:40 PM

They've done the glow-in-the-dark cats so why not odorless?

---

BigV Monday Dec 17 06:53 PM

I remember reading a story about this topic, and I think it was something about the smell of the cat's urine that triggered a fear reaction in the mice. As to the observation about the path to learning in the mice, how exactly would a mouse learn from experience that cats gobble them up. More to the point, how can the mouse communicate that learning to other mice?

---

Kingswood Monday Dec 17 09:23 PM

Mouse makes a mistake around a cat, gulp, burp. Mouse makes a mistake around a cat, gulp, burp. Mouse makes a mistake around a cat, gulp, burp. Mouse makes a mistake around a cat, gulp, burp. Mouse makes a mistake around a cat, gulp, burp.

Yep, sure can't see many mice making a cat-related mistake and having the opportunity to learn from the experience (assuming wild mice and wild cats).

---

jinx Monday Dec 17 09:39 PMtoxoplasmosis (The "pregnant women shouldn't change the litter box" disease.) also have no fear of cats.



---

LJ Tuesday Dec 18 12:04 AM

that's it....i'm not changing the cat box any more. too risky.

---

Razzmatazz13 Tuesday Dec 18 12:15 AM

Nah, it's ok jim, I'm sure the baby will be fine.

---

ZenGum Tuesday Dec 18 09:35 AM

I reckon this beast ain't afraid of no cat neither!

Attachment 16234

The 1.4kg Mallomys giant rat is one of two species of mammal found by Conservation International on an expedition to the Foja Mountains in the north of Papua province, Indonesia.
From the BBC.

---

Shawnee123 Tuesday Dec 18 09:43 AM

60 minutes went to the Foja mountains in a piece titled "Garden of Eden." It was nothing less than fascinating. Film clips may be found here.

---

glatt Tuesday Dec 18 10:15 AM

Or,

Mouse with sensitive nose and hates the smell of cat piss stays away from cats and lives to reproduce. Passing sensitive nose genes on to kids.

---

Clodfobble Tuesday Dec 18 04:02 PM

Or, mice generally don't live alone--mouse watches brother get eaten by a cat, grief stays fresh in his heart and reminds him to stay away from the cat.

---

sweetwater Thursday Dec 20 11:26 AM

it would be advantageous for cats to lose their odor, if one subscribes to M. Pollan's "Botany of Desire" premise, right? non-stinky pee cats are likely to become a more popular pet than a stinky pee cat. and they'd prove better de-mousers, too. toxo was just trying to help the process but got the wrong beasie.

---

glatt Thursday Dec 20 11:45 AM

Feed them asparagus?

---

Edna Wednesday Mar 19 09:25 AM

If you check out those pics you can be surprised

If you want to see ideal coexistence between a cat and a mice check this pics.

It seems like love is in the air.

---

xoxoxoBruce Wednesday Mar 19 11:38 AM

Welcome to the Cellar, Edna.

---
Your reply here?

The Cellar Image of the Day is just a section of a larger web community: a bunch of interesting folks talking about everything. Add your two cents to IotD by joining the Cellar.