Hoof Hearted Friday Dec 14 03:10 PM

December 14, 2007. Horse needs a name...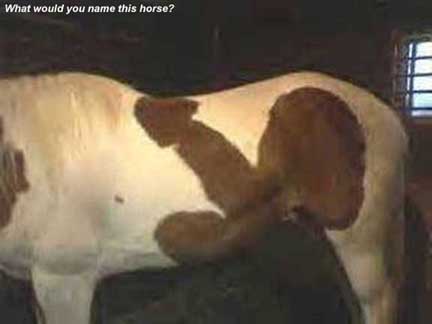 I don't know anything about this horse, only that he is a gelding (not able to breed). Saw his picture on a horse BB.
I want to name him "Trojan".


---

nmckenzie02 Friday Dec 14 03:18 PM

hmmm...

is that a penis on his side?

---

nmckenzie02 Friday Dec 14 03:20 PM

dumbo ears balls penis

---

God Friday Dec 14 03:23 PM

Who says I don't have a sense of humor?

---

HungLikeJesus Friday Dec 14 03:25 PM

It's a miracle! It's an image of Richard Nixon.

---

BigV Friday Dec 14 03:34 PM
---

classicman Friday Dec 14 03:55 PM

Lumbercock! Duh!

---

barefoot serpent Friday Dec 14 05:14 PM

ride me bareback

---

Nikolai Friday Dec 14 05:17 PM

Do you think hes compensating for the fact he cant breed?

---

Sundae Friday Dec 14 05:23 PM

He was born in a stable.
I will call him Jesus.

---

seakdivers Friday Dec 14 05:26 PM

Dick

---

Cicero Friday Dec 14 05:33 PM

Pork and beans?

---

wolf Friday Dec 14 09:50 PM

What's the name of the inedible British pudding?

Oh, yeah ...

Spotted Dick.

---

Hoof Hearted Friday Dec 14 10:23 PM

Is this a record?
Animal pic for the friday image and no one has said they want to eat him.

---

Razzmatazz13 Friday Dec 14 10:42 PM

eat a dick?

---

LJ Friday Dec 14 11:14 PM

picture a rider on that horse.

---

Hoof Hearted Friday Dec 14 11:53 PM

---

xoxoxoBruce Saturday Dec 15 12:13 AM

Posting... definitely posting.

---

Elspode Saturday Dec 15 02:46 AM

---

binky Saturday Dec 15 08:34 AM

---

ZenGum Saturday Dec 15 10:50 AM

Sentry
(always standing)

Three heads

Rorschach

Dr Freud

---

richlevy Saturday Dec 15 12:02 PM

Well, if they could auction the naming rights between the people who make Viagra and Levitra, they could make a forture.

---

Gravdigr Monday Dec 17 01:28 AM

---

LJ Monday Dec 17 01:39 AM

something about mary

---

Skylight Monday Dec 17 10:01 AM

poetic that he can't procreate; and yet that erection will always stand.

take him to Brokeback Mountain..

---

barefoot serpent Monday Dec 17 10:28 AM

---

RellikLaerec Wednesday Dec 19 12:59 AM

ok..... Why isn't this thing working? I tried with IE7

That is all I see


---

xoxoxoBruce Wednesday Dec 19 02:20 AM

The picture is gone.

---

Hoof Hearted Wednesday Dec 19 07:48 PM

I'm sorry the photo is gone. I should have saved it into my own account instead of linking it. I think on another horse forum some of the members became upset because of the blatant sexuality of the photo. Nevermind that Nature/God PUT the markings there!
Anyhow, it appears the person removed the photo.

The photo was of a pinto horse with an erect phallus rising from his flank to the point where a rider would sit on his back.

---

shina Wednesday Dec 19 09:45 PM

damn. I missed it?

---

xoxoxoBruce Wednesday Dec 19 10:51 PM

Here it is.

---

Shawnee123 Thursday Dec 20 09:37 AM

Richard Flankenstein.

---
Your reply here?

The Cellar Image of the Day is just a section of a larger web community: a bunch of interesting folks talking about everything. Add your two cents to IotD by joining the Cellar.