Clodfobble Monday Dec 10 11:23 AM

December 10, 2007: Ewok houses

I can say, in all honesty, that I would never want to live in one of these.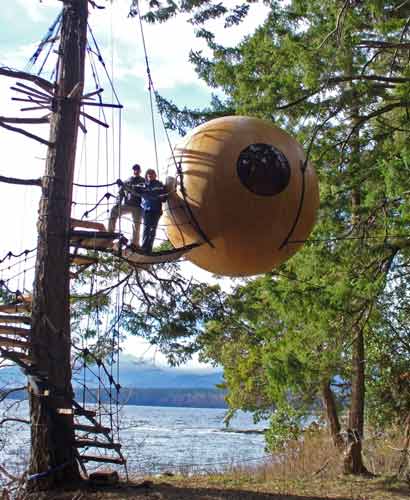 But I know there are some fans of furry aliens, and more general fans of nature, who would. There must be, because the company that makes them is still doing business.

Free Spirit Spheres, www.freespiritspheres.com, constructs the 11-ft. wide balls using boat-building techniques, so they are completely waterproof, and they claim a single sphere can sleep a family of four. Somehow they also manage to fit a sink, microwave, and refrigerator inside. No word on how these items receive power. A second sphere that would hold a washroom and shower is... still in design. Despite this, the website claims they will provide you with a complete, hand crafted house for just £74,000. Self-assembly required.

---

slang Monday Dec 10 11:49 AM

$150K!? Maybe I should start "hand crafting" some hallow spheres too. Wow, that's a lot for what you are getting.

---

xoxoxoBruce Monday Dec 10 11:53 AM

PODS! Run away!

---

glatt Monday Dec 10 11:53 AM

Those are really pretty cool. I like them. But no way are they worth that amount. I can see as much as $20,000 for one, depending on how fancy they are inside, but no more than that.

---

glatt Monday Dec 10 12:19 PM

You know, this reminds me of a guy who built his own sphere house out of thin sheets of plywood, slightly bent and screwed together.

---

ZenGum Monday Dec 10 12:46 PM

That pod is suspended by cables from (I guess) at least three trees.
Trees that sway in the wind. Trees that will certainly fall down one day, possibly with little warning.
Good thing it's built like a boat 'cause I reckon you'd get seasick.
I'd like one as a wilderness cabin/ holiday home, but not at that price.

And anyway, real Ewok villages are waayyyyyy cooler than that.

---

lookout123 Monday Dec 10 01:21 PM

i saw the tree dwellers on a documentary a year or so ago. if you cross polinate your nuttiest pocket protector wearing engineer with some serious greeny weeny and add just a touch of the unibomber... well, you've found yourself a tree pod person.

i do remember the issue of trees falling down being discussed. apparently the way that it is hung puts very little stress on any of the trees and each of the trees is in turn anchored for increased strength for protection again high winds. i don't remember all the details but it seemed convincing.

---

God Monday Dec 10 02:19 PM

The hallow thing is my job. Don't make me come over there.

---

Kumbulu Monday Dec 10 07:24 PM

---

Aliantha Monday Dec 10 07:33 PM

wouldn't you be the coolest kid in the neighbourhood if you had a treehouse like that!

---

Karenv Tuesday Dec 11 02:32 AM

You can't get anything for $20,000. I think it is pretty cool and I would like one, but I'd want a good outdoor porch too.

---

JuancoRocks Wednesday Dec 12 01:56 AM

Ewok houses



Good thing God has a sense of humor and has imbibed us with it.

---

Skylight Wednesday Dec 12 08:08 AM

i feel bad for the child who lives in one of those and get's told to sit in the corner.

---

ZenGum Wednesday Dec 12 08:25 AM

Welcome Skylight!





Another Aussie here.

Good to see ya, sand-groper!

---

Aliantha Friday Dec 14 02:50 AM

Aussie Aussie Aussie???

---

Sundae Friday Dec 14 05:33 PM

Oy Oy Oy!

Agreed, it's cool as a hideout, but as a house....?!
I have mild claustrophobia so I couldn't bear the thought of it.

---
Your reply here?

The Cellar Image of the Day is just a section of a larger web community: a bunch of interesting folks talking about everything. Add your two cents to IotD by joining the Cellar.