Clodfobble Monday Nov 12 02:00 PM

November 12, 2007: Axe-murderer featured on advent calendar

The German city of Hanover is not afraid of the skeletons in its closet. The city's tourism offices recently released a children's advent calendar celebrating the town, and among the cheerful carolers, ice-fishers and hockey players stands a man carrying a large cleaver.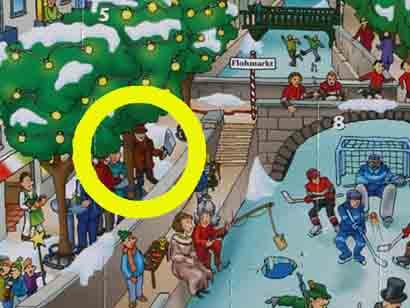 He is Fritz Haarmann, the well-known serial killer who murdered 24 young men between the ages of 13 and 20, chopped up the bodies and dumped the remains in the local river Leine. He was sentenced to death and beheaded (let the punishment fit the crime!) in 1925.

The head of the Hanover tourism board, Hans-Christian Nolte defended the calendar: "He is part of our city's history. Even on guided tours the serial killer's story is told."

But far from pulling the calendar over the outcry, the tourism board says that it has become somewhat of a collector's item. The initial 20,000 copy run of the calendar is now expected to sell out soon, because orders are pouring in from Berlin, Vienna and other parts of Austria. Proceeds from the sales are going towards a local charity for children with cancer.

Nonetheless, Nolte said no axe-murderers will be appearing in next year's calendar.

---

lumberjim Monday Nov 12 02:07 PM

where's the link to order one?!

---

corydodt Monday Nov 12 03:24 PM

Meta-post

I have to say, the user-contributed images of the day are exceeding my initial expectations. Very interesting stuff being posted.

---

Sheldonrs Monday Nov 12 04:18 PM

Well, considering all the killing committed in Jesus' name, this is no surprise.

Next step, the new Dahmer Diocese.

---

Sundae Monday Nov 12 04:21 PM

My 2007 calendar is actually a serial killer calendar, one for each month of the year. I love it.

Good for the Germans anyway. I love the fact he is perving behind the tree, scoping out his next victim.

---

Spexxvet Monday Nov 12 04:28 PM

---

Sundae Monday Nov 12 05:11 PM


Nope, one killer per month. I've just found it online actually, link here

---

xoxoxoBruce Monday Nov 12 06:45 PM

I gave a dozen of them out for Christmas last year.

---

Sundae Monday Nov 12 06:49 PM

There's a coincidence....!

---

ViennaWaits Monday Nov 12 07:02 PM

I love the Extreme Hockey game! "Watch as our players dodge holes drilled by ice-fishermen!"

.:calling my travel agent:.

---

Gravdigr Monday Nov 12 10:10 PM

There's Waldo!

---

HungLikeJesus Monday Nov 12 10:45 PM

This discussion of advent calendars reminded me of the best holiday movie ever made, Bad Santa.

---

ZenGum Monday Nov 12 11:29 PM

This is the land of the brothers Grimm, is it not?
From the little I have seen, German folklore and culture does shy away from the gruesome. I doubt if Eurodisney will ever really thrive in this environment.

---

Shawnee123 Tuesday Nov 13 11:10 AM

---

Shawnee123 Tuesday Nov 13 11:13 AM

I found Waldo!

---

Cicero Tuesday Nov 13 01:15 PM

I wish I had this photo right now. My husband and I saw a man with a hatchet running through the snow in a "christmas town" figurene collection that someone had put out in their restraunt. That was a wtf?

Where is that photo?!?

---

Gravdigr Wednesday Nov 14 01:04 AM

---

HungLikeJesus Wednesday Nov 14 01:22 AM





---

ViennaWaits Friday Nov 16 09:02 PM

HLJ - thank you for making me laugh until I almost peed.

That made my day.

---

Anada Saturday Nov 17 11:03 AM

amazing in a kind of sick way...

very interesting.. and I am near Hannover now, I should go and check it out!.. it might be part of the history of the city, but I think is surreal to "inmortalize" it like that!

---

Cloud Saturday Nov 17 11:07 AM

I wonder what's behind his little door?

---
Your reply here?

The Cellar Image of the Day is just a section of a larger web community: a bunch of interesting folks talking about everything. Add your two cents to IotD by joining the Cellar.