Undertoad Monday Oct 29 11:30 AM

October 29, 2007: Big bucks on the wall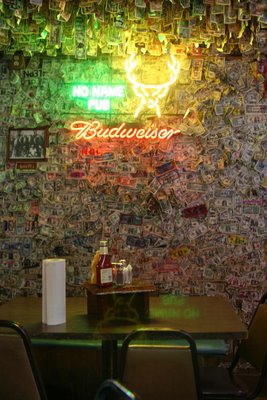 hat tip xoB. Blog Wall$treetFighter finds and documents five different pubs in the US where people have gone into the habit of attaching dollar bills to the wall, visitor by visitor. People write a message on the bill and tack or paste it up. Thievery is supposedly low. After years of operation, some of these places are worth serious money just for their unserious money. The winner, the No Name Pub, is shown above with some of their estimated $750,000 in singles, collected during 30 years of donations.

12 more shots of the five top-dollar pubs are at the link.

---

lumberjim Monday Oct 29 12:01 PM

I wonder if that costs them extra in fire insurance.

I also wonder if they could get in trouble with the Feds over that.

---

ZenGum Monday Oct 29 01:55 PM

Yeah, both a fire hazard and a valuable flammable asset.
I wonder if it is good insulation. Given the downward trend of the US$, and the upward trend of oil, this may soon become an economically viable means of insulation.

---

lookout123 Monday Oct 29 02:10 PM

think of the blackmail possibilities. drunk guy with mistress writes stupid message on dollar bill and tacks it to wall... could make some money if you could match the idiot with the message.

---

Kumbulu Monday Oct 29 02:53 PM

Want.

---

binky Monday Oct 29 02:55 PM

We used to stop at a place where they did this and we put ours up. One day when we stopped there, they were all gone-the owner said that someone told her that it was a federal offense to deface currency, so she took them all down

---

LabRat Monday Oct 29 02:56 PM

The A-frame lodge at our annual vacation spot has money (mostly singles) hanging from the hooks of lures above the bar. Every year there is a few more.

---

Sheldonrs Monday Oct 29 03:22 PM

Sometimes my nightstand looks like that as well.

---

HungLikeJesus Monday Oct 29 03:30 PM

---

rkzenrage Monday Oct 29 04:08 PM

There is a place in the Keys that does the same thing.

---

Sheldonrs Monday Oct 29 05:09 PM

---

Sundae Monday Oct 29 05:49 PM

Where is Brianna?

There is a pub in the UK that has all kinds of foreign currency on the walls and ceiling - visitors are encouraged to submit theirs. It was in the Weirdest Pubs in Britain or something like that, which I know she has.

---

Adam Monday Oct 29 06:01 PM

Yikes.
Here in Providence, all decorations of every kind came down after the Station nightclub fire in 2003 killed 100 people.
That wall o' money is probably in serious violation of fire code, but maybe it's not such a big deal now that smoking's been banned...

---

Coign Monday Oct 29 06:22 PM

I have seen money burn, I have a bill with burnt edges around it becuase it looks kinda cool and is a bit symbolic, and money doesn't actually burn all that well. I would actually be surprised if a cigerette would start that wall on fire.

It is 50% paper and 50% cotton. It is not like they are hanging a ton of paper on the walls. Just 1/2 a ton of paper.

(And yes I know cotton burns too, it just deosn't do it as well.)

---

spudcon Monday Oct 29 07:10 PM

---

Scriveyn Tuesday Oct 30 02:50 AM

Coins are much safer - Been to the Dog & Gun pub in Keswick (UK) where customers put coins in the cracks of beams and in between the stones of the ancient walls. A quick search shows that this too is quite common.

---

SPUCK Tuesday Oct 30 05:39 AM

I think the buck stopped there.

---

ViennaWaits Tuesday Oct 30 05:49 AM


---

Spongeybrain Tuesday Oct 30 08:16 AM

There's a pub in Oxford that snips the end of your tie off in exchange for a pint and puts the cuttings on the wall. I think it's got over 4000 now.

---

Stormieweather Tuesday Oct 30 08:30 AM

One of those dollar bills in No Name Pub (Big Pine Key) used to be mine

---

Gravdigr Tuesday Oct 30 03:47 PM

Now, I'm not poor, and I'm not a killjoy...BUT...That's the dumbest thing I've seen this month.





www.wheresgeorge.com

---

Scriveyn Wednesday Oct 31 03:40 AM

---
Your reply here?

The Cellar Image of the Day is just a section of a larger web community: a bunch of interesting folks talking about everything. Add your two cents to IotD by joining the Cellar.