Undertoad Saturday Oct 27 05:41 PM

October 27, 2007: Bloody saw scarf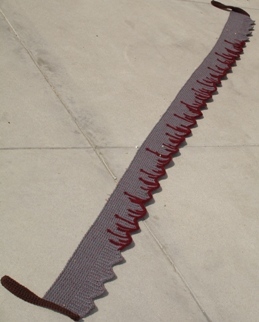 This wonderfully creative scarf is making the rounds fast, including at our buddies at Neatorama, and Boing Boing.

Not much to say about it that it doesn't say for itself!

---

Cicero Saturday Oct 27 05:47 PM

I love it!!!
LOL!

---

ViennaWaits Saturday Oct 27 06:30 PM

I can think of a few people I'd like to use this.... I mean buy this for.

---

Sheldonrs Saturday Oct 27 06:48 PM

It will go perfectly with my Freddie Krueger snow mittens.

---

Griff Saturday Oct 27 07:54 PM

There has to be a scarf joint gag here somewhere but I can't seem to close the deal. If Sheldon were a wood worker, he'd have a one-liner. Oops just mentioned Sheldon and wood...

---

TheMercenary Saturday Oct 27 07:58 PM

I wouldn't lose my head over it.

---

Sheldonrs Saturday Oct 27 08:09 PM

---

DucksNuts Saturday Oct 27 10:33 PM

and?

---

xoxoxoBruce Sunday Oct 28 09:42 AM

...and happily ever after.
There is much more to Sheldon than the fact that he is queer. There is a warm, open and very funny human being.

---

ZenGum Sunday Oct 28 10:06 AM

We don't seem to be really getting our teeth into this one ... maybe we are afraid that for once, the IotD is going to eat us.

---

monster Sunday Oct 28 10:30 AM

i saw what u did there

I came, I saw, I concurred....

---

Gravdigr Sunday Oct 28 05:50 PM

I never saw anything like it.

---

ZenGum Monday Oct 29 12:16 AM





(check the smilies menu)

---

BigV Monday Oct 29 12:31 AM

meh.

it loses it's effectiveness for me since the drips run the wrong way. I know, it looks better like this, but the ocd voice in my head says "nope, unrealistic". Yeah.. right. duh...

---

monster Monday Oct 29 12:58 AM

---

BigV Monday Oct 29 01:20 AM

that kind of saw is called a misery whip.

it's used horizontally. it's awful enough that way, but to imagine that you're cutting upward is just impossible.

I've explained that I understand it's just a scarf. my bad. it's not upside down in my eyes, the blood's upside down. don't worry. its all me. sorry.

---

monster Monday Oct 29 01:25 AM

but given the cut is horizontal and the scarf is worn veritcally, it can be worn to imply blood dripping down from a horizontal cut.. You're just being an unimaginative dickhead. But there really is no need to apologize for that.

---

BigV Monday Oct 29 04:12 AM

don't you have some knitting you should be sticking to?

---

xoxoxoBruce Monday Oct 29 08:38 AM

It's only used horizontally when cutting down trees. It's used vertically when cutting that tree into boards.

---

Happy Monkey Monday Oct 29 10:17 AM

And when wrapped around the neck, it goes blade-up, so the blood is flowing down.

---

glatt Monday Oct 29 10:45 AM

I've gotta agree with BigV on this.

The only way to get the pattern shown here is to use the saw upside down in a crosscut mode, and that would be very awkward to do, physically.

Edit: But it is visually more appealing this way, than if it was done in a realistic way.

---

monster Monday Oct 29 11:24 AM
I beg your pardon?

---

ZenGum Monday Oct 29 11:45 AM
This is such a purl of a thread, it has me in stitches.

---

BigV Monday Oct 29 12:02 PM

ZenGum:

Thank you for the valiant defense; You sawdust-up, and responded. Though your instincts are correct, your

vocabulary is wrong. That's not needling. That's a poke.

She saw what I wrote, and tried to cut me with her reply, but have no fear, the harm is offset because her words have no teeth.

But please continue to spin a yarn of puns; you're sharp and I'd love to see you rip out a few more about this dumb ol' skerf.

---

ZenGum Monday Oct 29 12:16 PM

BigV:






Mighty fine work there sir!

I'm still worried about a saw called a "misery whip"... so many questions ...

---

Cicero Monday Oct 29 01:15 PM

That's funny....because I usually get hurt the most when sharp objects are running the wrong direction....not the right one.....!!


Not usually when I'm sewing....when I'm cutting vegetables.

Or chopping firewood...
lol!!!

---

BigV Monday Oct 29 01:27 PMA picture; note scale of saw, men, tree. Now imagine using that saw with those hands and those backs to make that stump. Misery.

---

ZenGum Monday Oct 29 01:32 PM

Ok ... and, "whip"? I guess it is flexible, but still, "misery whip" sounds so suggestive, I think it should go in the band names thread.

---

glatt Monday Oct 29 01:38 PM

Yeah. Misery. Look at this dude, and then imagine that instead of doing this for a couple minutes at a competition, you are doing this all day long, every day.

Edit: Actually, I don't have a point. I just wanted to post a picture I found earlier today.

---

xoxoxoBruce Monday Oct 29 09:01 PM

---
Your reply here?

The Cellar Image of the Day is just a section of a larger web community: a bunch of interesting folks talking about everything. Add your two cents to IotD by joining the Cellar.