Undertoad Friday Oct 26 08:34 AM

October 26, 2007: Minipigs!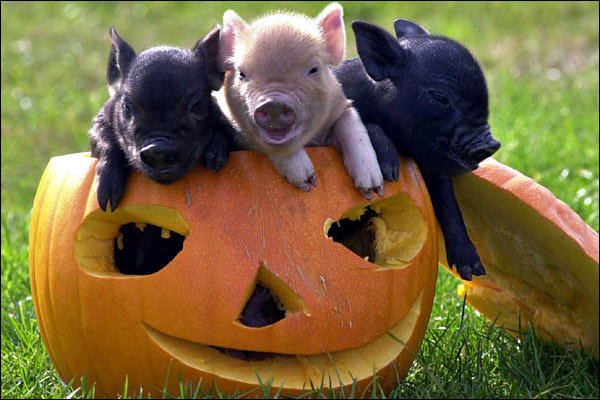 Chickenings suggested this item when it was a BBC story, and it took me this long to find a larger version of the shot than the usual BBC postage stamp.

Brits may already be familiar with the porkers in question. Apparently this is a commercial shot, but it turns out that we're looking at "full-size" miniature pigs, not piglets. It turns out that Pennywell Farm in Devon bred smaller and smaller pigs for nine years, until they settled on this pint-sized version.

It appears the Beeb has anticipated us:

---

orthodoc Friday Oct 26 08:39 AM

A new alternative to lap dogs? At least they wouldn't shed.

---

monster Friday Oct 26 08:58 AM

Now those are cute. And I don't *do* cute.

They're going to need some very delicate herbs and spices. I see the vegetable has already been selected. Wouldn't have been my first choice, but there's nothing like a good culinary challenge....

---

Emrikol Friday Oct 26 09:18 AM

*sings*

How much for that piggie in the pumpkin

---

ZenGum Friday Oct 26 09:32 AM

Recall the giant (1,000 lb) Hog a while back... and the giant pumpkins?
I'm imagining prize-winning enormous giant pumpkin, stuffed with giant hog, stuffed with giant pumpkin, stuffed with regular pig, stuffed with regular pumpkin, stuffed with mini-pig, stuffed with mini-pumpkin ... stuffed with bald guinea-pig ... stuffed with baby carrots ... stuffed with ...

---

Sheldonrs Friday Oct 26 09:46 AM

Now we know where McDonalds gets their McRib sandwiches..

---

Spexxvet Friday Oct 26 09:54 AM

It's a piggy oreo.

---

Coign Friday Oct 26 11:22 AM

Four and twenty piglets, baked in a pumpkin pie

When the pie was opened, the piglets began to sing

Wasn't that a dainty dish to put before a king?

---

smurfalicious Friday Oct 26 11:23 AM

---

Saphyre Friday Oct 26 11:46 AM

If we put these lil' piggies in this pumpkin, then we could have piggie-punkin-flambe served al fresco!!
num num num

---

jester Friday Oct 26 11:52 AM

---

Sundae Friday Oct 26 12:25 PM

Just seeing the title in New Posts I gave a little "Oh!" of happiness.
Oh the lovely lovely little piggies!
I want one for the house, so my cats can ride it up and down the stairs and then we can make it into little chipolatas when it's done.

Bless their little porky innards

---

ViennaWaits Friday Oct 26 03:53 PM

Looks like they let the piggies carve that punkin before they climbed in, too. Definately not a contest winner.

---

Shawnee123 Friday Oct 26 03:58 PM

---

zippyt Friday Oct 26 06:27 PM

Bless their little porky innards

BAAAWWAAHHHHHHHHH !!!!!!!!

Just the laugh I needed !!
Thanks SG !!!

---

Razzmatazz13 Saturday Oct 27 12:44 AM


Awwwwwwwww I loooooooves me some piggies! I *NEED* one of these! (or two or three or...)


---

TheMercenary Saturday Oct 27 11:16 AM

I bet they taste good roasted up on an open fired grill.

---

Leah Sunday Oct 28 08:57 PM

They look absolutely tasty, I mean cute.

---
Your reply here?

The Cellar Image of the Day is just a section of a larger web community: a bunch of interesting folks talking about everything. Add your two cents to IotD by joining the Cellar.