Undertoad Thursday Oct 25 06:12 PM

October 25, 2007: Pikachu private parts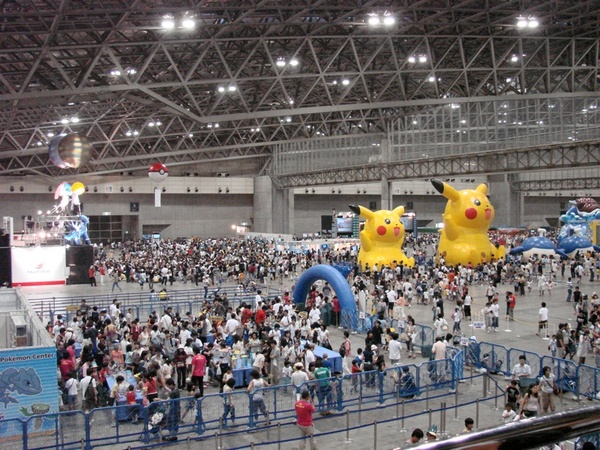 Yesterday's IotD walked towards the NSFW and now today's walks a little further. Coign submitted this today, via the gaming blog Kotaku, and I can't help but immediately make it IotD.

You have to be a certain age, or a certain mindset, or Japanese, or all three -- to understand the Pokemon phenomenon, which involves animated characters that do battle in anime, video games, card games, etc. etc. Pikachu is the most recognized Pokemon character and so apparently these huge Pikachu fun-houses were constructed for what looks like some sort of Pokemon convention.

But somebody didn't give enough thought to how people would enter the Pikachu... or at least didn't think about what it would look like.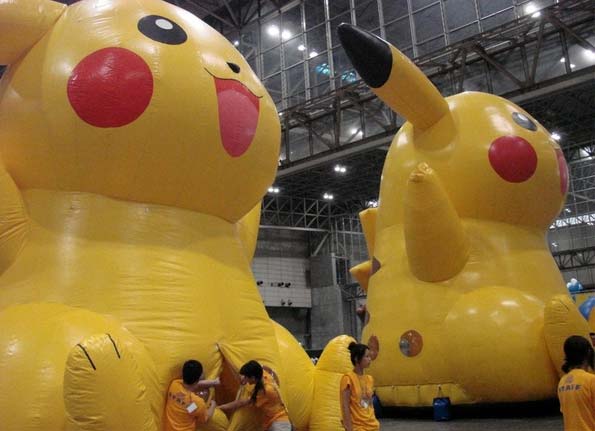 Oohhh... that just ain't right!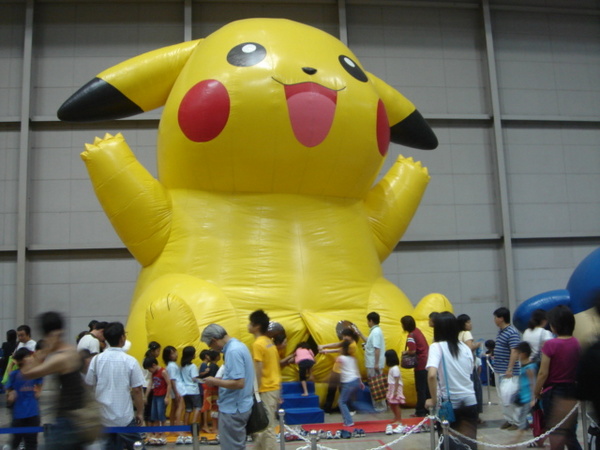 ---

zippyt Thursday Oct 25 06:13 PM

Oh thats SICK !!

---

Sundae Thursday Oct 25 06:15 PM

How do you get your Pikachu on the bus?
Pokemon!

(I have to take every opportunity I can to tell that joke because so few people get it these days)

Never thought I'd live to see anyone peeling aside - let alone entering - Pikachu's flaps

---

Sheldonrs Thursday Oct 25 06:37 PM

You just know there are a few kids trying the back door. lol!!!

---

Saknussem Thursday Oct 25 07:08 PM

Peek-a-boo!

I see . . .OH MY GOD I'VE GONE BLIND!!!

ARRRGHHH!!!!

---

BigV Thursday Oct 25 07:40 PM

You spend nine months trying to get out....

Now you *can* get back in.

Sort of.

---

Cloud Thursday Oct 25 08:06 PM

LOL!

---

Aliantha Thursday Oct 25 08:14 PM

My boys were mad about pokemon for a few years. Then they got into playing that card game developed from another anime cartoon. Dazza used to play it too. Had his own deck and all. I'll think of the name of it soon.

I'll have to show this pic to the kids and see what they think of it.

---

DanaC Thursday Oct 25 08:57 PM

---

jinx Thursday Oct 25 09:02 PM

---

thealphajerk Thursday Oct 25 09:26 PM

holy shitassmannipple!
i came across this on break last night and almost soiled my pantaloons

---

monster Thursday Oct 25 09:34 PM

oh, hai!

---

DanaC Thursday Oct 25 09:40 PM

*applauds* brava

---

Aliantha Thursday Oct 25 10:10 PM

yeah yu-gi-oh. The kids were crazy about it.

---

ZenGum Friday Oct 26 05:35 AM

C'mon, isn't anyone game to talk about .... eating ..... this one?

This is all so very, very wrong.

Now imagine yesterday's IotD ... Stupid horny moose ... meeting today's ... anatomically correct (?) Pikachu ... I'll leave you to ponder that image yourselves...

---

Aliantha Friday Oct 26 05:37 AM

---

ZenGum Friday Oct 26 05:38 AM

---

Aliantha Friday Oct 26 05:40 AM

Tastes like little stinky kids more likely. lol

---

ZenGum Friday Oct 26 05:46 AM

---

Aliantha Friday Oct 26 05:57 AM

well you can tell by the smell...

---

monster Friday Oct 26 08:05 AM

---

Cloud Friday Oct 26 09:33 AM

I have to say that the . . . texture of the things is strangely provocative . . .

---

monster Friday Oct 26 10:02 AM

UT: Pikachu Private Parts?

Only if I post them in Dwellars NSFW thread.

---

Shawnee123 Friday Oct 26 10:45 AM

---

Coign Friday Oct 26 11:15 AM

Yay! I feel so proud to have my second IoTD accepted. I am now two for two on submissions.



And from the orginal artical and still the comment I can not top so I must steal it.

"Gotta Snatch 'em All"

---

Sundae Friday Oct 26 01:41 PM

---

Kitsune Friday Oct 26 02:03 PM

I bet it's warm in there.

---

Shawnee123 Friday Oct 26 02:29 PM

Me: I've got a great knock-knock joke. Wanna hear it?
Them: Sure
Me: OK, you start
Them: OK. Knock Knock
Me: Who's there?
Them:

Also, years ago a little girl told me the one about "have you ever seen Stevie Wonder's Car? Neither has he" only she said "hath Thtevie Wonder ever theen hith car?"

---

Clodfobble Friday Oct 26 03:13 PM

The all-time favorite knock-knock joke in our house:

Knock, knock.
Who's there?
Interrupting cow.
Interr--?
MOO!

---

lumberjim Friday Oct 26 03:57 PMdrax likes that one

---

lumberjim Friday Oct 26 04:02 PM

---

be-bop Friday Oct 26 08:17 PM


---

Aliantha Friday Oct 26 10:07 PM

ok, my husband just fell for the 'you start' knock knock joke. It was very funny.

---

ZenGum Sunday Oct 28 08:47 AM

Okay, serious discussion if we may.
Is this politically objectionable?
I shared these pics with a female friend who is normally pretty easygoing and broad minded, certainly not prudish. She reacted strongly against it.
I can see some point to this: it can easily be interpreted as a obvious display of female genitals, being used as an entrance/exit point. If you're particularly vigilant about objectification of women, I can see it being objectionable. I can see this but I still think the weirdness of it is funny. She thought that the funniness was overwhelmed by the offensiveness.
She tried to convince me of this by asking how I would react if it were a male character with it's anus being used as the entrance. I reacted that it would be at least as funny (ha ha ha they're crawling up its arse!), and less offensive (since sexual violence towards men is much rarer than towards women). She had trouble believing my reaction.
So, once you've stopped laughing and wondering WTF the designers were up to and if they could possibly have not noticed... do you find this objectionable on grounds of pandering to the objectification of women and consequent sexual violence?
If you are male, would you react differently if it were an obviously male character with the anus being used as an entrance?
If you are a pervert ... do you find it ... arousing?

---

xoxoxoBruce Sunday Oct 28 09:37 AM

She's over reacting. It's not a woman it's a damn cartoon character with an air pressure seal. Anything, anyone sees passed that, is from their own imagination, and the creator is not responsible for that.

---

Kitsune Sunday Oct 28 10:00 AMThe horror. (NSFW)

---

Sundae Sunday Oct 28 10:30 AM

I always thought Pikachu was male anyway, which is why just thought it *snigger* amusing rather than anything more troubling.

Even if Pikachu were female, I'm with Bruce on this. I don't feel guilty biting into a carrot - I don't see it as a phallic symbol and thus secretly display my desire to emasculate men. Your friend needs to lighten up a little. Unless of course there is a deeper reason for her distress, like she was once goosed by Goofy or something.

---

ZenGum Sunday Oct 28 10:56 AM


C'mon, when everyone "imagines" the same thing, immediately, you have to admit it is either very strongly suggested or clearly depicted. Face it (so to speak), it looks like a vagina and everyone "got" that straight away. No one has posted asking for an explanation of why we all think it is funny. This is not one of those subliminal symbols which may or may not be there, and which we can argue about. It's there.
I cannot believe that no-one in the design process noticed. The went with it anyway. So they are responsible for it. This doesn't prove it is objectionable, just that they are responsible.

Instead of being an objectionable objectification of female anatomy, it could alternatively be interpreted as a positive statement celebrating and glorifying the female power of pregnancy and birth-giving. (Damn, when did I turn into a postmodernist theoretical feminist? Just how much did that damn tick suck out???)

But I agree with SG that she could lighten up a little. I think it is more funny than objectionable.

---

DanaC Sunday Oct 28 11:22 AM

Well....I think there are things worth getting upset about in this world and things not worth getting upset about. Even if it had been a giant inflatable female character....still wouldn't find that a problem.

I am a feminist and have been since I was about 12 years old. I think there are more important covert signals in the world which are problematic (low wages, a tendency for less valued jobs to be traditionally female, a corresponding tendency to over value professions which are nominally 'male', mysogyny in some sections of society and some of the rules around divorce.)

It pisses me off when people get all het up about terminology (the word Chairman now becoming Chairperson for example). And it pisses me off when people get het up about stuff like this. If the character in question was a female figure with pneumatic breasts and a sexy swimsuit....then I'd be a little perturbed. It isn't.

I used to go into a pub when I was about 15 years old. On the wall behind the bar was a piece of card with packets of peanuts hanging from it. As the peanuts sold they revealed the figure of a woman. Very sexual, very available, wearing a thong, with her breasts bare and a come fuck me pose and expression. That was exploitative. This isn't.

One of the problems with the feminist movement is that it has on many occassions, in my view, chosen the wrong battles. Men are not our enemy. Sex is not our enemy. Our own sexuality is not our enemy.

Tell your friend there are more important matters to get upset about.

---

DanaC Sunday Oct 28 11:27 AM

If this display was at a male club, and all the people climbing in were men...then there'd be an argument for its being exploitative. BUt it isn't. There's a danger with attitudes like your friend's that any depiction of the female form becomes problematic. Why shouldn't we celebrate it? Why shouldn't we celebrate the role of women as life-givers?

Male and female, young and old, we all come from the same place. That's a powerful thing.

---

xoxoxoBruce Sunday Oct 28 01:21 PM

---

glatt Sunday Oct 28 03:38 PM

---

ZenGum Monday Oct 29 12:18 AM
Are you really saying you needed UT's text to make you notice the resemblance to a vagina?

---

xoxoxoBruce Monday Oct 29 08:43 AM

You were told up front it was amiss, so you were looking for something naughty. Porn is in the mind of the beholder.

---

Happy Monkey Monday Oct 29 10:16 AM

The only beholders that wouldn't see that, text or no text, would be boys young enough to not know that boys and girls have different parts.

---

ZenGum Monday Oct 29 10:19 AM

)

Porn is in the eye of the beholder? I never argued that this was porn as such (hell I am not turned on by it ... anything you feel like sharing with us?

). Just asking if you thought it was, or could reasonably be viewed as, offensive.
As for being in the eye of the beholder, this is sometimes true and sometimes not. In this case, the resemblance to a vagina I think is not "just" in the mind of the beholder. The reason being that there are some facts which are true for all humans, such as the fact that most vaginas look pretty similar, and this Pikachu fun-house in shape and placement is a pretty close match. Maybe kids wouldn't notice it ... but the vast majority of adults would.
Likewise sexual violence against women is a widespread reality, and can't be dismissed this easily, as being "in the eye/mind of the beholder". It is a fair question if this violence has any connection with this photo.

Dana, good points, although my friend was not "upset" but just found it objectionable. But she is fairly sensitive to things like this, for reasons I won't share here.

On a lighter note, I wonder if "Pikachu fun-house" will soon become a euphemism for vagina. I think it should

.

---

BigV Monday Oct 29 12:14 PM

Hey, ZenGum, while we've got you on the line...

You're our most verbose Japanese-Engrish poster here.... what the hell does Pikachu mean anyway?

Is it just a made up name, as I suspect? Has it acquired any other associations, as you predicted above?

TIA

---

ZenGum Monday Oct 29 01:08 PM

You had me stumped with this one. I'm much too old to know more than four things about pokemon. So for the third time tonight I have consulted the great Wikiguru and learned:


Do you feel richer for knowing this?

---

xoxoxoBruce Monday Oct 29 09:12 PM

---

xoxoxoBruce Monday Oct 29 09:31 PM

---

ZenGum Tuesday Oct 30 12:34 AM

smiley would convey a non-hostile tone. Seems this didn't work. Sorry.
And I wasn't suggesting that you were having sexual fantasies about Pikachu. Don't straw man me. I was saying that anyone with an adult mind would almost inevitably notice that in shape and position the entrance to the house resembled a vagina.
Meh, if this bothers you lets call Dead Horse on it. I'm getting bored. You can have the last horse-beating.

---

Aliantha Tuesday Oct 30 12:59 AM

I think that's the main difference. We're all adults here (the majority of whom enjoy the odd crass joke or suggestion) so if we can see a bit of something naughty we will.

I'm sure I don't speak for all cellarites, but I'm pretty sure it's plain to see where Zen is coming from. Or it could be just an Aussie thing. lol

---

Happy Monkey Tuesday Oct 30 01:18 AM

---

ViennaWaits Tuesday Oct 30 05:43 AM
You hit the closest on what I was thinking - I think (gimme a break, it's 5 a.m.). IMO, if this was widely thought of (or recognized) as objectionable there wouldn't be nearly so many climbing in and out of the pika-gina. Men and women, young and old - we all have different ideas about what's objectionable, sexual, or both/neither due to whatever psychological theorum are popular lately.

I know several people who are naive/prudish/repressed enough that the resemblance may very well have to be pointed out to them.

Just my quarter of a cent.

Hope you all enjoyed your weekend. God, they're getting shorter, I think.

---

DanaC Tuesday Oct 30 11:50 AM

---

toranokaze Tuesday Oct 30 02:46 PM

So that is were pika children come from.

---

DanaC Tuesday Oct 30 03:19 PM

Nah...they're delivered by the Pika-stork

---

ZenGum Wednesday Oct 31 10:42 AMstitched together by a Spanish artist called Pika-Sew.

---
Your reply here?

The Cellar Image of the Day is just a section of a larger web community: a bunch of interesting folks talking about everything. Add your two cents to IotD by joining the Cellar.