Undertoad Thursday Oct 11 12:40 PM

October 11, 2007: Giant isopod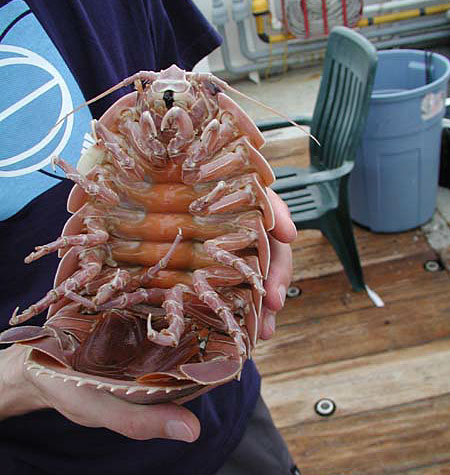 A lurker (? I guess?) turns my attention to the Giant isopod, a beast from the sea. I was not previously aware of this, so accept my apology if you've seen it before.

If lobsters are the giant cockroaches of the ocean, and king crabs the giant spiders, we have now located the watery giant roly-poly... I mean pill bug... potato bug... doodlebug... woodlouse!

Lurker was apparently inlighted by this thread, wherein the definitive isopod picture was identified: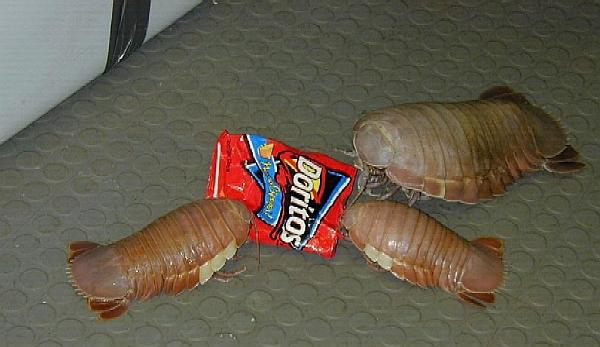 ---

Sheldonrs Thursday Oct 11 12:59 PM

Mmmmmmmmmmmmm...Isopod dip and chips....

---

glatt Thursday Oct 11 01:02 PM

I got one of those iSopods, but I was disappointed at how easily it would scratch.

---

LabRat Thursday Oct 11 01:09 PM

They don't make a shopvac big enough to suck those puppies out of my basement corners like I do their cousins. Good thing they're sea dwellars!

---

ZenGum Thursday Oct 11 01:13 PM

Just wait for Steve Jobs to announce the big price drop.
And the inevitable ridiculous lawsuit.

---

lumberjim Thursday Oct 11 01:15 PM

no earbuds. no wonder he was pissed off.

---

Cloud Thursday Oct 11 01:47 PM

I'm not plugging those things in my ear!

(visions of the creepy Star Trek Wrath of Kahn crawly ear bug. thing.)

---

TheMercenary Thursday Oct 11 01:47 PM

Lobster Tails without the green part!

They look like trylobites.

---

corydodt Thursday Oct 11 01:52 PM

This is dying for a lolcats treatment.

---

ViennaWaits Thursday Oct 11 02:15 PM

Somebody call Stephen King. His dogs are loose again.

---

ZenGum Thursday Oct 11 02:18 PM
Probably just convergent evolution. Scuttling across the ocean floor, you'd get that way.

---

Razzmatazz13 Thursday Oct 11 02:57 PM

welcome corydodt!

---

Sundae Thursday Oct 11 03:05 PM

I didn't mind the first picture - they do look like food.
But the second picture had me imagining they were in my kitchen, and not even I would dive in to save a packet of crisps if they were. Yuk.

---

Saphyre Thursday Oct 11 03:52 PM

bleah -- no amount of garlic butter would make that appetizing!

Seriously though, we were in Sitka, AK back in August, where I met one of the marine biology students at Sheldon Jackson College. He caught one of these on a fishing trip down near Mexico earlier this year. It was so odd (to him anyway), that he froze the thing, and brought it back to the small aquarium they have at the college. Nasty looking boogers, even frozen. Maybe they'd look better deep fried?

---

Adam Thursday Oct 11 03:57 PM


Or... Havin' uz a party!

I couldn't decide.

---

Sundae Thursday Oct 11 04:27 PM

Or (in a non-LOL cats way):

Doritos help with the munchies, not the DTs

---

Gravdigr Thursday Oct 11 04:41 PM

Damn, what did I do with my giant Popeye-size isopod stompin' boots?

---

DucksNuts Thursday Oct 11 09:25 PM

OK....I'm weird....I think they are cute and would make an awesome pet!!

---

Aliantha Thursday Oct 11 09:32 PM

they look sort of like a balmain or moreton bay bug, which I assure you taste very nice on the bbq.

---

DucksNuts Thursday Oct 11 09:38 PM

mmmm....bugs n garlic butter

---

hipshot Thursday Oct 11 10:01 PM

My daughter and I are watching BBC's "Earth" (we call it "Urf") on DVD. They had these things two miles below the ocean surface eating every disgusting putrid dead thing that drifted down to the floor of the briny deep. Just like their dog poop eating "roly-poly" surface cousins! (By the way, "wooly boogers" is another good alternate name...)

---

Aliantha Thursday Oct 11 10:04 PM

On creatures shit is another creatures dinner...

---

monster Thursday Oct 11 10:20 PM

.

---

SPUCK Friday Oct 12 04:23 AM

Sowbugs.

---

zippyt Sunday Oct 14 12:35 PM

I'd try one dipped in melted butter

---

TheMercenary Tuesday Oct 16 12:22 PM

I'm telling you those are walking lobster tails without the lobster!

---
Your reply here?

The Cellar Image of the Day is just a section of a larger web community: a bunch of interesting folks talking about everything. Add your two cents to IotD by joining the Cellar.