Undertoad Monday Oct 8 09:11 AM

October 8, 2007: Age/sex cam



It's the Monday Neatorama collaboration image!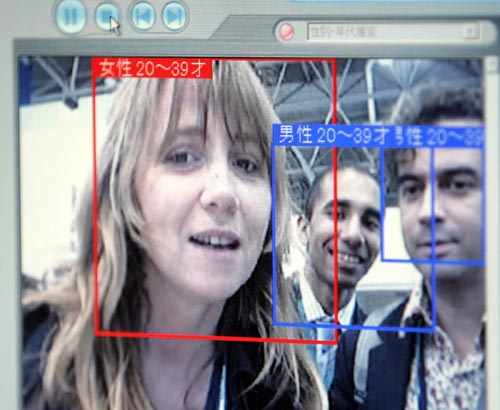 The cameras are getting smarter. First they only had to identify what was a face. Then they started comparing faces to find matches. Now they're figuring out what the faces actually are. The official caption from the Mainichi Daily News:



and see them as faces. When you look at a crowd, you are pre-programmed to find subtle differences in faces, so that even though all faces are very similar, you can instantly pick out family and friends. That's what makes this new technology so striking; more than ever, technology is encroaching on humanity.

But I guess you'd expect that to happen - because humans are programming the software to do what they want to do themselves. After all, in anonymous chat the first question is usually "A/S/L?" - shorthand for "what is your age, gender, and location?", so that the chatters can identify with each other, or at least each other's fake identity. These are the things we want to know about each other, if we are starting from nothing.

Be sure to visit our friends at Neatorama for more neato items all the time!

---

piercehawkeye45 Monday Oct 8 09:30 AM

Pssh, I thought it was going to be closer than a 20 year range.

---

TheMercenary Monday Oct 8 09:40 AM

Crazy stuff. Not to surprised.

---

barefoot serpent Monday Oct 8 10:47 AM

Don't let Ibram near it...


but now he's gone and cut his hair

---

Sheldonrs Monday Oct 8 11:35 AM

The next generation:

"Woman 20-39 years, kind of bitchy, never married, has daddy issues, Man 20-39 years, Momma's boy, will never be happy in a relationship, wets the bed, Man 20-39 years, secretly in love with Llama, collects tupperware but only if it's red, erectile disfunction".

---

ZenGum Monday Oct 8 11:57 AM

Nice work Sheldon!



I find it odd that all three faces are westerners (at least non-Japanese). But maybe the shot was chosen for an English language news service so they chose it on purpose.

I also find it impressive that it works so well for western faces, if it was originally designed in Japan. Larger noses, especially on women, are very rare here, and might cause the software to guess male.
Also, Japanese people show signs of age very slowly. A few times in my classes I have thought "Hmmm, she's pretty cute" and then she says "My son just graduated from college" or something.
The success of the software could be attributed to either it being calibrated for a wide range of faces (western as well as Japanese) or, as I suspect, they chose a successful matching to put in the paper.

On second thoughts, putting that woman in 20-39 is being generous to her. I'd be very surprised if she is under 30. How crushing would it be if the machine classed her as male, 30-49. Ouch! Maybe it errs on the side of caution.

---

johningerslev Monday Oct 8 12:00 PM

Sheldonrs
Lecturer

I found your post so funny I had to say so. I have posted one other comment in the last many months. maybe centuries.

---

ZenGum Monday Oct 8 12:38 PM

There is also a working prototype of a photocopier which will translate as it copies!!

It scans the page, locates the text within the layout, reads it, translates, composes a page with the same layout, and prints.

Just hope the translation software is better than babelfish!

All your base are belong to us!

---

barefoot serpent Monday Oct 8 12:45 PMface are belong to us.

---

ViennaWaits Monday Oct 8 12:51 PM

Anyhoo - am I the only person to think this kind of thing is a bit on the creepy side? Maybe I've seen Enemy of the State too many times. Granted, 19 years is a broad range, but when you consider that it narrows the population considerably when trying to ID someone... gives me the shivs. Not for a moment do I believe that the gov't would be the only ones with their grubby paws on it, either.

---

Cicero Monday Oct 8 05:36 PM

These don't detect assholes yet or what?




Attachment 15063

---

Cicero Monday Oct 8 05:41 PM

These don't detect assholes or what?

Hopefully this won't be so large this time........



Attachment 15064

---

Cicero Monday Oct 8 05:46 PM

Does not detect assholes yet or what?

(the third time's the charm)




Attachment 15065

---

xoxoxoBruce Monday Oct 8 08:44 PM

Cannon has a camera in the works that won't take the picture, until everyone in the frame is smiling.

---

Razzmatazz13 Monday Oct 8 09:22 PM

what if you're going for one of those moody shots?

---

monster Monday Oct 8 11:47 PM

---

ZenGum Tuesday Oct 9 12:35 AM

Can't believe I missed that opportunity.
Now get to work on my "You sound like a horny moose" thread, will you? I need your help.

---

SPUCK Tuesday Oct 9 04:47 AM

Third generation;

Woman: Clara Dibold, DOB 12/10/61, kind of bitchy, never married, has daddy issues, $8,342 in savings, earns $982.51/wk as stripper, will die 10/9/2011 choking on a gummy bear.




Man: Yamma Gelspecky, DOB 2/2/66, Momma's boy, will never be happy in a relationship, wets the bed, $8 in savings, earns $1,845.22 - $2,345.77/wk as a car thief, will die 3/12/2008 in a hail of bullets.



Man: Sacure Ernestway, DOB 5/28/65, secretly in love with Llama, collects Tupperware but only if it's red, erectile dysfunction, pedophile, politician, $677,890.22 in savings, earns $3,989.29/wk from kick backs and general graft, will drown 7/17/2009 while swimming in wet concrete.

---

toranokaze Tuesday Oct 9 01:42 PM

I love Big Brother

---
Your reply here?

The Cellar Image of the Day is just a section of a larger web community: a bunch of interesting folks talking about everything. Add your two cents to IotD by joining the Cellar.