Undertoad Friday Sep 21 10:05 AM

September 21, 2007: Curly haired pigs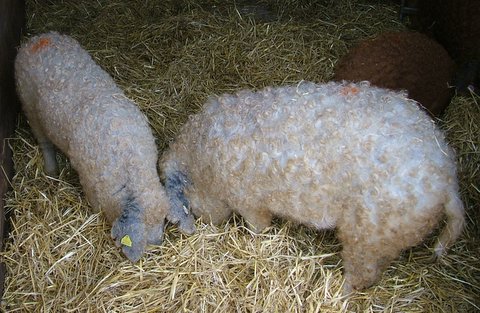 xoB, via Neatorama, sends this along. At first you're like, hey sheep. Then you're like, hey wait.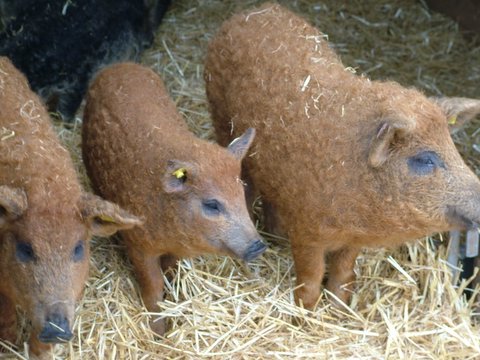 This Sun article says a curly pig was found in South America, thought to be a one of a kind animal. But the pics on this page are from Pig Paradise Farm, where they tell the story of different curly pig breeds that were stocked in Britain, Hungary, and Austria.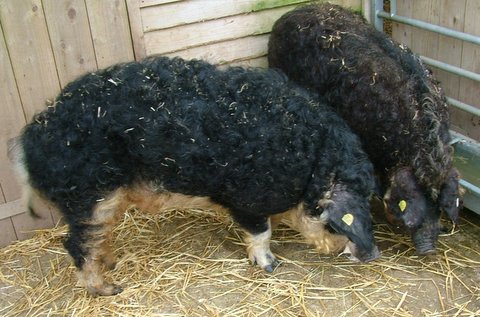 They're really cool looking. But thankfully, IotD does not communicate smells.

---

spudcon Friday Sep 21 10:35 AM

Look like sheep, smell like goat, taste like chicken?

---

spudcon Friday Sep 21 10:37 AM

And why would anyone want a furry pig? Fuzzy footballs?

---

Coign Friday Sep 21 10:39 AM

I saw that first picture and I immediately thought, that is the UGLIEST poodle I have ever seen.

---

Emrikol Friday Sep 21 11:00 AM

Oh my God! That has to be the cutest thing I've seen ... since the last cutest thing I've seen!

---

glatt Friday Sep 21 11:01 AM

Those guys are awesome! I like 'em.

---

LabRat Friday Sep 21 11:31 AM

Here in I O way we can have the luxury of picking the pig that will become our dinners if we wish. From now on, I'm only eating pork from curly haired pigs. Maybe it will give me the curls that eating the crust of my bread never did. Damn you mom.

---

glatt Friday Sep 21 12:03 PM

---

Shawnee123 Friday Sep 21 12:05 PM

Awww, I love the little pube pigs.

---

runswithknives Friday Sep 21 12:09 PM

---

madepiphany Friday Sep 21 12:46 PM

Normal pigs :: these pigs :
normal men :: scottish men...

---

Saphyre Friday Sep 21 01:17 PM

---

HungLikeJesus Friday Sep 21 01:27 PM
normal men = normal pigs
scottish men = these pigs

*disclaimer: My great grandfather was Scottish.

---

Sheldonrs Friday Sep 21 06:29 PM

Curly pigs = curly bacon.

---

rfoxx Friday Sep 21 08:17 PM

The Chicago Futures Market will now open a trading pit for Fuzzy Pork Bellies.

---

Cloud Saturday Sep 22 02:08 AM

---

morie Saturday Sep 22 08:04 AM

yeah, but what if the rashers are bushy to begin with?

---

Razzmatazz13 Saturday Sep 22 06:24 PM

The ones in the middle are SO CUTE!

Ah..I love piggies...

---

dar512 Sunday Sep 23 10:31 PM

It's a new invention -- Heat and serve pigs-in-a-blanket.



I crack myself up.

---

manephelien Wednesday Sep 26 02:28 AM

They're cute! :d

---
Your reply here?

The Cellar Image of the Day is just a section of a larger web community: a bunch of interesting folks talking about everything. Add your two cents to IotD by joining the Cellar.