Undertoad Sunday Sep 16 05:04 PM

September 16, 2007: WTF rock over highway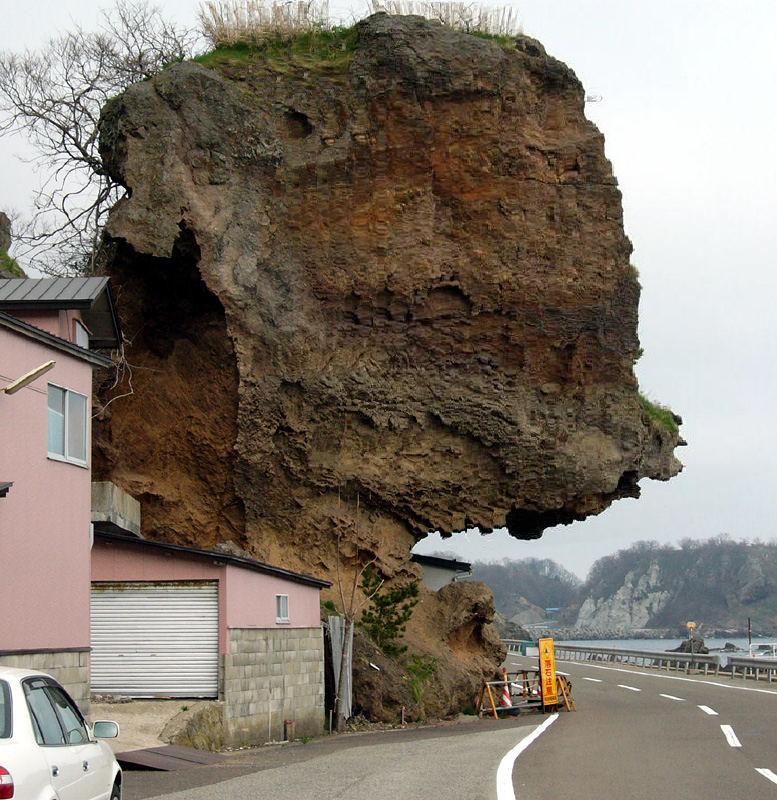 I never put up an IotD unless I have reasonably good information about it. The story is usually part of its charm. Here there is no story; all I have is the image, no accompanying info. But it seemed too interesting to just leave it to our Cellar WTF Image Thread, so here's to a lazy Sunday.

---

Fa- Sunday Sep 16 05:11 PM

argh, i hate to be the one to say this as i thought it was really cool when first saw it, but it seems very fake to me, you can see in the texture of the rock face there is multiple dublicates.. most noticable on the grass at the very top

---

BeltNah Sunday Sep 16 05:35 PM

Im with Fa- looks a little suss to me. If not though interesting

---

xoxoxoBruce Sunday Sep 16 05:37 PM

Or there was some writing over the picture that someone removed crudely.

---

busterb Sunday Sep 16 06:30 PM

Youse guys never saw something like this? Damn.

---

mitheral Sunday Sep 16 06:32 PM

You can see it on the bottom over the building in the background too. Awfully sloppy to cover up some writing. Looks like they better than doubled the size of the overhang.

---

Wombat Sunday Sep 16 07:01 PM

Yes definately photoshopped. Oh well... still a WTF pic!

---

ashke Sunday Sep 16 08:59 PM

But the Chinese sign does say... "Beware of rock"...

---

xoxoxoBruce Sunday Sep 16 09:10 PM

I wonder what this is?

---

Gravdigr Monday Sep 17 02:11 AM

Might have been 'shopped...

---

bluecuracao Monday Sep 17 04:38 AM

---

Adam Monday Sep 17 08:11 AM

What an amateur P-shop job!
When I account (as best I can in roughly 15 minutes) for most of the double-stamping, what I wind up with is this:




STILL an impressive roadside attraction! Why do people feel they need to "enhance" already cool pictures? I will never understand...

---

findpolitics Monday Sep 17 09:18 AM

Nice work

Nice job Adam. Looks more like a human head in your version. Hair on top, big chin with stubblies. More interesting as a formation in your version.

---

Adam Monday Sep 17 10:14 AM


---

SeanAhern Monday Sep 17 10:29 AM

Okay, Adam's picture deserves its own IOTD. Nice job, Adam!

---

Coign Monday Sep 17 12:14 PM

You sure that Chinese sign said "Beware rock" or did it actually say "Beware giant Abe Lincoln"?

---

Sheldonrs Monday Sep 17 01:38 PM

Be funny if it actually fell ON a Lincoln.

---

Shawnee123 Monday Sep 17 01:42 PM

Mount Fudgemore?

---

queequeger Monday Sep 17 06:19 PM

Yeah, well done for sure! You mind asking how you did that? Not step by step or anything, but broad ideas...

---

Spexxvet Monday Sep 17 06:22 PM

I think she typed the letters M-O-U-N-T-space-F-U-D-G-E-M-O-R-E, and then the question mark key.

---

Sheldonrs Monday Sep 17 06:25 PM

---

queequeger Monday Sep 17 06:27 PM

... smartass. >:|

ADAM! How did you modify that picture using your PHOTOSHOP program?

---

Adam Monday Sep 17 10:39 PM
Restore rock to probable original proportions---
Roughly:
Lasso along double-stamp lines, copy paste to new layer.
Move to probable original positions (multiple pieces)
Lasso remaining extra rock in original layer
Fill with sky color
Stamp, patch, heal, blur- to blend with original sky.

To Make Abe:
Lasso, paste, free transform (rotate nose) lasso, burn shadows, burn midtones, lasso, dodge highlights, stamp.

Combine with years of P-shop and a sculptor's sensibilities ...
And presto- Abe Lincoln- 10 minutes. Easy. ;-)

---

Flint Monday Sep 17 10:48 PM

Nice work, Adam. Clearly, the most important tool you used was your eye. ...btw: your work is referenced here (post #6)

---

Adam Monday Sep 17 10:52 PM

---

Sarasvati48 Tuesday Sep 18 01:47 AM

Y'all don't believe this is real, but I bet you believe there are still WMD in Iraq...

---

Shawnee123 Tuesday Sep 18 09:59 AM



I should have mentioned in the funny dwellar thread that you can be totally smartass funny, my favorite kind of funny!

---

spudcon Tuesday Sep 18 10:13 AM

---

Trilby Tuesday Sep 18 10:47 AM

sarasvati48 says 'Y'all"-->????

did W give somebody a primer?

---
Your reply here?

The Cellar Image of the Day is just a section of a larger web community: a bunch of interesting folks talking about everything. Add your two cents to IotD by joining the Cellar.