Undertoad Thursday Sep 13 12:28 PM

September 13, 2007: Artist reproduces great works on an Etch-A-Sketch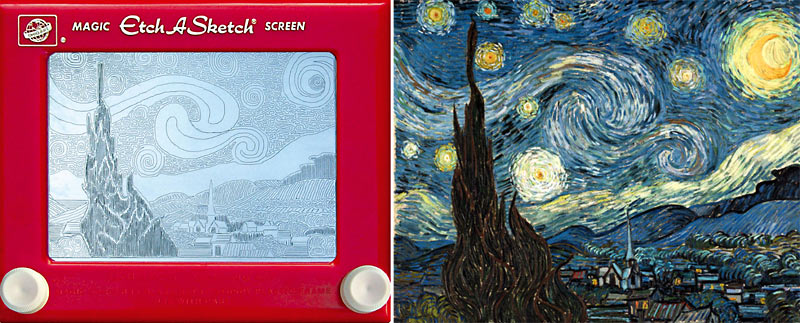 A lurker whose name didn't match up with any Cellar userids sent this along via the Mail.

Artist Jeff Gagliardi never had an Etch-A-Sketch as a child. But when he grew up he found that he had a natural talent at drawing with it, and at the Mail story are 11 of his creations, including the world's most known paintings as well as a King of Hearts, a Chuck Berry, a Taj Mahal and perhaps most interesting, a self-portrait.

Quote:
He first took up his nephew's board when he was a college student at the School of Visual Arts in New York.

"I did a drawing of the Taj Mahal complete with reflecting pools.

"Quite frankly, I didn't think it was a big deal, but my family wouldn't let me erase it," he said.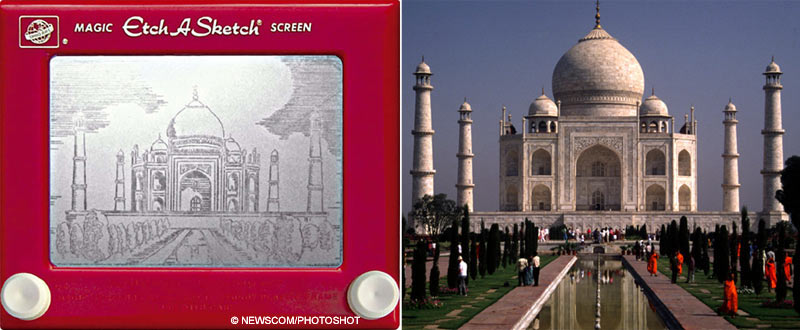 ---

Flint Thursday Sep 13 12:33 PM

Interestingly, he's not just "copying" them onto a new medium, he is actually re-illustrating the images. Making editorial decisions.

---

glatt Thursday Sep 13 12:35 PM

Maybe he was afraid of getting sued.

---

Snapple Thursday Sep 13 02:36 PM

damn that would be difficult for obvious reasons PLUS factor in it has to be one continous line and there's some hardcore brain power involved, not just artistic ability.

---

lumberjim Thursday Sep 13 03:12 PM

PLEASE. HERE'S SOME TRUE ART:

---

xoxoxoBruce Thursday Sep 13 03:42 PM

If it's really Art, where's the naked women?

---

lumberjim Thursday Sep 13 03:53 PM
---

xoxoxoBruce Thursday Sep 13 03:56 PM

Half way through, the lines got all shaky.

---

glatt Thursday Sep 13 04:09 PM

.

---

spudcon Thursday Sep 13 04:15 PM

Hmmph! I once did a self portrait with a Mister Potatohead.

---

Gravdigr Thursday Sep 13 06:50 PM

Ya know...I have no job. I have no girlfriend. I have no friends. I have no hobbies. And I don't have the kind of time on my hands it would take to etch those sketches.

---

DanaC Thursday Sep 13 06:54 PM

lol gravdigr

---

Elspode Thursday Sep 13 10:11 PM

So many people with so much goddamn spare time. Pisses me off.

---

Hime Friday Sep 14 01:43 PM

---

Saphyre Friday Sep 14 04:30 PM

It would just kill me if someone walked up, said, "Let me see that" and shook the heck out of it. Isn't that the whole idea of Etch-a-Sketch??

---

runswithknives Friday Sep 14 04:39 PM

Heard he did it with his buttcheeks..

I hope we all agree that this is hardly a sketch. d=

1. a simply or hastily executed drawing or painting, esp. a preliminary one, giving the essential features without the details.

---

Lady Sidhe Friday Sep 14 08:46 PM

I SO do not have the patience for those things. I'd have to throw it across the room and then stomp on it after, ooohhhh....about five minutes.

---
Your reply here?

The Cellar Image of the Day is just a section of a larger web community: a bunch of interesting folks talking about everything. Add your two cents to IotD by joining the Cellar.