Undertoad Friday Sep 7 08:45 AM

September 7, 2007: Chile dog plays during riot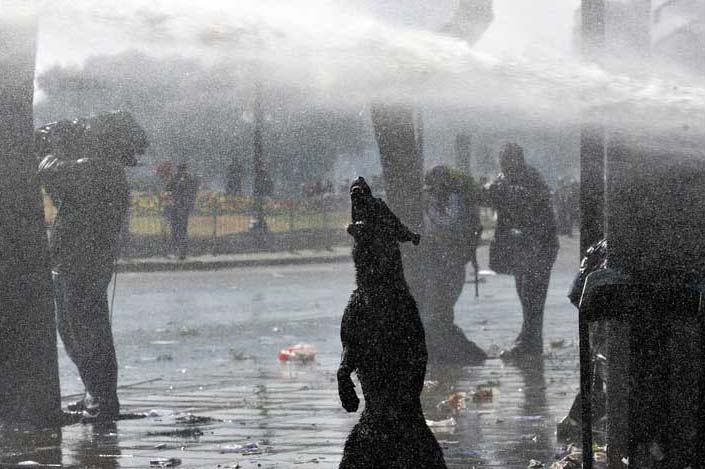 Thanks xoB. This item from the WaPo day in pics is quite striking once you realize what it is. The stream of water there is coming from a riot water cannon mounted on a police vehicle, in Santiago, Chile. They are aiming it at demonstrators. But the police dog has another goal in mind -- he just wants to play with the water. If you've ever seen a dog tackle a garden hose, you know the drill!

---

Griff Friday Sep 7 09:12 AM

They should turn that hose on the sidewalk, it's looking pretty nasty. What is the riot and or demonstration about?

---

smurfalicious Friday Sep 7 09:23 AM

I'm hongry!


---

monster Friday Sep 7 09:30 AM

They should fill the cannon with Chili sauce and give the rioters onions and cheese to throw.....

---

Coign Friday Sep 7 10:11 AM

---

Sheldonrs Friday Sep 7 11:17 AM

Kind of nice to see a hydrant pissing on a dog for a change.

---

cenzi Friday Sep 7 12:45 PM

that must hurt his mouth, I know that they mix water with pepper spray. Maybe thats how they condiment the meat? kinda like how they make pate de fois?

They protest anything and everything, they are chilenos. I should know, I am one of them.

---

mitheral Friday Sep 7 12:58 PM

Welcome cenzi.

---

ferret88 Friday Sep 7 01:35 PM


You are just too quick, Shel.

---

Sheldonrs Friday Sep 7 01:57 PM

---

JuancoRocks Saturday Sep 8 02:28 AM

Chile Dog?

Ohhhh...Heartburn in a paper tray....

---

Griff Saturday Sep 8 08:12 AM

---

DanaC Saturday Sep 8 08:33 AM

Hi cenzi, welcome to the Cellar



Why is that the case ? (that they protest anything and everything).

---

beauregaardhooligan Saturday Sep 8 10:46 PM

In some places of the South, a chili dog doesn't have a weiner. That would be more correctly, "a hotdog, all the way."
I learned this when I ordered a chili dog at "The Liberty Bell" in Liberty, SC and was given a hotdog bun with just chili in it.
The girl behind the counter explained the difference to this poor damn yankee.
FYI, a damn yankee is one that came south, and didn't go back.
I wear the apellation proudly.

---

Bitman Sunday Sep 9 04:44 AM

---

morie Sunday Sep 9 07:16 AM

gee, when i first saw that picture, i thought that dog was being hanged as a message to the protesters of what's next.

---

Griff Sunday Sep 9 08:27 AM

riots- It appears that they elected a socialist and got a moderate. Sort of like when we elected a conservative and got a statist.

---

DanaC Sunday Sep 9 09:03 AM

ahhh. Given the former Prime Minister of Britain's performance, I can wholly relate.

---
Your reply here?

The Cellar Image of the Day is just a section of a larger web community: a bunch of interesting folks talking about everything. Add your two cents to IotD by joining the Cellar.