Undertoad Thursday Sep 6 02:35 PM

September 6, 2007: World's largest cargo ship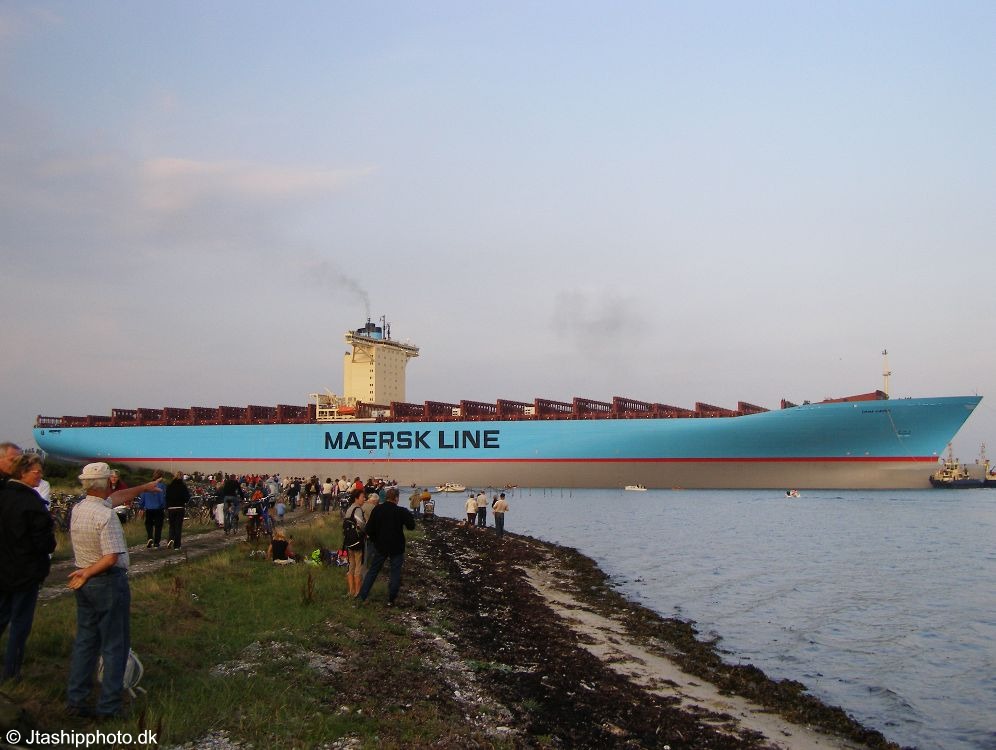 xoB sends along this item with the following details: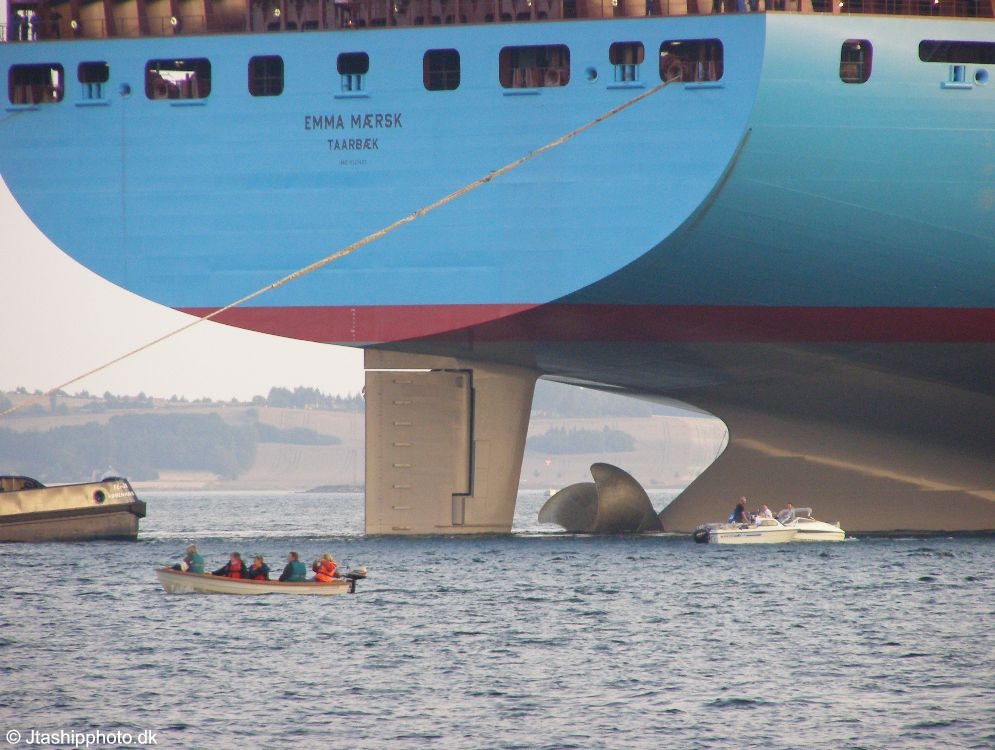 Wow: it takes 13 people to transport 15,000 shipping containers? Quite low operating costs other than the fuel, I suppose, then. I guess if you were an accountant you could figure out the sunk costs, and then how much it would cost if it were sunk.

What would the engine for this beast look like? We've already covered that. Looking at the specs, 14 cylinder, 110,000 HP, that engine is the one powering this big-ass ship.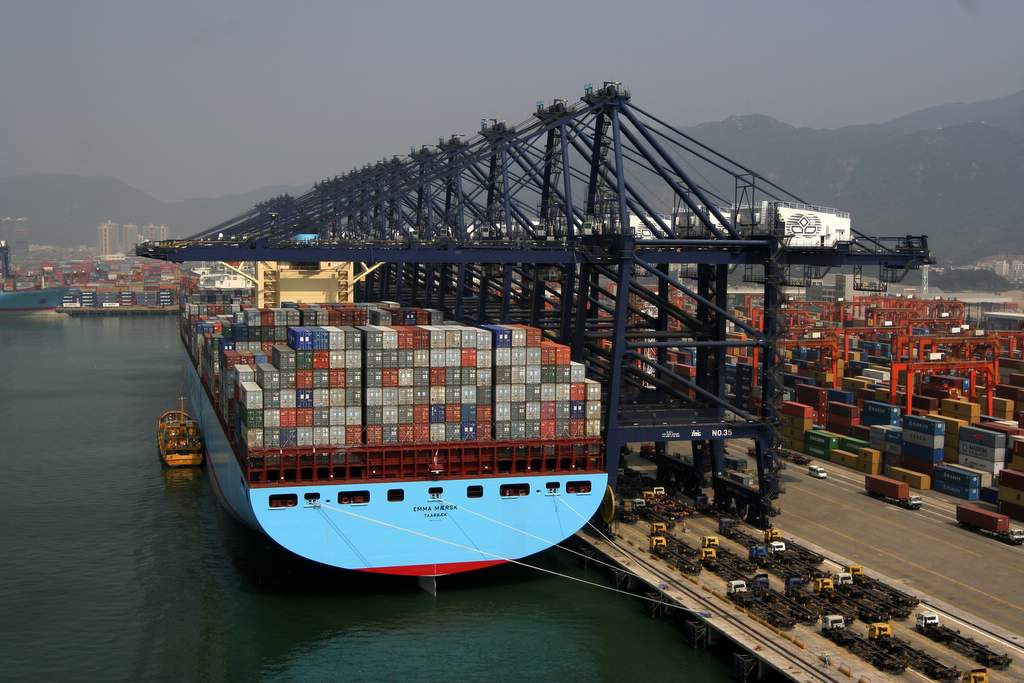 ---

glatt Thursday Sep 6 02:39 PM

What ports are able to accommodate this vessel?

---

monster Thursday Sep 6 02:59 PM

Something about those pics just doesn't seem right. Is it just the sheer size that makes me think it looks shopped? I assume it isn't, because what would be the point, but the turquoise seems too bright for the rest of the pics, especially in the first one. In the second one the edges seem to have a black line around them too.

Only 13 people on a ship that size -you could avoid seeing another person for days!

---

Coign Thursday Sep 6 04:54 PM

13 men and a ten story building for a command tower?

How much does it have to suck when you are the bottom six guys on the totem pole and the captain says, "You six, you don't get your own floor of the tower, you have to share."

---

xoxoxoBruce Thursday Sep 6 05:36 PM

I read they are planning to build 5 more just like it.

---

lumberjim Thursday Sep 6 05:52 PM

---

Weird Harold Thursday Sep 6 06:12 PM

Can someone exstrapolate, if it was filled with IKEA furniture, how long would it take one guy to put it all together?

Either it's not brand new, it was brand new when they toke the picture, that silicone stuff really hold up, the Sept. 8, 2006 date for the first trip is wrong, or it's also a time machine.

If they shipwrecked on Gilligan's island, ....

---

lumberjim Thursday Sep 6 06:23 PM

OH, YEAH! it's 2007 now.

holiday weeks always fuck up my calendar.

---

Elspode Thursday Sep 6 07:44 PM

I was going to ask what was inside, but now I know...its all engine and fuel tanks.

---

spudcon Thursday Sep 6 08:15 PM

Very impressive. But what happens if Al Gore decides it's causing global warming?

---

speedmaster Thursday Sep 6 09:35 PM

Wow, fantastic pics!!

I posted about the ship a while back:

---

manephelien Friday Sep 7 02:23 AM

---

SPUCK Friday Sep 7 05:41 AM

Yeah and 10,000 containers are lost overboard every year.. Now more can be lost!

---

speedmaster Friday Sep 7 08:00 AM

---

monster Friday Sep 7 08:14 AM
They'll probably start searching it for WMD. They'll send in the troops. It could take months. Maybe Osama is holed up in there -has anyone checked?

---

dar512 Friday Sep 7 11:30 AM

Why is it riding so high in the water in the last pic? I would think it would flip over in heavy seas that way.

---

glatt Friday Sep 7 11:37 AM

Looks like it's been partially unloaded.

---

Coign Friday Sep 7 11:40 AM

Not sure how big that is in relation to a aircraft carrier but I have heard it said boats that big don't even feel waves. It would take a hurricane to make a person on deck feel any motion at all.

Here is the size dimensions of the Ronald Reagan aircraft carrier if someone can interpete the strange notation the Navy uses for size. If that is feet then that cargo ship is bigger.


USS RONALD REAGAN (CVN-76)
Specifications
Class: NIMITZ

As built: Displacement: 77,600+ tons (98,235+ fl) — Dimensions: 1,040' wl (1,092' oa) x 134' (252' fd) x 37' / 317 wl (332.8 oa) x 40.8 (76.8 fd) x 11.3 meters

---

davegore Friday Sep 7 11:53 AM

Cost

Hard to believe but it actually costs less to transport a container from China to Europe on the ship (which will be one of the ships probable routes) which is around 6000 miles than to transport it from the port where the ship arrives to it's final destination which is generally less that 50 to 60 miles

Dave

---

Gravdigr Friday Sep 7 03:17 PM

Cruise speed-31 mph?? Jeez, you could ski behind that behemoth. Also, you don't usually see such a yacht-like pointy nose on a container vessel. It would make the Sultan of Brunei a nice little yacht conversion don't you think?

---

glatt Friday Sep 7 03:46 PM

For a sense of scale, look at the Emma Maersk docked next to a normal sized container ship.

---

xoxoxoBruce Friday Sep 7 04:55 PM

---

Flint Friday Sep 7 04:57 PM

It looks like a flat, fin-like projection to me. Especially in glatt's post, two up.

---

xoxoxoBruce Friday Sep 7 05:03 PM

Flat? Do you mean narrow? It's narrow compared to the size of the ship, but still huge. Look at the width in Gravdigr's picture compared to the other boats.

---

Flint Friday Sep 7 05:05 PM

I realize it's probably the width of a house, but it still qualifies as "pointy" as a feature on that particular ship.

---

xoxoxoBruce Friday Sep 7 05:10 PM

I'll grant you that.

---

Flint Friday Sep 7 05:12 PM

Oh thank you, my generous master.

---

Aliantha Friday Sep 7 08:07 PM

It'd be a pretty wet place to live...in that pointy bit.

---

glatt Friday Sep 7 08:27 PM

Anybody know what that pointy bit does? Why do modern ships have them? Seems counterintuitive. You would think a knife edge would slice through the water better and offer less resistance.

---

backwardhatclub Friday Sep 7 09:05 PM

http://en.wikipedia.org/wiki/Bulbous_bow

---

glatt Saturday Sep 8 11:56 AM

Cool. Thanks for coming out of lurk mode to post that link. I wonder how the first people to build one thought of doing it? It seems like nobody understood how they worked until a few decades after they started making them.

---

xoxoxoBruce Saturday Sep 8 02:44 PM

This is the Jap Battleship Yamamoto, with it's 18 inch guns, sunk in 1945. I don't know why they were using a small bulbous bow, 40 years before the effects on speed and efficiency were really understood. Maybe for ramming whales.

---

dar512 Saturday Sep 8 04:50 PM

Does the same thing work for whales? Because that's what this reminded me of:

---

dar512 Saturday Sep 8 04:55 PM

Does that work for whales too? Because thats what I thought of when I saw this pic:

---

monster Saturday Sep 8 06:49 PM

are we back to whale penis?

---
Your reply here?

The Cellar Image of the Day is just a section of a larger web community: a bunch of interesting folks talking about everything. Add your two cents to IotD by joining the Cellar.