Undertoad Wednesday Sep 5 08:23 AM

September 5, 2007: Swan feeds goldfish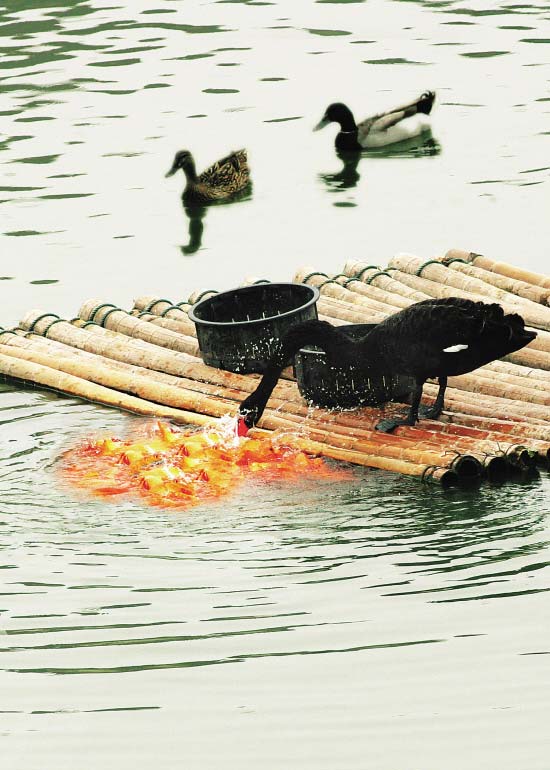 Not too long ago we had a swan feeding a carp, now this item from Spluch, noticed by xoB...


Quote:
A local security guard recently discovered a peculiar scene where black swans can be seen feeding goldfish near the shore of a lake located in Hangzhou, China. According to the guard, 9 black swans will climb onto a raft and start feeding the goldfish with their beaks at 10am every morning. The goldfish can always be seen following the swans closely after that. Locals were astonished to find such an affectionate tie existing between the two creatures.
---

morie Wednesday Sep 5 09:03 AM

bloodly hell. i swear i saw that SAME damn swan in hangzhou a month ago and he was eating the goldfish.

---

beauregaardhooligan Wednesday Sep 5 09:09 AM

Just fattening them up!

---

Leus Wednesday Sep 5 09:31 AM

It looks photoshopped to me...

---

Sheldonrs Wednesday Sep 5 09:53 AM

Even a swan can get bored when the cable is out.

---

freshnesschronic Wednesday Sep 5 10:25 AM

Little red riding hood, Hanzel and Gretel, now playing The Swans and the Goldfish!

---

HungLikeJesus Wednesday Sep 5 01:14 PM

I'm just trying to figure out - where does the swan get the goldfish food? And how did he make that raft?

There's something fishy going on here.

---

findpolitics Wednesday Sep 5 06:15 PM

Swan

Quote:

Originally Posted by

HungLikeJesus

I'm just trying to figure out - where does the swan get the goldfish food? And how did he make that raft?

There's something fishy going on here.

He cooked it in that pot!

---

mitheral Wednesday Sep 5 08:41 PM

My guess is someone is feeding the swans or other birds with the contents of the pot and the swan is sharing with his finned friends.

---

monster Wednesday Sep 5 09:26 PM

Any chance the swans get fed by someone popping a bowl of dry food on the raft at 10am? And the goldfish are a little less dumb that we give them credit for?

---

JuancoRocks Thursday Sep 6 01:18 AM

Swan feeds goldfish

Can you say "chumming"?

---

rebelcan Thursday Sep 6 01:22 AM

Part of me is just wondering if the swan is just some poor schmoe who did something really really bad in a past life and is trying to make up for it by feeding the goldfish.

Or maybe the swan is just fattening up the goldfish.

Who knows?

---

Scriveyn Thursday Sep 6 02:03 AM

This is the swan's way of indicating that he thinks the food is not fit for cygnine consumption.

---

Undertoad Thursday Sep 6 09:03 AMExcellent word!

---

Scriveyn Thursday Sep 6 09:40 AM

... and there's more words where this came from

---

Hillrick Thursday Sep 6 10:39 AM

And THAT, my dear Scriveyn...

...is why the average person only employs a vocabulary of 3,500 words.
"Oh my good man, you said belluine! I thought you said culicine. Of course that makes perfect sense and I couldn't agree with you more."

As for the swans, I don't know how they got their start but in China at a lot of the parks that have lakes in them they sell fish food so you can feed them when you visit. The goldfish can get pretty big and there can be quite a frenzy. You almost feel as though there are enough fish that you could take a quick step across them and not sink.

---

Flint Thursday Sep 6 11:09 AM

A friend of mine has a stock pond where the fish are trained -
when you stomp your feet on the dock, they swarm towards you (expecting handfuls of dogfood pellets) ...

---

Bitman Sunday Sep 9 04:59 AM

---

morie Sunday Sep 9 07:12 AM

and the next day, the swan was eaten by the chinese.

---
Your reply here?

The Cellar Image of the Day is just a section of a larger web community: a bunch of interesting folks talking about everything. Add your two cents to IotD by joining the Cellar.