Undertoad Tuesday Sep 4 08:09 AM

September 4, 2007: Tomatina 2007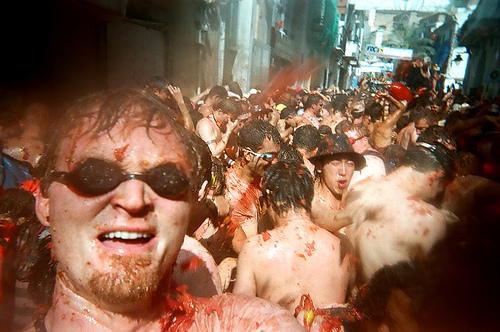 It's that time of year again - time for the annual Tomatina tomato battle in Bunol, Spain.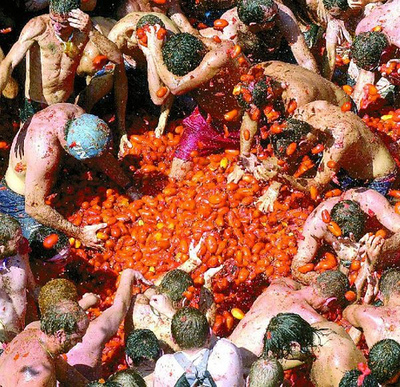 As a reminder - in case you're new to IotD or something - this festival involves tens of thousands of people battling it out with hundreds of thousands of tomatoes.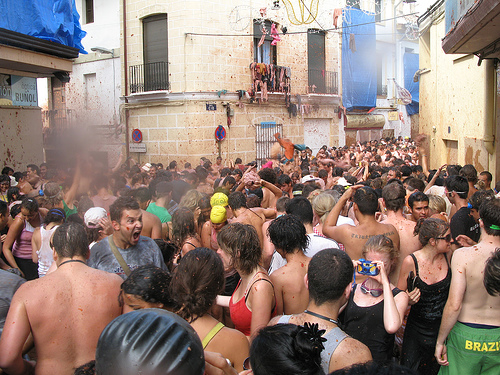 Pictures of the battle are interesting enough...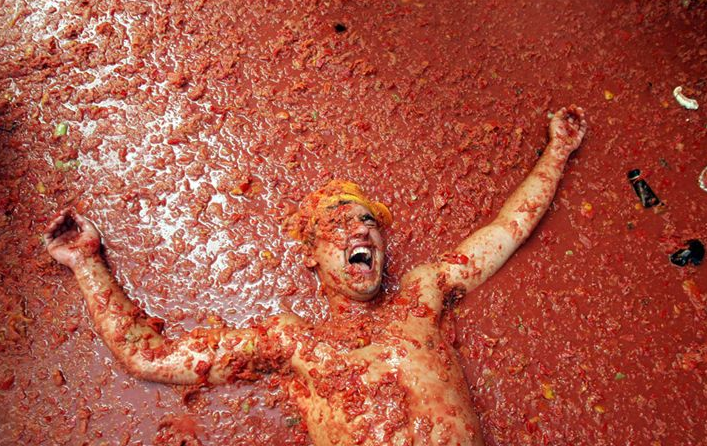 ...it's the aftermath shots which are the most fun.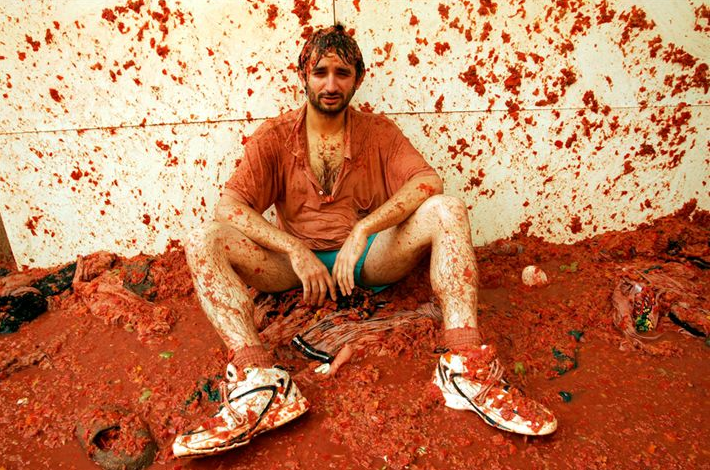 The people are always completely exhausted.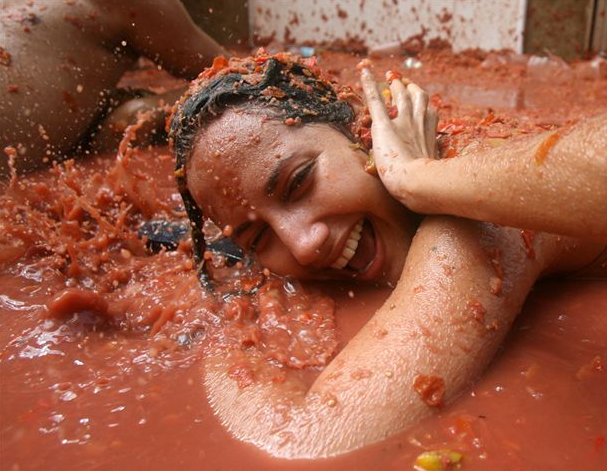 And drowning in tomato soup.

IotD's previous Tomatinos:
2006, 2005, 2004, 2003, 2002

---

Trilby Tuesday Sep 4 08:11 AM

My very favorite festival. Thanks, UT.

---

Griff Tuesday Sep 4 08:26 AM

Welcome home IOTD!

---

ferret88 Tuesday Sep 4 08:41 AM

it's the Attack of the Tomato Killers!!!

---

Sheldonrs Tuesday Sep 4 10:43 AM

I get it. You have been a little behind with the IotD so now you are trying to KETCHUP! lol!!!

---

Flint Tuesday Sep 4 10:50 AM

Toad, can we put this guy on salary?

---

dar512 Tuesday Sep 4 01:23 PM

And by that I mean awfully good.

---

freshnesschronic Tuesday Sep 4 01:23 PM

And the Italians are like:

"Mama mia, what a waste of sauce!!!!!!"

---

wolf Tuesday Sep 4 01:24 PM

Ah, another Cellar Tradition Observed, the yearly Running of the Tomatoes.

---

Goolyman Tuesday Sep 4 04:04 PM

I like in the 5th picture how there is a slipper covered (and probably filled) with tomato, just kinda chillin' there.

---

monster Tuesday Sep 4 04:22 PM

Look! Even giant's Pizza has stray olives and mushrooms and precious little cheese.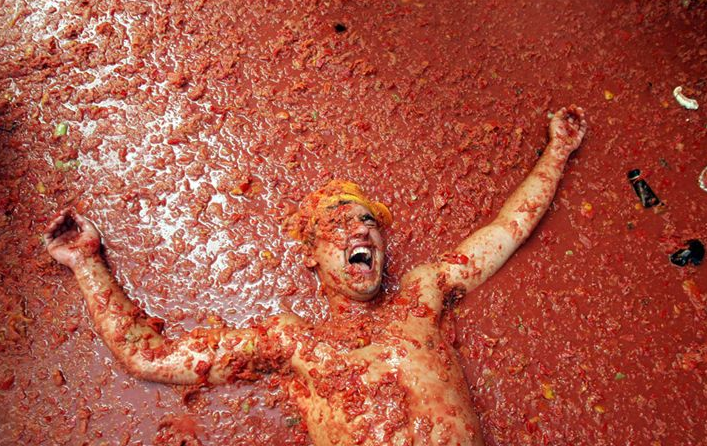 ---

Sheldonrs Tuesday Sep 4 04:58 PM

---

Trilby Tuesday Sep 4 05:05 PM

Undoubtedly, the "meat" prolly tastes very tomato-y

---

runswithknives Tuesday Sep 4 05:26 PM

Not to be confused with the wallpaper that comes with the new Taliban Operating System.

---

Sheldonrs Tuesday Sep 4 05:36 PM

---

AndyDan Tuesday Sep 4 07:08 PM

---

Leah Tuesday Sep 4 08:06 PM

Oh that reminds me, I need to put tomato sauce on my shopping list.

---

monster Tuesday Sep 4 09:02 PM

Perhaps he's just regretting persuading her to party while her friend was in town?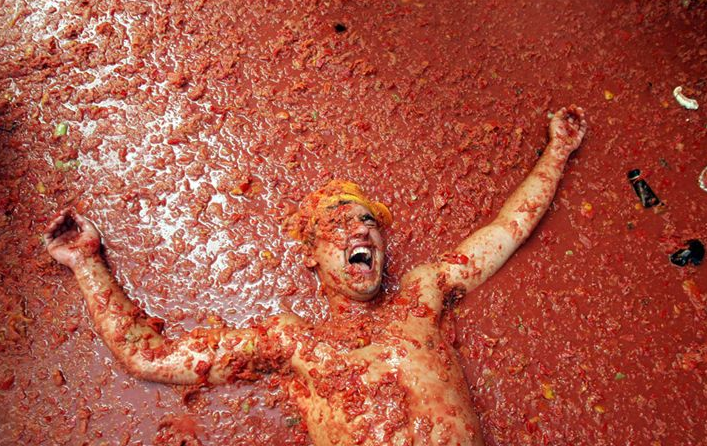 ---

YellowBolt Wednesday Sep 5 12:15 AM

How long you think before IOTD is able to cover a festival for every day of the year?

---

Elspode Wednesday Sep 5 12:26 AM

We could kick that off with an IOTD Festival.

---

chrisinhouston Wednesday Sep 5 10:36 AM

Thank god nobody hosts a watermelon festival!

---

HungLikeJesus Wednesday Sep 5 01:20 PMJack-O-Launch. Equipment included trebuchets, catapults and compressed air cannons for shooting pumpkins up to 1200 feet.

---

monster Wednesday Sep 5 02:04 PM

---

BigV Wednesday Sep 5 06:21 PM

Not for the chicken...

---

Elspode Wednesday Sep 5 07:38 PM

---

monster Wednesday Sep 5 09:29 PM

.....

Cellar Fag Lines?


Jeez I kill myself........ :p

---

Sheldonrs Thursday Sep 6 09:42 AM

And I think it should be called HOMOgination

---
Your reply here?

The Cellar Image of the Day is just a section of a larger web community: a bunch of interesting folks talking about everything. Add your two cents to IotD by joining the Cellar.