Undertoad Tuesday Aug 28 03:23 PM

August 28, 2007: Greece fires from space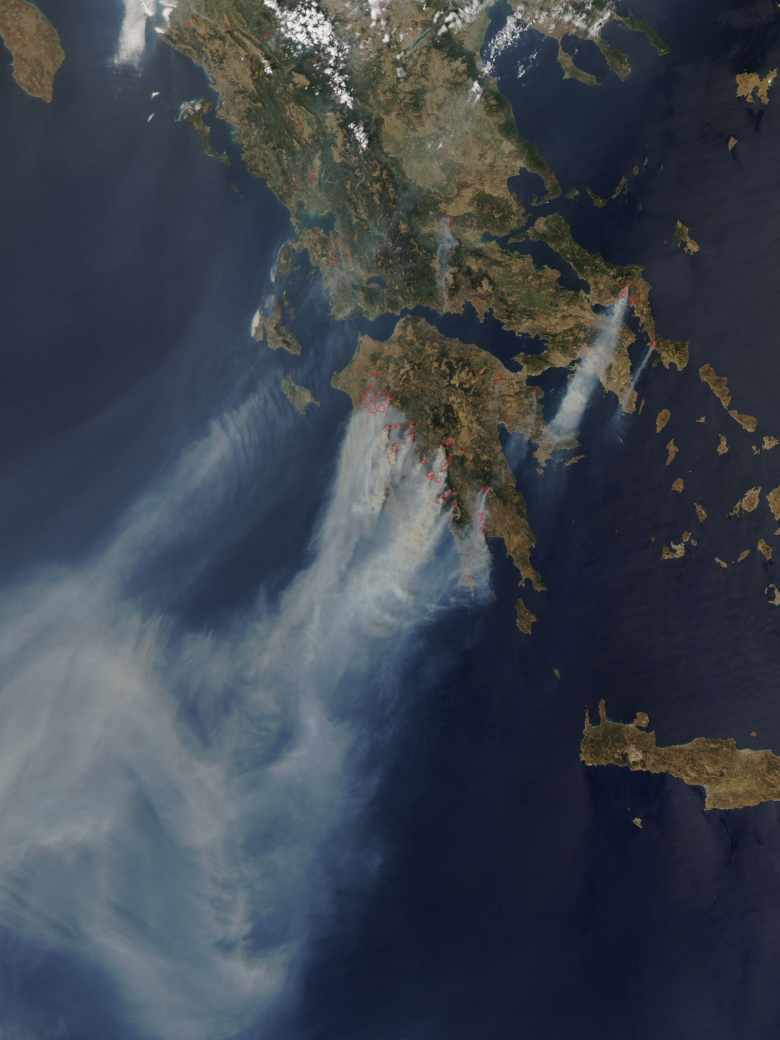 Yeah yeah, I couldn't help but use the term "greece fires". Sue me. Spacecow first noticed these, and then dar512 posted a copy in our Quality Images area.

These are fires as seen from satellite, but the light red bits are actually circles of where the fires actually are. After a week of heat wave there are now over 200 fires during in Greece and other sections of southeastern Europe.

---

xoxoxoBruce Tuesday Aug 28 03:37 PM

They have photos of some of these fires being set by arsonists, speculating they were hired by real estate developers. Tragic.

---

Sheldonrs Tuesday Aug 28 03:46 PM

Nothing tougher to put out than a "greece" fire.

---

runswithknives Tuesday Aug 28 04:18 PM

Guess they better pull Poseidon out of retirement.

---

zippyt Tuesday Aug 28 05:26 PM

Grease fire !!!!
Throw some flour on it !!

---

Griff Tuesday Aug 28 05:34 PM

and eggs

---

justush Wednesday Aug 29 01:37 AM

Actually they are celebrating weed smoking festival. Media is censored to prevent spreading to other countries.

---

morie Wednesday Aug 29 05:13 AM

that ain't greek fire. it's really someone's lunch puked up on their blue tablemat.

---

Karenv Wednesday Aug 29 12:52 PM

---

middy Wednesday Aug 29 01:25 PM

Wouldn't Greece be "southeastern" Europe?

---

Undertoad Wednesday Aug 29 02:47 PM

You are correct

---

xoxoxoBruce Wednesday Aug 29 05:34 PM

Welcome to the Cellar, middy.



Were you going somewhere with that observation?

---

Griff Wednesday Aug 29 05:36 PM

---

Spexxvet Wednesday Aug 29 05:45 PM

---

xoxoxoBruce Wednesday Aug 29 05:55 PM

---

Undertoad Wednesday Aug 29 07:29 PM

Aha. No, I edited.

---

xoxoxoBruce Wednesday Aug 29 08:05 PM

OK. Dat 'splain it.

---

Griff Wednesday Aug 29 09:50 PM

fi wah

---

Gravdigr Friday Aug 31 11:47 AMflour on a fire you could actually cause a fireball/explosion. We had a flour warehouse explosion two miles from my house years and years ago. It rattled our windows, leveled the building, and burned for four days. The cause? Flour in the air inside the warehouse, and a single spark. No one hurt though.

Grease and flour...hmm, gravy?

---

Shawnee123 Friday Aug 31 12:02 PM

That's too bad. Probably prior to the explosion flour was selling like...er, hotcakes.

---

xoxoxoBruce Friday Aug 31 12:42 PM

Old apartment buildings in Boston, all had small door in the wall of the hallway, on each floor.
The doors were a hopper that tipped out like a mailbox so you could put your trash in the hopper and when you close the door the trash would drop down a common chute to the incinerator.
When a woman found worms in a 5 pound bag of flour, she dropped it down the chute. The bag hit each hopper on the way down filling the whole chute with flour dust by the time it reached the flames in the incinerator.
The building was condemned and torn down.

---
Your reply here?

The Cellar Image of the Day is just a section of a larger web community: a bunch of interesting folks talking about everything. Add your two cents to IotD by joining the Cellar.