Undertoad Saturday Aug 25 12:28 PM

August 25, 2007: Japanese ramen bath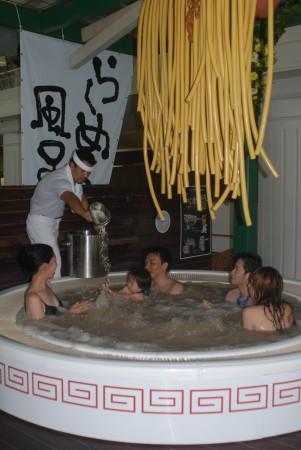 I think I prefer the flesh-eating fish spa to this one in Japan, where the bath is intended to recreate a ramen noodle meal. The water is flavored with pepper, and colored a light brown to resemble pork broth. The noodles are some sort of salt additive when they eventually get dunked.

It turns out to be at a weird bathing theme park called Hakone Kowakien Yunessun, where they also offer tea baths: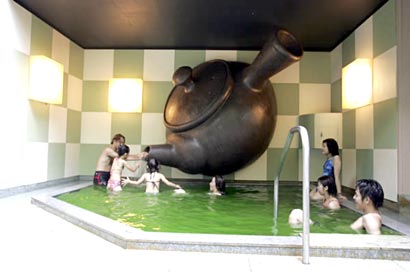 and coffee: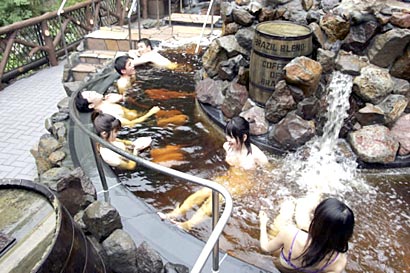 and red wine: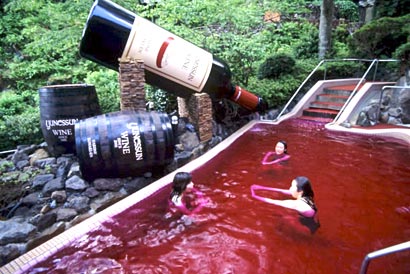 Only one more weird asian bathing spa IotD to complete the weird asian bathing spa trifecta.

---

Trilby Saturday Aug 25 12:36 PM

What, no chocolate bath?

---

YellowBolt Saturday Aug 25 01:59 PM

That's been covered too.

EDIT: I think those might be the same place!!

---

freshnesschronic Saturday Aug 25 02:28 PM

What about milkshake bathes. Now that'd be delicious yet disgusting.

---

Trilby Saturday Aug 25 02:43 PM

How bored does one culture have to be before bathing in Ramen noodles seems like a good idea?

---

Goolyman Saturday Aug 25 03:05 PM

As a first post, I wanted to make a good impression and make a snappy remark about eating these people, seeing as they are sitting in ramen.
I couldn't come up with anything. I think i'll leave it to the pro's and watch how it's done a little while longer.

---

richlevy Saturday Aug 25 03:13 PM

You know....

I've always wondered how they made this flavor.

BTW, the proper term is 'Asian'.

(how's that Gooleyman?)

---

xoxoxoBruce Saturday Aug 25 04:05 PM

Welcome to the Cellar, Goolyman.



You didn't think an ancient culture like the Japs would settle for plain old Soylent Green, did you?

I think the wine bath was an IOtD.

---

Sheldonrs Saturday Aug 25 04:06 PM

And depending upon the ratio of men to women in the soup, you can either get fish stew or creamed corn.
If it's about equal, chowder for everyone!

---

runswithknives Saturday Aug 25 04:45 PM

I taste a new olympic sport on horizon... Synchronized wine bathing!

Bit of a stretch on that one, sorry. Wont happen again..

Mr. Sparkle!

---

zippyt Saturday Aug 25 05:16 PM

Damn Sheldon !!!!!
Good one !!!

---

Elspode Saturday Aug 25 05:23 PM

Is that a barebreasted pubescent girl in the coffee spa, there?

---

milkfish Saturday Aug 25 05:30 PM

---

Goolyman Saturday Aug 25 08:50 PM

Bahaha. Thanks for the welcomes and encouragement, everyone!
But I really have nothing to say about these pictures other than I would never go in one of those pools. I would prefer to be shaken, not stirred.

---

Nikolai Saturday Aug 25 10:17 PM

and they also have a sushi bath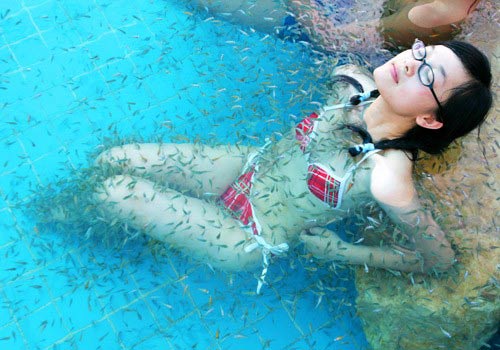 awww shit its already been done

---

morie Sunday Aug 26 03:34 AM

it's intended to create an actual ramen noodle meal??? but what if some lazy, inconsiderate or shy person decided they didn't want to get out and go to the bathroom and pissed in the bath instead? or if it's a kid, did something worse?

equally likely, what if someone stripped off and some horny chick decided she wanted to eat some meat?

hey, bon apetite to all the weirdos!

---

Sheldonrs Sunday Aug 26 10:46 AM

---

Gravdigr Sunday Aug 26 06:41 PM

Cream-colored baths, coffee-colored baths, wine-colored baths...and not one golden shower in sight?

---

Shawnee123 Monday Aug 27 10:09 AM

I never saw a two-faced cow
I never hope to see one
But I can tell you anyhow
I'd rather see than eat one.



---

Elspode Monday Aug 27 11:33 PM

---

Gravdigr Tuesday Aug 28 03:56 AM

---
Your reply here?

The Cellar Image of the Day is just a section of a larger web community: a bunch of interesting folks talking about everything. Add your two cents to IotD by joining the Cellar.