Undertoad Thursday Aug 16 08:43 PM

August 16, 2007: Hedgehog and cactus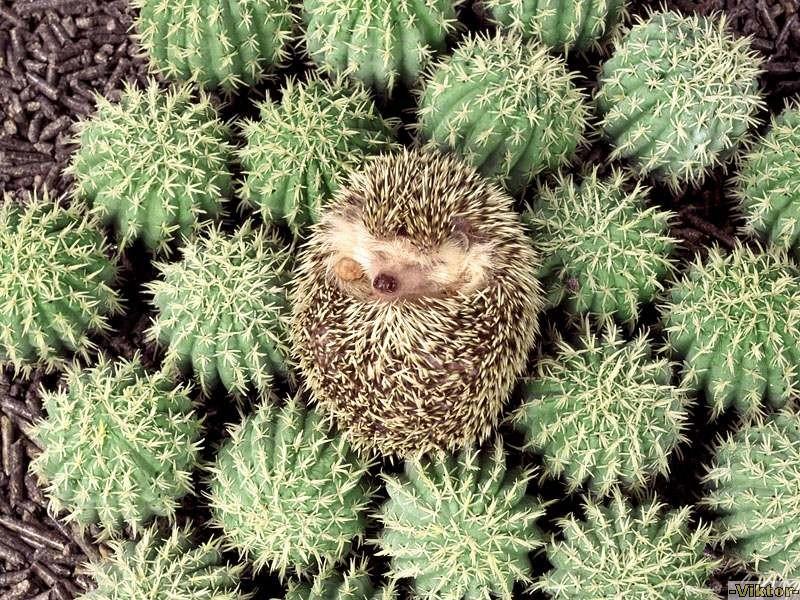 "I have no further info, but it's cute," says axlrosen, pointing out this item. It is indeed. There are a lot of sites that surely beat IotD out for mere cuteness. But I don't dare risk not including any hedgehog item, because they are always interesting. And any fine image of one may become iconic.

---

DanaC Thursday Aug 16 08:46 PM

Awwww...look at his little nose.

---

xoxoxoBruce Thursday Aug 16 08:48 PM

WTF.... I ain't eatin' that.

---

Happy Monkey Thursday Aug 16 08:53 PM

The book Stardust describes an excellent method for eating hedgehogs. Wrap it in a layer of clay, and put the clay ball in a fire. When it's ready, crack the ball in half, and the spines are stuck in the clay. Scoop out the meat, and spit the bones into the fire.

---

yesman065 Thursday Aug 16 09:03 PM

...and telling ghost stories all the while...

---

DanaC Thursday Aug 16 09:04 PM

....mainly about being haunted by hedgehogs, granted, but still....

---

justush Friday Aug 17 01:15 AM

Mother hedgehog oversees a colony of green eggs she has planted. In a couple of months they will hatch, revealing cute little aliens.

---

Weird Harold Friday Aug 17 03:17 AM

Dinsdale!!!

---

sandypossum Friday Aug 17 03:28 AM

No no no, 'arold, old Dinsy was pursued by a porcupine, not an 'edge-og. Who could be frightened by this little cutie, even if it was also 10 ft from its 'ead to its anus?

---

SPUCK Friday Aug 17 06:11 AM

That makes about zero sense... How could it walk there? It's feet would get nailed by the cactus. I bet it even gets caught on the spines. Someone probably thought it would be cute and sat it there. Notice the cactus look like they're sitting in rabbit feed pellets.

---

Griff Friday Aug 17 07:29 AM

Why is that so damn cute?

---

smurfalicious Friday Aug 17 09:47 AM

freakin rat

---

Coign Friday Aug 17 10:06 AM

And if you smack it with a baseball bat you get sprayed by flying quills. It is a lose/lose situation.

---

TheMercenary Friday Aug 17 10:06 AM




MPFC!

---

Gravdigr Friday Aug 17 06:25 PM

---

DanaC Friday Aug 17 06:44 PM

Oh dear.....oh dear oh dear, gravdigr I'm fairly sure you broke a bye law with that one.

---

Weird Harold Friday Aug 17 10:40 PM

Amendment 14 section A subsection 132.6 third paragraph from the bottom. Saying get it, is strictly forbidden here.

---

Elspode Saturday Aug 18 12:33 PM

Looks like a pretty sticky situation to me. I think I'd rather be stuck on the horns of a dilemma, personally.

---
Your reply here?

The Cellar Image of the Day is just a section of a larger web community: a bunch of interesting folks talking about everything. Add your two cents to IotD by joining the Cellar.