Undertoad Wednesday Aug 15 08:20 PM

August 15, 2007: Duct tape bandit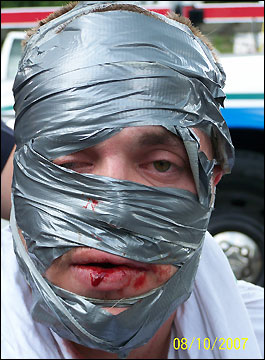 All he wanted to do was rob a West Virginia liquor store, and now he's earning worldwide renown for the creativity of his disguise. Being called the "duct tape bandit", he completely failed to get away with anything. Here's what he looks like when not taped up: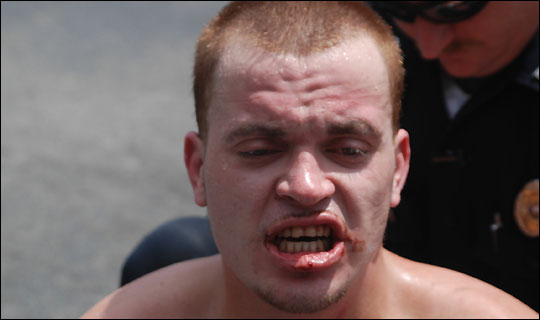 Much better with the tape, really.


Quote:
Shamrock Liquors store manager Bill Steele had some duct tape of his own, but his was wrapped around a wooden club that sent the robber fleeing, according to a report by WSAZ-TV in Huntington, W.Va.

Store employee Craig Miller said he chased the man to the parking lot, tackled him and held him in a choke hold until police arrived. A customer also helped, police said.

Kasey G. Kazee, 24, of Ashland, was charged with first-degree robbery, according to Ashland Police Sgt. Mark McDowell.

Kazee, in an interview with the TV station, denied he was the bandit who robbed the store of two rolls of change. He pleaded not guilty Monday and bond was set at $250,000.
---

xoxoxoBruce Wednesday Aug 15 09:05 PM

That's not Bill Steele, that's Stu... Stu Pidass.

---

Sheldonrs Wednesday Aug 15 09:31 PM

If I looked like that I'd wear duct tape all the time.

---

Weird Harold Wednesday Aug 15 09:38 PM

---

Clodfobble Wednesday Aug 15 09:40 PM

Pull it off? No no NO, that's the part you would never, ever want to do.

---

Gravdigr Thursday Aug 16 12:37 AM

Ok...I'll be 'that' guy: I wish I had that on tape. hahahahahahahahahahahahahahah
ahahahahahahahahahahah. Ha.

---

SPUCK Thursday Aug 16 03:59 AM

I don't see much difference on OR off..

---

DanaC Thursday Aug 16 07:00 AM

Gravdigr, that was entirely uncalled for.

---

Chickenings Thursday Aug 16 08:06 AM

Do you think he walked in and said 'This is a stick up!' ???

---

smurfalicious Thursday Aug 16 08:49 AM

My first reaction: what a fucking tool.

But then, I guess there's a whole subculture of duct tape wearing freaks...

---

Hillrick Thursday Aug 16 09:18 AM

I just wonder...

if they pulled the tape off slowly or one quick yank!

---

Spexxvet Thursday Aug 16 11:26 AM

It makes sense to me ..... he used tape to hold up the bank. It shoulda been a snap - he shoulda nailed it, but he screwed it up. Then, the nut bolted.

---

Shawnee123 Thursday Aug 16 11:28 AM

spexx

btw, I call "freak of nature" on this guy.

---

smurfalicious Thursday Aug 16 12:12 PM

It gets better... watch the video

---

jester Thursday Aug 16 01:13 PM

What a sticky situation.

---

runswithknives Thursday Aug 16 01:49 PM

Clearly this guy works for the adhesives industry. Shameless self-promotion at its best.

He's putting duct tape back on the map!

---

freshnesschronic Thursday Aug 16 03:32 PM

Quote:

Originally Posted by

Chickenings

Do you think he walked in and said 'This is a stick up!' ???

"This is a stuck on."

---

Dypok Saturday Aug 18 06:20 PM

http://www.youtube.com/watch?v=F79iThUEWFg

Listen to the defense he mounts. Do I look like the duct tape bandit baby?

---

Elspode Saturday Aug 18 07:20 PM

Shit, blood, bro don't be guilty. He be a righteous homie, yo?

---
Your reply here?

The Cellar Image of the Day is just a section of a larger web community: a bunch of interesting folks talking about everything. Add your two cents to IotD by joining the Cellar.