Undertoad Tuesday Aug 7 03:29 PM

August 7, 2007: China's hairiest man... balding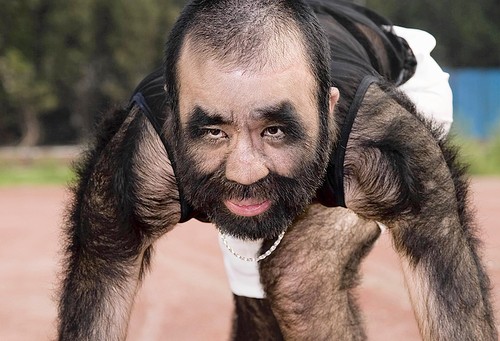 The Chicago Tribune's official caption says China's hairiest man, Yu Zhenhuan, poses on a track in Beijing in his bid to run in next year's Olympic torch relay, state media said this week. But as axlrosen notices, the guy is losing it upstairs.

This is not an uncommon situation. In fact I've heard a rule of thumb that says something like -- the more hair on your chest at age 30, the less hair on your head at age 40. It's not universal, but if you have more testosterone to create chest hair, you'll also go bald faster, it's likely.

But IotD takes issue with this "hairiest man in China" nonsense. Two years ago IotD covered one hairier.

---

jester Tuesday Aug 7 03:36 PM

Was he in "Hairy" and the Hendersons?:p

---

Uisge Beatha Tuesday Aug 7 03:40 PM

Um, carry the torch? I'd advise against letting him do so. It's too likely he'd light himself up and then nobody could stand the smell long enough to get close and have the torch passed on.



Uh, UT, I think this is the same guy as the one in the linked story from three years ago.

---

barefoot serpent Tuesday Aug 7 03:56 PM

He's got a really bad drag coefficient...



...in more ways than one.

---

Uisge Beatha Tuesday Aug 7 04:00 PMback does.



Hold on, is this a hoax? I always thought yeti were supposed to have white fur.

---

xoxoxoBruce Tuesday Aug 7 05:01 PM

Bah, he doesn't even have a unibrow. Just ate too many dogs, that's all.

---

Shawnee123 Tuesday Aug 7 05:02 PM

---

StereoMike Tuesday Aug 7 05:37 PM
Would be cooler if his name was Harry Breast.

---

Undertoad Tuesday Aug 7 06:03 PM

It IS the same guy... sorry!

---

Cloud Tuesday Aug 7 06:27 PM

that is one ugly fucker, hair or no, whew!

---

freshnesschronic Tuesday Aug 7 07:00 PM

that's not 96% of his body covered in hair, no way I can see plenty of skin.

---

Sheldonrs Tuesday Aug 7 09:38 PM

Is that the Statue of Liberty buried half-way in sand in the background?

---

spudcon Tuesday Aug 7 09:53 PM

Am I the only one who thinks something about his legs or whatever skin colored things those are in the foreground, are faked? And is he wearing a diaper?

---

deadbeater Wednesday Aug 8 12:11 AM

---

RellikLaerec Wednesday Aug 8 09:25 AM

Wonder if he likes to garden in his spare time. Then he could go by...... wait for it......

Hairy Potter!

---

Shawnee123 Wednesday Aug 8 09:43 AM

Be quiet you damn dirty ape.

---
Your reply here?

The Cellar Image of the Day is just a section of a larger web community: a bunch of interesting folks talking about everything. Add your two cents to IotD by joining the Cellar.