Undertoad Friday Aug 3 09:25 AM

August 3, 2007: Dog swims 4km daily to feed her pups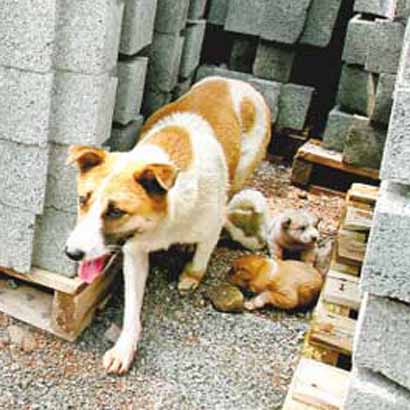 Spluch notices this awesome Ananova story that must be repeated for a Friday IotD. If the story around yesterday's shot saddened you, and sometimes an IotD will, today's will brighten you.

Huahua the dog pictured above, is mother to a litter of pups. But the location of her litter was unfortunate; when the water level of the nearby river rose, her spot became an island. With no source of food.

So Huahua now swims - off the island to get her food, back onto it to nurse the litter.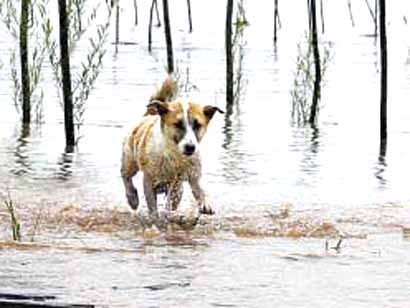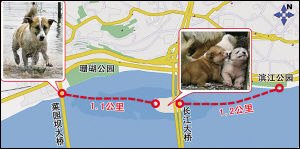 ---

skysidhe Friday Aug 3 10:31 AM

Amazing story.

I'm already poking holes in it wondering why someone doesn't rescue them.

So I'm geussing there isn't any canned alpo anyone could take them.

---

StereoMike Friday Aug 3 10:32 AM

Seems to be a chinese story.
So I guess they will land on a dish sooner or later.

---

Uisge Beatha Friday Aug 3 10:43 AM

Wow, that Huahua must drink some Chi to doggy paddle so much.

---

jester Friday Aug 3 11:35 AM

That's truly inspiring - one can only hope she & they do not end up on the late nite menu.

---

freshnesschronic Friday Aug 3 11:41 AM

Yes, all Asian/Chinese people eat dogs, let's link the two in this article, OK! Dicks.

---

Flint Friday Aug 3 11:52 AM

"Hey, it's just some dogs..."

---

ToastyKen Friday Aug 3 12:01 PM

I'm actually wondering what the dogs are eating..

---

freshnesschronic Friday Aug 3 12:06 PM

---

Flint Friday Aug 3 12:28 PM

But it would have been okay, according to you, if it had been black people.

You continue to be way the ƒuck off in left field, when it comes to "cultural bias" ...

---

Shawnee123 Friday Aug 3 01:02 PM

:

Bravo!!!!

---

Sheldonrs Friday Aug 3 01:19 PM

BFD. Just some bitch in the mountains popping out puppies and leaving them alone while she goes to town to dine and dash.
Change her name to Darla Jean and you have a Maury episode.



---

barefoot serpent Friday Aug 3 01:36 PM

---

Sheldonrs Friday Aug 3 01:40 PM

---

jester Friday Aug 3 04:08 PM

---

BigV Friday Aug 3 04:12 PM

Chai is a drink, Chi is one's energy. The reason she's called Huahua is that all her chi is gone, spent on swimming.

---

Gravdigr Friday Aug 3 04:20 PM

Originally Posted by Flint
"Hey, it's just some dogs..."




---

HungLikeJesus Friday Aug 3 04:46 PMAsian Animal Protection Network:

We see no difference between pig eating and dog eating. The degree of objection lies in the methods of rearing, transport and slaughter rather than in the choice of species.

The popularity of dog eating is currently increasing at a huge rate - it is evolving rapidly from its traditions as a cottage industry. Now it is no longer a case of a few peasant farmers breeding a bitch once a year and taking the grown puppies to the market for a little extra pocket money. Huge dog farms are being set up using modern scientific factory farming methods.

[~snip~]

There are currently strong campaigns proceeding against the use of St Bernard dogs for food and against dog eating in Korea where the methods of killing are egregious. These campaigns are a good way to start to tackle the more general problem of dog eating. [And dog eating is a good way to start to tackle the more general problem of the eating of non-human animals].
Unfortunately, much of the anti-dog meat campaigning is tainted by racism - as, indeed, is the resistance to the anti-dog meat campaigning.
...

Notice that the AAPN is only against the eating of "non-human animals."


---

Uisge Beatha Friday Aug 3 05:50 PM

Oops! Yeah, I flubbed that one. I did inadvertently set you up anyway, BigV. Yours is a good one, too.

---

freshnesschronic Friday Aug 3 05:57 PM

I just called out the dumb jokes on stereotyping the Chinese to make that mutt into some platter.
Yes, some Asians eat dogs. I do not eat dogs myself neither does my family. So I don't like it when those jokes come around because in America it is unacceptable to eat dogs and that's why those jokes are made. It is looked down on, and I wish not to be looked down on. Not all Asians eat dogs, some do, but not all and I just don't like those jokes.

---

Clodfobble Friday Aug 3 06:22 PM

---

xoxoxoBruce Friday Aug 3 06:30 PM

1~ The dog in question is in China.
2~ Chinese people sometimes eat dogs.
3~ You are not Chinese.
4~ Shut the fuck up.

---

Sheldonrs Friday Aug 3 06:47 PM

All this drama from a swimming dog?! Imagine if the damn thing could fly!

---

Uisge Beatha Friday Aug 3 07:01 PMfly was on Tuesday. This is the swimming dog, as opposed to the swimming fox from three weeks ago. Let's not even get started with the swimming pool from two weeks ago.

---

xoxoxoBruce Friday Aug 3 09:11 PM

This appears to be what was dry ground for the dogs, prior to the flood.
The Changjiang River, also know as the Yangtze, is where the Three Gorges Dam project is being built. This spot in Chongqing city, will be a couple km upstream from the new reservoir.
Maybe they'll be Reservoir Dogs.

---

HungLikeJesus Saturday Aug 4 01:26 AM

Bruce, you had to work for that one, but I think it was worth it.

---

StereoMike Saturday Aug 4 04:52 AM

@Chronic: You know what, funny guy? My wife is chinese.
So don't try to explain the world to me. Chinese eat really strange stuff, and I eat whatever I get served. I once ate chicken feet to impress my parents-in-law.

---

Weird Harold Saturday Aug 4 05:30 AM

Thanks for the laugh Bruce.

---

Shawnee123 Saturday Aug 4 09:11 AM

fresh is the grand poobah of all that is cultural bias and when it is acceptable and when it is not. The sooner you all realize that, the sooner we can live in perfect harmony.


---

freshnesschronic Saturday Aug 4 09:23 AM

Yeah gang up, gang up it's so fun when it's 10 against one.

Sorry for having an opposing viewpoint. Sorry for being offended at the jokes. I mean Dagney got all uppity about some jokes a coupla months ago and she up and left and everyone grieved and I say that one little sarcastic comment and everyone can tell me I'm a douchebag? Ok.

Just after reading the Ibram and Merc Identity thread, can't all of you accept my cultural life experiences? You all know nothing about anything I've experienced directly so please think before you tell me how I should feel about related issues. Here let me say this controversial statement: I will never listen to "this is how you should feel about race" advice from white people in America. Because frankly if you are not white then you have no idea what a minority's privileges are. Please, read here. http://whiteprivilege.com/definition/
Here's another one, see the "Daily effects of white privilege" subtitle http://seamonkey.ed.asu.edu/~mcisaac...Unpacking.html
Another one. http://www.tolerance.org/news/article_tol.jsp?id=722
White privilege definitely exists as much as Flint or anyone will try to say it doesn't.

So when I tell you all to "Shut the fuck up" when telling me how to feel about racial issues, just deal with it, right Bruce?

---

Shawnee123 Saturday Aug 4 09:45 AM

You are SO convinced that you are the only one who has ever dealt with any sort of prejudice. Ironically, any comments you have experienced here have been a direct result of your insistence of such. You do NOT know my history, my heritage, or my experiences as you do not know that of the other Cellarites you believe are "ganging up on you."
LIghten the hell up, or your life is going to be very very miserable. You are not so downtrodden as you believe, as you want us all to believe. K?

---

freshnesschronic Saturday Aug 4 10:43 AM

Me lighten the hell up? When you Shawnee went into a rage after my opinion on Vick?

---

Shawnee123 Saturday Aug 4 10:49 AM

A rage? You haven't seen rage.
Stay in your league, dude. You've become tiresome.

---

freshnesschronic Saturday Aug 4 10:52 AM

Am I not worthy of your holy time?

I can see all the cheap shot comical responses by leechers now: "Ehhhh, frankly, no, sorry! Come back tomorrow, ok?

"

---

DanaC Saturday Aug 4 10:53 AM

Fresh, m'dear: I think you may find that your average white woman knows a thing or to about prejudice.

I don't know wha tthe pay gap is in the States, but in the UK there is a 17% differential between male and female wages. The average woman can expect to earn 17% less than her average male counterpart, across her lifetime.

You have mentioned many times that we are generally a bunch of oldies on here who don't really understand what it's like to be young...in that case, use your own logic and consider that many of the female dwellars grew up in a world that was a great deal more sexist than it is now. There will be women on this forum (I am sure) who experienced the unfairness of having to help in the house with mum, whilst their brothers didn't have to. There may even be women in the Cellar whose educational options were vastly reduced purely because they were female, and whose brothers were expected to be the ones who would go off and get educated and be a success in life.

Being white is one of a series of advantages that you can be born with in America. Being wealthy is another, being healthy likewise. You are more likely to be born wealthy if you are white than if you are black.....but being white does not guarantee you won't be poor. Do you think poor people are not discriminated against? Looked down on? Called horrible names? (White Trash in the states , chavs in the UK) treated as if they are somehow unclean? How many well to do families would be pleased if their child came home with a boyfriend/girlfriend from a trailer park?

You make many assumptions about what people here have, or have not, experienced.

---

freshnesschronic Saturday Aug 4 11:01 AM

---

DanaC Saturday Aug 4 11:15 AM



Socio-economic background can affect your accent, your use of language, your educational opportunities and even your vocabulary. Yes, ethnic background is a factor, but it is not the only factor. Race prejudice is not the only prejudice.

Do you think someone in a wheelchair has no idea what it's like to be discriminated against? What about a gay man? A lesbian?

---

Shawnee123 Saturday Aug 4 11:19 AM

Trailer trash. Nice.
I give up.

---

YellowBolt Saturday Aug 4 11:38 AM

hi freshnesschronic i am asian
you are a tool

---

DanaC Saturday Aug 4 11:45 AM

hahahahaha. Oh fuck that really made me laugh.

---

Uisge Beatha Saturday Aug 4 11:45 AM

---

freshnesschronic Saturday Aug 4 12:53 PM

sure

---

xoxoxoBruce Saturday Aug 4 01:04 PM

1~ We talk about eating the IOtD almost without exception.
2~ This IOtD being in China, it would folow that it would be Chinese eating it.
3~ The fact some Chinese actually eat dogs is coincidental.
4~ Trying to drag the discussion into a percieved slight of all Orientals is assinine.
And guess what...



Oh yes, and fat people use more than their share of soap.

---

spudcon Saturday Aug 4 01:05 PM

Gee, I thought we were here to discuss the picture of the bitch at the top of the page.

---

Shawnee123 Saturday Aug 4 01:14 PM

---

Jeboduuza Saturday Aug 4 01:19 PM

You forgot women jokes.
All women belong in the kitchen.
Sorry but those are so funny to me.

---

Shawnee123 Saturday Aug 4 01:22 PM

ooh, ooh, what about the other side of my heritage: Swiss. What do we get to say about that? I've heard boring, but wait a minute...I'm not boring. I know, we keep really good time and make really cool knives. All of us. Oh, and I think we must be good at banking.

---

Shawnee123 Saturday Aug 4 01:24 PM

---

Clodfobble Saturday Aug 4 02:05 PMgambling addictions, duh...

---

Shawnee123 Saturday Aug 4 02:11 PM

D'oh!

---

Sundae Saturday Aug 4 04:35 PM

British women are ugly?
Blimey, I'd never heard that before, but apparently it's well known enough to be a cliche.

Shit. I'm ugly, can't cook and have bad teeth. I wouldn't let me out of the kitchen either.

---

HungLikeJesus Saturday Aug 4 04:40 PM

"All white men are pedophiles."

That's a relief. I thought it was just me.

---

Grismar Monday Aug 6 01:46 AM

Don't feed the troll (dogs or otherwise)

And a troll he is, because there was no good reason to get angry. The joke that was made was that any dog, all alone without its owner stands a fair chance of being turned into a snack, in a country like China.

Not all Asians have to eat dogs for this to be a clear and present danger, so the joke in no way implied anything about -all- Asians (or all Chinese for that matter). There's just a sufficient number of Chinese that do eat them to warrant the joke. The joke wasn't even about the Asians. It was about people going all teary-eyed over this cute pet, jerking them back into harsh reality with the most bleak statement you could possibly make about the dog, which you may or may not think is funny. That's humour for you.

Also, for someone who proudly announces that his country of origin has cockfighting for a national sport (what is it anyway, the Philippines? Thailand? Cambodia?) you sure do get riled up over eating dogs. I would assume anyone with such an utter disrespect for animals would make a recipe suggestion sooner than get all fiery about it.

Anyway, anyone know any jokes about Asian folk lacking a complete sense of humour, or are we dealing with a singularly humourless specimen here? Alternatively, Fresh, perhaps you want to allude to my being under the influence of drugs (I do live near Amsterdam) or suggest some horrible STD is affecting my judgement (we did legalize prostitution). Perhaps it's something in the cheese, or did my head get hit by a windmill? Or did you actually learn something and do you realize that you making jokes about a stereotype about my society doesn't really have to affect me personally, unless it's actually right on the mark?

---

freshnesschronic Monday Aug 6 01:51 AM

Sorry Grismar. You can block me, you know.

Welcome to the Cellar

!
But I think you might be a clone of someone....a sockpuppet or something.

---

DucksNuts Monday Aug 6 06:12 AM

Meh, I dont think Grismar is a sock puppet.

I tend to think that any of the regular dwellars with *that* to say, would stand loud and proud and say it under their regular name.

Anyways Fresh, I think you over reacted a tad, it seemed kinda OTT.

Fact is, *some* Asians do eat dog and its an IotD.

Welcome Grismar

---

DanaC Monday Aug 6 07:21 AM

It's no more an attack on Asians, than a comment about a pig being likely to end up as bacon is an attack on westerners. Plenty of cultures find our use of pork meat distasteful. Plenty of cultures keep pigs as family pets (after all they are, apparently, as intelligent as dogs). Personally, the idea of dogs being used for meat is appalling to me...but that's only because I'm from a culture that sees them as pets and workers only. The worst thing you can actually say about those cultures which eat dog, is that the farming and slaughter methods are often very cruel...Take a quick look at battery farmed chickens or veal calves and you'll see we are far from guiltless in this area ourselves.

Nice to have you on board Grismar *smiles*

---

TheMercenary Monday Aug 6 10:38 AM

So being a white dude born and raised in Harlem makes you privileged? Hmmmm... I will have to think about that one. Being an white guy trying to get service in downtown Washington D.C. at the local KFC gets me special treatment like any other customer? Hmmmmm....

Being an illegal immigrant who is having a baby in the local hospital gets me a free bill but the white chick down the street who has no insurance gets hounded by bill collectors and has her credit ruined is privilge? Hmmmmm....

Being a white Sgt. in the Army with an all black Senior NCO staff will get you that next great job because you work so hard for it? Hmmm....

Here is a great book to read:

http://search.barnesandnoble.com/boo...12284657&itm=1

and another:

http://search.barnesandnoble.com/boo...90626211&itm=1

Edit: And from todays news we have another example of "white privilige": http://www.tcpalm.com/news/2007/aug/...line-05sgfcol/

---

freshnesschronic Monday Aug 6 11:01 AM

Yes, yes, and yes, Merc.
Here's an example: People stick up their noses when a bunch of Mexicans walk into a grocery store and have a slight accent. They are automatically labeled illegals even if their family has been there for 3 generations and the people say "Ugh, they are in America they should speak English well, ughhhhh." Or what about if they didn't have any accent, some people would treat them differently too, "Oh, you speak English so well, you're so well spoken

" well he's not a monkey or parrot to be trained he's a goddamn man like anyone else. And here's the inverse: when speaking Spanish a white man it is totally acceptable for him to speak with a disgusting American accent and throw in "light-o" and "el hammer." Why is that acceptable? White privilege.

Here's some more good reads for everyone
http://search.barnesandnoble.com/boo...15951807&itm=1
Actually just search white privilege and you'll get good hits!

I know about this book from my anthropology class. Many of you will not understand this idea of white privilege and deny its existence, that's ok, because many many of my fellow students were confused when this topic was brought up and were like "I don't know what she's (my professor) talking about, 'Hasta La Vista Baby' doesn't have any hidden racism in there."

---

Flint Monday Aug 6 11:10 AM

freshness, you should check out "Lies My History Teacher Told Me" ...

Great book, plenty of material about the overt eurocentricism in our American History textbooks.

---

TheMercenary Monday Aug 6 11:22 AM

---

Flint Monday Aug 6 11:28 AM

Criticism should be, and will be, levied against any person who displays a confusion of ideas, while forcing a point where it doesn't belong. Having a strong feeling is important (in its own way), but you have to present yourself in an orderly, logical manner, in order to be taken seriously. If you meander all across the spectrum, it looks like you have no idea what you're talking about. That really doesn't help anybody.

---

freshnesschronic Monday Aug 6 11:29 AM

The white privilege being present is the use of Spanish. The Mexicans don't have the privilege, they must conform to the white clouds in the atmosphere. The white people do have the privilege, that is why no one ever knocks on white people for their somewhat inappropriate use of Spanish.
I just want to show everyone a great journal I read.




---

TheMercenary Monday Aug 6 11:31 AM

Fresh, you and many others are attempting to redefine a common term. Racism defined does not include the word "white person".

---

mbrutsch Monday Aug 6 11:41 AM

---

freshnesschronic Monday Aug 6 11:51 AM

I don't think I'm trying to redefine the word racism. Heck the first recorded racism probably happened between Ancient Egypt and the Nubians.

I'm here to discuss and explain as best what I know based off my life experiences, no one can discredit me on that.

Let me share one story before I leave for the rest of the day.

I remember two years ago or so I was inside my Jewel Osco (grocery store) and looking at the magazines. Specifically the video game and computer gaming magazines. An elderly white lady past behind me and stopped to my left. She gazed around for a second then said abruptly "isn't it awful how they can put that crap on shelves? I can't believe they allow those people to do that." She was obviously referring to the hip hop and import car magazines slightly below the gaming magazines I was looking at (she thought I was looking at those mags). I wasn't expecting her to have said anything and her statement was a bit off, to me at least, so I was like "uh...eh" and didn't say anything as I didn't even really know how to react. She then looked at me with a disapproving frown and said "Oh, you don't speak English do you."

Have you ever experienced such a high level of racism that you can't even comprehend it? I was so amazed that she said this. My eyes widened and I stuttered, "I, I, what? I speak English....." I was at a total loss of words because I could not believe what had just happened. My friends were like "dude I woulda slapped that bitch" after I told them. My white friends were like "that's fucked up" too.

I am certainly not here to degrade white people, if anyone has assumed of me of that is mistaken. I am here to share what I know and my feelings on subjects and issues and I am sorry if they anger some of you. But at the end of the day I am going to be who I am. I am trying to bring some diversity to this board, because my experiences definitely do not match up with many of yours and vice versa. But isn't that a good thing?

---

TheMercenary Monday Aug 6 12:04 PM





Dude, don't you see it? You have fallen for the concept hook, line, and sinker. Take the issue, "racism", redefine it, not my problem.

---

Happy Monkey Monday Aug 6 12:20 PM

---

Flint Monday Aug 6 12:22 PM

Oh, God. Not the "whether holdiays are made up or not" fiasco. Again.

---

DanaC Monday Aug 6 01:24 PM

Fresh. I agree with some of what you are saying. Being white in the West is a distinct advantage most of the time. But...that doesn't mean that all white people are advantaged by being white.

To suggest that racism is alive and well in America is not exactly unorthodox. Nor, is it unorthodox to suggest that a person is more, or less likely to experience the world in a particular way depending on their ethnic origin and skin colour.

But...and this is where my understanding of the world veers sharply from yours. Being white, is not in and of itself a protection from bigotry, disadvantage, poverty, exploitation or abuse. The world is not that simple. To suggest that a white skin means you have no understanding of what it is to be subject to those things is, if you'll forgive me, a little naive. To suggest that nobody with white skin knows what it is like to be subject to insulting and degrading stereotypes, is likewise naive.

The points you raise about the hidden, unthought of advantages that being white in America brings are interesting and valid. But the world is more complicated than white -v- ethnic minority.

---

barefoot serpent Monday Aug 6 01:51 PM

I've got 5 bucks sez that the Worlds Tallest Man comes down to the river and uses his body as a bridge for the dog to cross over to the island.

---

Silazius Monday Aug 6 02:08 PM

The doggie is Chinese, but also part white (and light brown).

---

Flint Monday Aug 6 04:43 PM

you see what you want to see



You constantly assume racism to be the motivating factor in your encounters with white people. Therefore you are classifying them by race, and assigning qualities to them based on race. That's racism!

---

freshnesschronic Monday Aug 6 05:11 PM

Flint you are the master of rationalization. If you honestly don't feel like she was acting racist then you have are trying everything you can to discredit me or you are the epitome of ignorance.

---

TheMercenary Monday Aug 6 05:36 PM

---

StereoMike Monday Aug 6 06:48 PM

This "white people have privileges" issue leads to nothing.
If a guy in Tibet would never know of internet and western culture he would never think he has less privileges.
Missionaries carried christendom into the jungle (they might even have thought it would help). Think about it and ask yourself if it makes sense to normalize all cultural values and traditions to bring all to a "white" niveau.
Sure there's apartheid and racism on a grand scale on this planet. But I think the privileges you have should be seen in cultural context.
In some parts of the world you're king of your village with two cows. Here you need a Villa and several German cars.

regarding the initial topic: I really don't get your point: people in china do eat dogs.
Yes I say this in general, I could also say : People in America do drive cars. Despite the fact that kids, most elderly and some other guys don't drive cars.
But I can also say Italians don't eat dogs. There _are_ cultural differences. And some of them are funny. For me and for you. If you're a native chinese, then all this touching, hugging and hand shaking of those long nosed western people is strange to you.

As a kid I learned the importance of being able to laugh about oneself.
Life's much easier with this ability, Freshnesschronic.

mike

---

TheMercenary Monday Aug 6 06:52 PM

Back to the dog. I think we need to get her one of these:


---

freshnesschronic Monday Aug 6 07:29 PM

Thanks, DanaC for not completely trying to dishevel me.
I hope you've gotten something out of the article I posted and the story I posted, even if you don't agree completely or understand completely, respecting where I come from with my ideas is the most important thing to me.

---

xoxoxoBruce Monday Aug 6 07:56 PM

Understand completely? How condescending.
Look, we all know most everyone has prejudices, but when you play the racism card you are making a mass accusation. You'll get your ass handed to you for that.

No tolerance for people that practice racism or people that cry racism.

---

freshnesschronic Monday Aug 6 08:00 PM

Completely understand my experiences and my world view, that's all. That's why I said



---

xoxoxoBruce Monday Aug 6 08:28 PM

The question is, do you understand your experiences? An old lady speaks to you and you just stare at her. When she makes the assumtion you can't understand her because you didn't respond, you claim racism. Hmmm.

I remember MLK, I've seen MLK... freshnesschronic, you're no MLK.

---

freshnesschronic Monday Aug 6 08:31 PM

And you understand my experiences better than me? I'm disgusted how much people want to disprove anything I say and will rationalize anything that can be used against me. To think her assumption of me not being able to speak English isn't racist is just absurd. I live in America. Why shouldn't she think I speak English? Because I look different from her, a white person? Therefore I don't speak English, that's her assumption right? That assumption isn't racist? Why else would she think I don't speak English, I'm not wearing a t-shirt that says "I don't speak English." The official language of the United States is English, for her to assume I cannot understand because I hesitated in a response is ridiculous. In the last week I have experienced two more encounters of racism. I was profiled in the airport in Tri Cities, TN and was patted down and the whole sha bang a bang. Why? You take a guess. Today me and my friends were playing basketball at the local college. We were all minorities. Some old white guy in a golf cart approaches us and tells us the gym is closed. Yet there was a white guy on the other side of the court shooting by himself. We say "what about him?" The old guy says "he's with me." They never look at each other, I assumed they didn't even know each other. "He's with me?" Sounds a little shady, but with everyone here I bet all these situations of racism can be rationalized right? Jesus why can't anyone see things for what they really are instead of trying skirt the real issue.

Who said I was comparable to MLK, not I! You said you don't tolerate people who cry racism. MLK qualifies as one of those people. Didn't he cry racism? Bah, I have to go to work.

---

xoxoxoBruce Monday Aug 6 08:43 PM

And it never occurred to you she thought you couldn't speak English because you didn't answer her, just stood there staring at her? There is a fuck of a lot of people in this country that don't speak English, you know.

MLK didn't cry racism, Al Sharpton and Jesse Jackson cry racism.

---

Clodfobble Monday Aug 6 10:48 PMbaby got patted down, no kidding. Hell, I've been taken into a separate room and had my luggage opened and gone through piece by piece. Oh my God those guys were so totally racist!!

---

rkzenrage Monday Aug 6 11:08 PM

White privilege, what a joke. I did not get a scholarship I was the most qualified for at Yale (yeah, someone there told me, she was pissed about it), wanna' know why, because I was white.
You might want to check out the percentages of Asians in Ivy League colleges before shooting your pie hole off about "White Privilege".
You also might want to check out the average Asian's yearly income, then yak some.
In fact, look at ANY of the numbers then open your mouth... but, then you might not.
I also had to wait for two people to get a promotion before me that were less educated, had less experience and were less qualified for the position and my boss told me that it was because of their race/sex.
Guess what, people did not respect them and it harms their race... they walked past their office to my cube to get things done right, a shining example of "White Privilege" that... they get the salary and management makes me do the work, Yay whitey!
Asians eat dogs, the French and some Germans eat horses... so what?
It is not prejudice, fact...sure not all but those are the one's who do it.
Not a race issue, it is a cultural issue.
I have no issue with it, if I went to a restaurant an someone told me the dog was the best thing on the menu I would eat it.
It is true, there IS NO difference between a dog and a pig or cow, both make good pets and are both, probably, equally delicious.
People gotta' separate their emotions from their intellect, that includes you and this fucked-up imaginary race thing you have going on.
BTW, Asians, as a minority deserve everything they get, culturally on-average, education is very important and they make sacrifices that most families could not IMAGINE in their wildest dreams to get their kids ahead and the kids do the same to deserve it... that is not racism... it is a cultural norm.

---

freshnesschronic Tuesday Aug 7 01:24 AM

Valid points rk. You weren't persuaded by the article. So be it. It's all good. I still respect you very much. This thread is getting tiresome like Shawnee said, time to kill it.

---

rkzenrage Tuesday Aug 7 01:56 AM

No, I was not... the article and website were jokes.

---

freshnesschronic Tuesday Aug 7 02:08 AM

Again, sorry.

---

rkzenrage Tuesday Aug 7 02:10 AM

Why, you didn't write them?
What is going on here man?
You are acting weird.

---

freshnesschronic Tuesday Aug 7 02:13 AM

Are you kidding me? I couldn't write something like that. Here's the link.
http://lilt.ilstu.edu/gmklass/foi/re..._privilege.htm
What do you mean what is going on? I was just saying sorry the article did nothing for you, it's all good though no biggie. I'm not ramming it down your throat telling you it's doctrine, just some other point of view that I feel is a valid perspective. If you don't then that's your call.
Hey here's another book from my anthro class, this whole time I couldn't remember the phrase "white public space" but I finally did and here's the book. http://www.anthrosource.net/doi/abs/...1998.100.3.680

---

Aliantha Tuesday Aug 7 02:43 AM

I think it's weird that someone goes and takes close up pics of the bitch and her pups but doesn't bother taking the whole lot of them off the little 'island' they're on.

It's just odd.

---

rkzenrage Tuesday Aug 7 02:58 AM

"Odd"... is that your word for BS? Cause' it is for mine in this case.

---

rkzenrage Tuesday Aug 7 03:04 AM
I just don't think you see my point.
I don't believe in fair. Just ain't gonna' happen. In fact trying to do something about it has made life unfair for those like me.
I did not use Asians by mistake.
They have prejudice, lots of it, more than most because most don't see them as a threat in fact.
But, on average, a HUGE average do FAR better in school, in business and in LIFE in the US than EVERYONE else. Whites included, because they don't bitch about fair... they just do something about it. They suck-it-up and get-it-on... and they deserve being 50+% of Harvard's graduating class last year.
Fair is a pipe-dream, a fairy-tale, it is feel-good politics and always a waste of time and money.
Equal in the eyes of the law is right, then let the people who want it the most rise to the top.
That is all you can do.

---

Grismar Tuesday Aug 7 04:11 AM



And in line with what would be expected of a sock puppet, I'll go on record telling you I'm no such thing. I'll be here, lurking in the shadows, since any attempt to match your #'s of posts are futile...

Greetings,
Grismar.

---

SPUCK Tuesday Aug 7 06:59 AM

---

DucksNuts Tuesday Aug 7 07:11 AM

---

Aliantha Tuesday Aug 7 07:12 AM

rkz...yeah, bs is probably pretty close to equivalent to odd in this case.

---

Aliantha Tuesday Aug 7 07:13 AM

I see you're fluffing the newbies again ducksy.

---

DucksNuts Tuesday Aug 7 07:24 AM

Fluffer pay is quite good considering you are always the bridesmaid......

---

Aliantha Tuesday Aug 7 07:29 AM

Well, I don't know what they get paid, but I imagine the lure of one day making it onto the set is quite tempting.

---

DanaC Tuesday Aug 7 08:43 AM

I actually disagree with the idea that the person taking the picture should have got the dogs away to somewhere else. Unusual for me, because I am a major dog person as most of you know.

Thing is, that dog is obviously feral. It is coping quite happily with its situation, despite how exhausting it must be. That dog is doing her job as a mum and taking care of her pups and seems to me to be coping admirably. The pups are only helpless for a relatively short time, a few months max. I'd say leave them to it.

---

Shawnee123 Tuesday Aug 7 08:58 AM

---

Clodfobble Tuesday Aug 7 01:04 PM

---

xoxoxoBruce Tuesday Aug 7 05:09 PM
Welcome and stick around, you might get addicted to this place.

---

Aliantha Wednesday Aug 8 05:17 AM

Who says they're feral? If they are, they probably should be shot not turned into a sideshow.

---

DanaC Wednesday Aug 8 06:17 AM

Why shot? They're just goin on bein wild. Not doin anybody any harm.

---

Aliantha Wednesday Aug 8 07:52 AM

Who knows? Maybe they're rabid? They could have all sorts of disease, and also, if they're wild and they're living in areas where small children play, who's to say they wont catch one for food one day? ( I mean the dogs catch the child of course )

Feril animals in general are a problem one way or another. Ask anyone who lives on the land.

---

Undertoad Wednesday Aug 8 08:17 AM

A dingo doesn't eat your baby in China!

---

xoxoxoBruce Wednesday Aug 8 08:36 AM

Feral does not mean dangerous. Just because they have thrown off the yoke of oppression, by the opposable thumb can openers, doesn't mean they should be assassinated.

---

freshnesschronic Wednesday Aug 8 08:41 AM

I thought feral meant wild, not freed by humans.

---

xoxoxoBruce Wednesday Aug 8 08:46 AM

Usually it's used to describe critters, or their descendants, that were formerly tame and have reverted to the wild. Lions, tigers, etc, are not feral.

---

DanaC Wednesday Aug 8 09:02 AM

We have feral cats in the valley. They're not really a problem.

---

freshnesschronic Wednesday Aug 8 09:08 AM

You learn something everyday.

---

xoxoxoBruce Wednesday Aug 8 04:11 PM

---

DanaC Wednesday Aug 8 05:33 PM

*shrugs* the neighbourhood Toms go hunting in the valley and the woods. Nature red in tooth and claw.

---

DucksNuts Wednesday Aug 8 09:57 PM

Are you serious Dana? you dont see ferel cats as a problem?

They are a HUGE problem here, they have wiped out (or near) many of our little marsupials and the native birds take a real hiding.

Lots of cats are kept in doors at night and plenty of houses now have cat runs, so the cats are never unleashed on the wildlife.

---

rkzenrage Wednesday Aug 8 10:05 PM

Feral cats are a HUGE problem.
We used to have robins, no more, because of feral cats and people who lets their cats out, which are feral cats.
On the ranch we shot them.

---

Clodfobble Wednesday Aug 8 11:58 PM

---

DucksNuts Thursday Aug 9 12:32 AM

Nah, not much is a threat to the Roo and Wombat (except a threat of the 2 legged and 4 wheeled type).

Actually, not too many of our marsupials are threatened to extinction by our native predators....its been the introduced species that have caused most of the danger.

The majority of the restrictions are for disease, we dont have rabies etc....but we have been bitten badly by introduced species. Ones that have been introduced to eradicate other pests (introduced species usually).

---

Clodfobble Thursday Aug 9 01:04 AM

I think. On the other hand, I did get a C in that class. Man, I hated that guy.

---

rkzenrage Thursday Aug 9 01:06 AM

What drives me nuts are the lunatic pussies who freak out and try to stop the killing of feral species.
Makes no sense, just wipe them out... what is the issue?
We have that problem here with pigs, cats, those fucking ducks... don't want them dead, bring them into your home.

---

DanaC Thursday Aug 9 03:42 AM

Look. Feral critters may be a problem for you. But they don't cause that much hassle here in the valley. Maybe there just aren't that many of them. More of a problem are the poachers who keep shooting the deer.

---

Aliantha Thursday Aug 9 04:55 AM

Well, although I hate to admit it here, I've shot all sorts of feral animals. Cats, dogs, rabbits and foxes pretty much. I've clubbed cane toads to death by the hundred.

Ferral animals upset the balance of the natural ecosystem and should be erradicated where ever possible in my opinion.

besides, rabbits taste good cooked on a spit over a campfire.

---

DanaC Thursday Aug 9 05:03 AM

---

Aliantha Thursday Aug 9 05:35 AM

Yes but rabbit isn't feral in your part of the world.



They actually don't fit the traditional mold of feral though. More like nuisance introduced species. Bloody dopey pommies importing rabbits and foxes just so they could go and do their bloody elitist sports.

---

DanaC Thursday Aug 9 06:30 AM

---

Aliantha Thursday Aug 9 08:02 AM

ok, so they sometimes go feral?

---

DanaC Thursday Aug 9 08:46 AM

Well....I think generally when a house rabbit goes missing it ends up either getting recaught, or killed by a fox, long before it acquires the status of feral:P There mayhave been an odd one though.

---

xoxoxoBruce Thursday Aug 9 07:19 PM

---

TheMercenary Friday Aug 10 02:22 AM

Somebody start me a fire and get me a stick... diner is around the corner.

---

spudcon Friday Apr 4 09:37 PM

xoxoxoBruce wrote;
What about breaking the cycle of violence?
Bruce, you cracked me up again. Thank you.

---
Your reply here?

The Cellar Image of the Day is just a section of a larger web community: a bunch of interesting folks talking about everything. Add your two cents to IotD by joining the Cellar.