Undertoad Wednesday Jul 18 08:41 AM

July 18, 2007: Dubai construction floods


DucksNuts was so happy to get a IotD about construction that she immediately comes back with another one!

You remember that Dubai is currently the construction capital of the world; it's been the feature of several IotDs including the indoor skiing area, the tallest hotel in the world, etc.

This tower being built in Dubai's Marina was supposed to look like this: 80 stories high, with a 90 degree twist. It would sit right on the edge of the Arabian sea. A website was developed for it and construction began. They dug the area for the foundation and built a wall to keep the sea out.

And then one day the workers heard a loud crack and felt movement.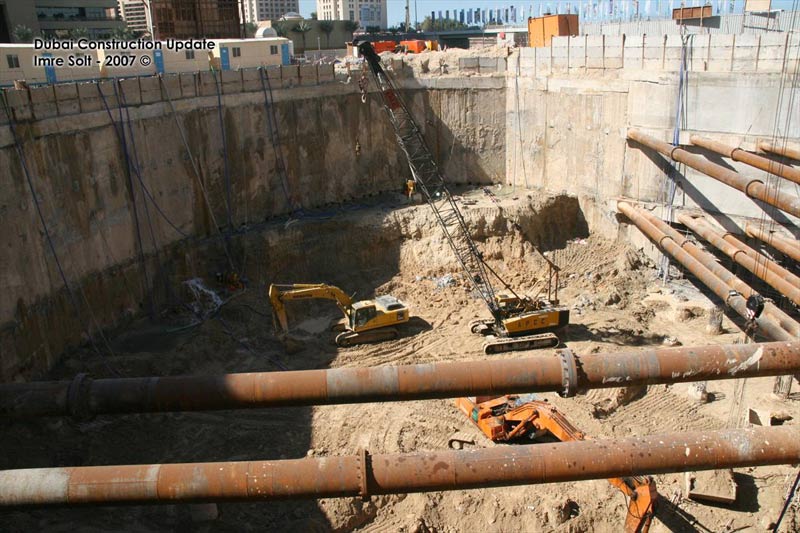 And saw sand coming in, and then water.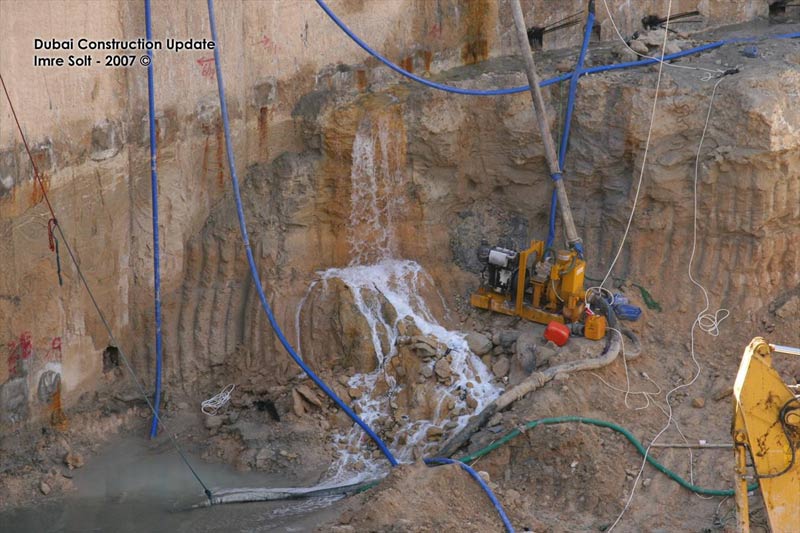 The workers were told to evacuate immediately. And it was a good thing they did, because two minutes later, the entire retaining wall then collapsed.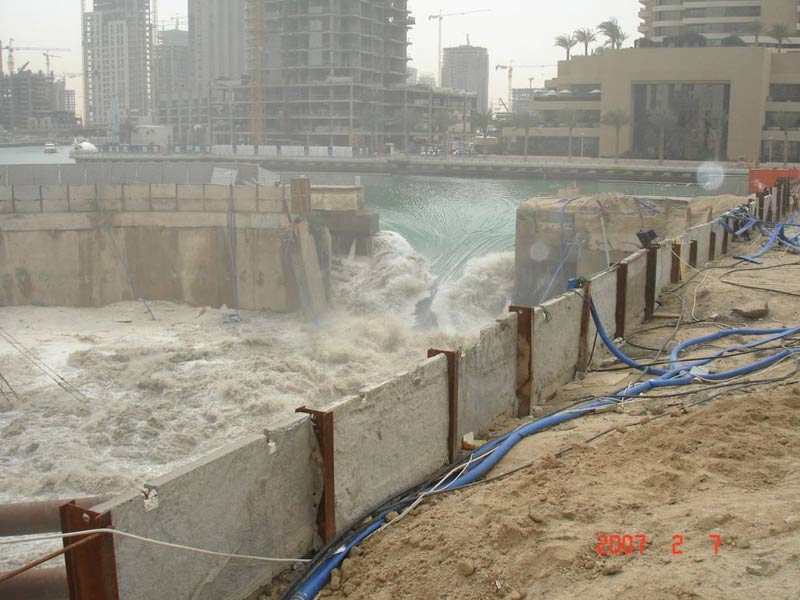 And in four minutes, the entire dig was completely flooded.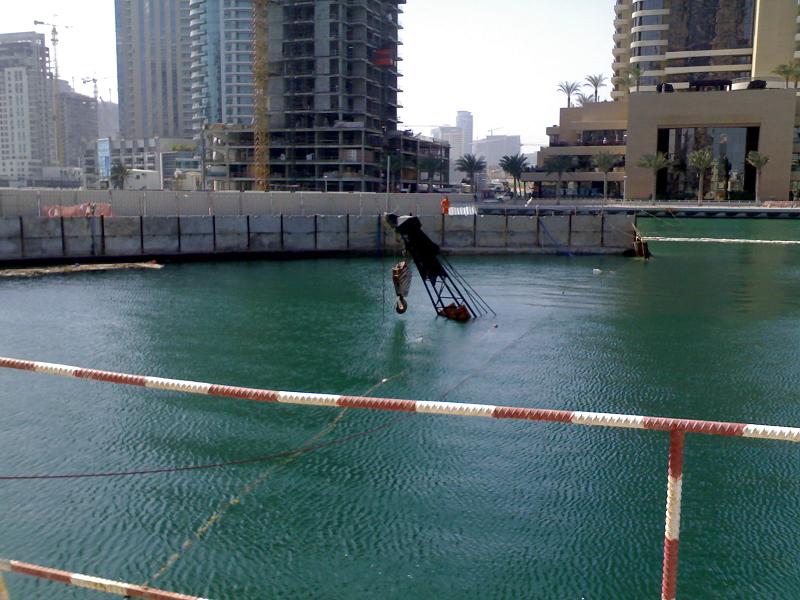 Looks peaceful now.

They are going ahead with the project, but it will be delayed a year.

---

glatt Wednesday Jul 18 08:57 AM

Wow. Dubai doesn't have OSHA does it?



This is an amazing set of pictures. It's good somebody had a camera handy.

Why does this always happen in Dubai? I'm sure the picture below is somewhere else in the Cellar, but I couldn't find it, so I attached it. Here's a Dubai dry dock flooding because of a gate failure.

---

Uisge Beatha Wednesday Jul 18 09:07 AM

Apparently in Dubai they do buy real estate and they do buy construction equipment, but they do not buy the services of good geologists and engineers.

---

Shawnee123 Wednesday Jul 18 09:17 AM

Just wow!

---

Flint Wednesday Jul 18 09:34 AM

It's because of the outrageous ambition of their projects. Aren't these the people who are also building an island, the entire foundation of which is behind retaining walls designed to hold the (completely surrounding) ocean out? Apparently, they really like to challenge nature.

---

gmr2048 Wednesday Jul 18 11:33 AM

Islands. Plural.



http://guide.theemiratesnetwork.com/...ld_islands.php

---

Snapple Wednesday Jul 18 11:48 AM

I don't know about the rest of you - but I just wouldn't feel safe living or working or whatever in that building should it ever get finished. The 90 degree twist is suspicious enough, nevermind its proximity to the ocean and now tainted history.

No.

Thanks.

---

jinx Wednesday Jul 18 12:07 PMYup


---

Uisge Beatha Wednesday Jul 18 12:21 PM

Yeah, the folks in Dubai really know about stupid shit to do with money.

---

BigV Wednesday Jul 18 12:56 PMcofferdam?

---

Spexxvet Wednesday Jul 18 01:05 PM

Now they have a really nice ground-floor, salt-water pool!

---

Piccolo Padawan Wednesday Jul 18 03:44 PM
I concur.

What an epic idea, though.

---

Flint Wednesday Jul 18 03:45 PM

---

freshnesschronic Wednesday Jul 18 05:45 PM

FOUR MINUTES???????????????????????????????????????????????

---

xoxoxoBruce Wednesday Jul 18 06:18 PM

---

DucksNuts Wednesday Jul 18 06:55 PM

You all know my dirty little secret now

---

monster Wednesday Jul 18 07:14 PM

---

DucksNuts Wednesday Jul 18 07:19 PM

You know me too well Monster

---

Weird Harold Wednesday Jul 18 08:33 PM

http://www.chicagoarchitecture.info/...ilding/357.php

---

xoxoxoBruce Wednesday Jul 18 09:38 PM

---

DucksNuts Wednesday Jul 18 09:40 PM

Be nice Bruce, or I will cross you off my to-do list when I visit!

---

Cloud Wednesday Jul 18 09:51 PM

looks like a beeswax candle

---

Piccolo Padawan Wednesday Jul 18 10:01 PM

Holy MacGyver, That's redunkulous.

It reminds me of those nifty Crayola crayons that are are twistable.

---

Medic63 Thursday Jul 19 03:24 AM
You're going to do Bruce?

Is that a good thing or a bad thing, Bruce?

---

xoxoxoBruce Thursday Jul 19 04:53 AM

It would probably be fatal for me. Either my heart or ego would explode.

---

Gravdigr Thursday Jul 19 05:43 AM

The water is a really pretty green though...

---

odie number seven Thursday Jul 19 11:10 AM

There are a lot more pictures of this here:

http://dubaionline.mconet.biz/index....x1=1&x2=1&x3=1

---

theotherguy Thursday Jul 19 12:39 PM

---

Coign Thursday Jul 19 02:28 PM

I don't know if you had already done this as an image of the day but Dubai is well known for there "spending of the cash" weirdness. I work at a software development company for ski resorts and we had put a bid in for selling ticket software to this one so I know it is real.

A ski resort in the middle of the desert.

http://www.skidubai.com/aig/g_skidub...?categoryid=47

---

Undertoad Thursday Jul 19 05:52 PM

That was in fact an image of the day.

---

HungLikeJesus Thursday Jul 19 06:04 PM

---

piercehawkeye45 Thursday Jul 19 07:30 PM


---

SPUCK Friday Jul 20 07:20 AM

I luv it!!! THAT is what they should build there instead of the POS they're gonna build.

---

Weird Harold Saturday Jul 21 08:58 PM

The more i thought about it the more I thought it looked like an Easy Out. insted of a drill bit. To use an easy out, drill a hole into the bolt you broke off, and you screw the easy out counteclockwise into the hole, eventually, hopefully the bolt starts comming out. I googled Easy Out, and found this bizzare page on Ebay that wouldn't load for me.

http://cgi.ebay.com/NEW-EASY-OUT-BES...QQcmdZViewItem

---

Flint Saturday Jul 21 11:43 PM

"NEW~EASY-OUT~BEST REBORN EYE REMOVAL TOOL & LASH STYLUS" okaaay

---

xoxoxoBruce Sunday Jul 22 01:22 PM

Not that kind of easy out... this kind of easy out.

---

Nivek Sunday Jul 22 01:45 PM

And building all this stuff on land would save how much money and make things how much easier?

---

xoxoxoBruce Sunday Jul 22 03:02 PM

This project is on land but digging at hole, especially on waterfront property, they have to keep the water table from flooding the hole while they build the base. It happens far from the waterfront, on occasion, also.
In this case, they should have hired a Dutch builder

When you have desert and water, waterfront becomes more desirable and infinitely more valuable.

---

Scriveyn Monday Jul 23 05:06 AM

---

Weird Harold Monday Jul 23 06:38 AM

Thanks for the picture of the easy outs I was talking about. Curiosity got the best of me, and I had to Google eye removal tools. Here's a link of another Ebay page. It shows the tool in action.

http://cgi.ebay.com/NEW-EASY-OUT-BES...QQcmdZViewItem

---

ogwen69 Monday Jul 23 09:24 AM

I wouldn't worry about the 90 degreeness of it all

It works in Malmo, Sweden at the Turning Torso...


---

xoxoxoBruce Monday Jul 23 06:54 PM

---

TheMercenary Monday Jul 23 07:00 PM

---
Your reply here?

The Cellar Image of the Day is just a section of a larger web community: a bunch of interesting folks talking about everything. Add your two cents to IotD by joining the Cellar.