Undertoad Tuesday Jul 10 12:57 PM

July 10, 2007: Sneaking fox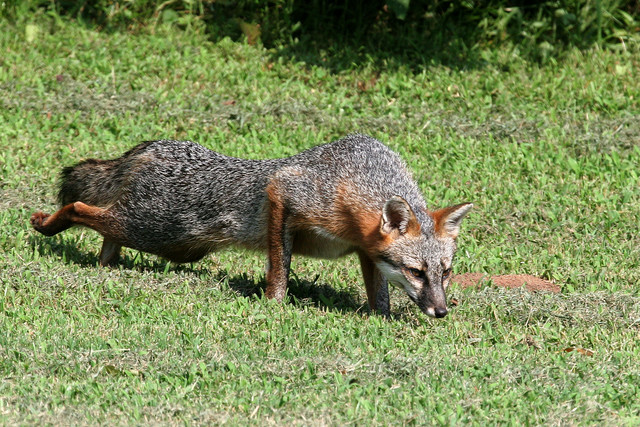 "From Wunderground, a grey fox sneaking up on squirrels in the bird feeder," says xoB.

What. A. Beaut. And how amazing to see this beast's hinders practically operating separately from its forward half. I've seen many household cats working on outdoor prey, and it's fascinating; they prepare all their energy for the pounce, and at the last minute their pupils open wide... it's practically frightening. And I've seen household dogs getting angry, but it's nothing at all like this. Wild.

---

Shawnee123 Tuesday Jul 10 01:26 PM

That's a beautiful creature.

---

Spexxvet Tuesday Jul 10 02:56 PM

He looks sly and clever at the same time.

---

Shawnee123 Tuesday Jul 10 03:13 PM

He's quick, he's brown, and he's about to jump over the lazy dog.

---

DanaC Tuesday Jul 10 03:43 PM

@Shawnee lol.

I love foxes. I remember when I was little I read an Enid Blyton book in which one of the characters adopts a fox cub. I always, always wanted a fox for a pet after reading that :P

---

odie number seven Tuesday Jul 10 03:46 PM

He is beautiful! He'd go great with my brown shoes.

JUST KIDDING!

---

xoxoxoBruce Tuesday Jul 10 03:52 PM

Tasty, too.

---

jester Tuesday Jul 10 04:38 PM

you'd eat fox?

or is this a double meaning?

---

spudcon Tuesday Jul 10 05:06 PM

I remember something about a guy wearing a fox hat...

---

Shawnee123 Tuesday Jul 10 05:07 PM

Foxy Brown, baby!

---

xoxoxoBruce Tuesday Jul 10 05:55 PM
I prefer red to grey, but at my age, you take what you can get.

---

Nikolai Tuesday Jul 10 08:01 PM

THat fox isnt sneaking its doing bloody yoga come on look at that typical "wind in the Trees" position

---

DanaC Tuesday Jul 10 08:08 PM

lol

---

bluecuracao Tuesday Jul 10 08:12 PM

Is that the pose that follows downward-facing fox?

---

Nikolai Tuesday Jul 10 08:13 PM

What he really doing is limbering up before he goes hunting, so he can, instead of killing his prey amaze them with his flexibilty until they a lulled into a state of fox hypnosis, thus he can catch his prey without all the running involved

---

Gravdigr Wednesday Jul 11 03:48 AM

I wonder where ol' Brer Bear & Brer Rabbit are? "Oh, whatever you do, pleeeeeeease don't throw me in dat briar patch!"

---

Coign Wednesday Jul 11 12:57 PM

I do not think he is sneaking so much as he has been runn over by a couple of cars.

Speaking of which, my parents had a gray fox and cubs living in their culvert next to their house. Gray foxes are also the only dog known to climb trees as a natural behavior.

---

xoxoxoBruce Wednesday Jul 11 04:15 PM

They behave more like cats than dogs. Maybe they're ghey dogs.

---

Shawnee123 Wednesday Jul 11 04:30 PM

Sneaking Fox, Hidden Dragon

---

DanaC Wednesday Jul 11 06:19 PM

lol Shawnee

---

Spexxvet Wednesday Jul 11 06:28 PM

---
Your reply here?

The Cellar Image of the Day is just a section of a larger web community: a bunch of interesting folks talking about everything. Add your two cents to IotD by joining the Cellar.