Undertoad Saturday Jul 7 02:48 PM

July 7, 2007: Rain forest to charcoal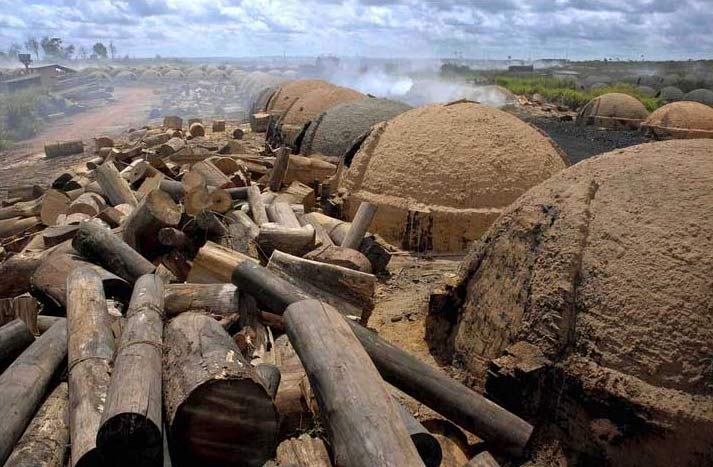 xoB finds this wire service image of what the caption says is virgin Amazon rain forest logs, and the mud hut ovens they'll be put into to create charcoal. Charcoal!

It's all in Brazil, and it turns out this is one of the biggest consumptions of the rain forest there.

---

xoxoxoBruce Saturday Jul 7 03:47 PM

Turning those logs into charcoal is like turning cows into McBurgers... quick and easy for the consumer, but so much wasted along the way.

---

skysidhe Saturday Jul 7 03:50 PM

when you think you've seen it all....

---

deadbeater Saturday Jul 7 06:03 PM

At least the logs don't become single toothpicks like an old Disney cartoon...but it's still a waste.

---

Sheldonrs Saturday Jul 7 08:14 PM

I remember when I was a kid that the Amazon loses 1 football sized area per day to human destruction.
I don't care if global warming stories are true or not. If you KNOW something is bad for the planet, DON'T DO IT!

---

busterb Saturday Jul 7 08:54 PM

I'm wondering if this is waste, by-products?? Of the real rape.

---

xoxoxoBruce Saturday Jul 7 10:58 PM

From the Washington Post.



---

Elspode Sunday Jul 8 06:25 AM

Next time you pick up that bag of Kingsford, make sure you thank the gods for it.

---

TheMercenary Sunday Jul 8 10:40 AM

---

xoxoxoBruce Sunday Jul 8 10:43 AM

Much of the charcoal is used to carbonize iron ore to create pig iron, both in Brazil and elsewhere. Another big market is lump charcoal in Europe.
Another bone of contention, is that much of the rain forest clearing is done by slave labor.

---

richlevy Sunday Jul 8 11:28 AM

Maybe it's the recent Live Earth coverage, but the rain forest site (http://www.therainforestsite.com/) would not load for me this morning. I had the same problem with the hunger site (http://www.thehungersite.com/). I wonder if it's because of all the attention the environment and the problems it is causing with famine are getting in the news.

The breast cancer, child health, animal rescue, and literacy sites loaded ok. Of course, these are the lesser known sites and may never have been as popular.

I've put all of the click-a-day-for charity sites in one bookmark group in Firefox. Every day when I use my home computer it only usually takes 10 seconds to open all in tabs and click on and donate a few square feet of rain forest, part of a bowl of animal food, etc. The donation is paid for by the sponsors. All I invest is 10 seconds of my time assuming I'm on the computer anyway.

If the hunger and rain forest sites are down because of volume, that's both a good and bad thing.

P.S. The hunger site finally came back. The rain forest site is still unavailable.

---

TheMercenary Sunday Jul 8 02:43 PM

---

richlevy Sunday Jul 8 04:08 PM

OK, maybe I do have a hard time picturing you with the 'free peace dove pin'.

---

xoxoxoBruce Sunday Jul 8 04:35 PM

---

TheMercenary Sunday Jul 8 04:55 PM

---

TheMercenary Sunday Jul 8 04:56 PM

Believe it when I see 338,306 square feet of newly replanted rainforest land.

---

richlevy Sunday Jul 8 05:01 PM

Not bad, but still a long way to go.

---

richlevy Sunday Jul 8 05:05 PM

---

TheMercenary Sunday Jul 8 05:31 PM

---

piercehawkeye45 Sunday Jul 8 10:32 PM

I have a slight ethical paradox with the hunger site.

If we don't feed the people today they will starve.

If we feed the people today and they continue to grow at the rate they have, more mouths will have to be fed. That means people are going to starve inevitably in the future unless we give more food, but then the cycle may continue.

We don't want them to starve today but if we feed them today, the next generation will have more people and then the people of the next generation will starve.

Besides industrialization (microfinancing), this paradox is really annoying ethically.

---

xoxoxoBruce Sunday Jul 8 10:43 PM

Maybe not. Typically the resources of the rain forest are tied up in the plants with little in the soil. After logging and burning the slash, the soil will only be productive for one or two seasons. Without chemical fertilizers, most of the farmers move on to new spots, following and often helping, the loggers.
I would expect this land would be available for replanting, cheap.

---

SPUCK Monday Jul 9 04:56 AM

Boy that charcoal making is realllly bad. Besides denuding the forest those ovens pump out boo koo Carbon Monoxide and Carbon Dioxide. It's like a monstrous 1-2 punch.

We need to nuke those!!

---

Griff Monday Jul 9 07:19 AM

Good points Bruce. It is amazing how little carbon in in the soil there vs temperate climate areas. I don't know how good Brazil is going to be on property rights for absentee landowners, that would seem to be an important thing to work on.

---

xoxoxoBruce Monday Jul 9 12:26 PM

---

Coign Monday Jul 9 12:30 PM

---

CharlieG Monday Jul 9 12:52 PM

True "lump" charcoal burns a LOT (and I mean a LOT) hotter, with much less ash (no clay)

As for "waste" vs burning wood - not all that much. Almost all of the energy is in the carbon, which is retained in the charcoal. You drive of the volates (water, oils etc) and then it's quenched - what's left burns a LOT hotter. It's done for the same reason that steel mills take coal, and turn it into coke. BTW you "village blacksmith" who burned coal - he would put the coal in on one side of the forge, and banked the fire in such a way that it would turn to coke. He did his actual forging in the coke, and would keep adding coal at one side , constantly making coke

---

chrisinhouston Monday Jul 9 12:59 PM

---

Tomtheman5 Monday Jul 9 01:13 PM




Seriously though, Wikipedia says that it's more than that - they give estimates of up to 120,000 km a year... That's more than 125 square miles a day. So sad that reforestation costs so much...

---

xoxoxoBruce Monday Jul 9 04:03 PM
I wonder if they just planted a few common types of trees, using the same methods the lumber companies do here, if the diversity would return in time? By making a home for the critters and birds that spread seeds, it might. Of course, as I mentioned before, the soil is so poor it would take some time.

---

Griff Tuesday Jul 10 08:09 AMbetting you can.

Environmental investment funds such as Quadris invest in projects to regenerate forests that have been destroyed by logging or farming in the developing world. Smaller companies such as Bournemouth-based group Oxigen Investments are taking advantage of the demand for sustainable investment opportunities. It uses investors' money to create hardwood plantations in Costa Rica - when the wood is harvested, it reduces pressure on natural rainforests and protects thousands of acres more of previously threatened rainforest. Meanwhile, the scarcity of certified sources of hardwood drives the price up, increasing the benefit to investors.

---

Nikolai Tuesday Jul 10 08:28 PM

Kinda be funny if every time the cut down a football filed sized area of rainforest, that they turned it into a footbal field, sure it will keep people happy, gives something for that natives to do after there homes have been torn down by loggers, watch it US Brazil are going to have a kick ass footbal team in a few years

---

rkzenrage Thursday Jul 12 08:52 PM

I purchase gifts from The Hunger Site all the time. I am wearing a Literacy Site bracelet right now.

---

BigV Friday Jul 13 11:47 AMa modest proposal which will perhaps set your mind at ease. Read it; I'm sure you'll admire the self contained efficiency and elegant of this can't lose plan. Go on. You'll feel better, I'm sure.

---

rkzenrage Saturday Jul 14 01:16 AM

Charity see the need not the cause.
German Proverb

BTW, I shop there mainly because they have nice stuff at a fair price... that it does good for many is a GREAT bonus!
Please check it out, just in case.

---
Your reply here?

The Cellar Image of the Day is just a section of a larger web community: a bunch of interesting folks talking about everything. Add your two cents to IotD by joining the Cellar.