Undertoad Friday Jul 6 08:33 AM

July 6, 2007: Benign bears befriend bruin benefactor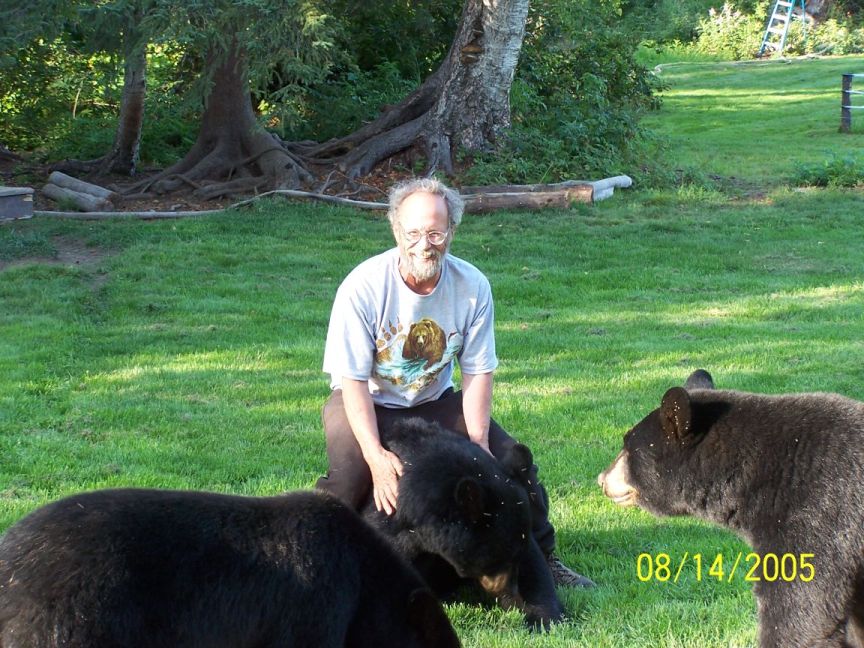 Meet Alaskan Charlie Vandergaw. He's a friend to the bears, nursing them back to health when they're injured, feeding them, now even petting and riding them.

According to the Snopes entry found by xoB, the above was all documented by the Anchorage Daily News:


Quote:

What goes on each summer at Vandergaw's remote homestead is so far from the ordinary as to be almost unbelievable. Visitors tell of him petting black and brown bears, playing with grizzly cubs while sows stand by, sitting on bears and teaching them tricks. His own photographs show even more. They capture him easing to within feet of breeding grizzlies and nursing an injured brown bear.

A visiting photographer is amazed to see head-and-shoulder shots of breeding grizzlies taken with a wide-angle lens -- photos that would require the photographer to be within feet, if not inches, of the bears.

There are photos of Vandergaw playing with grizzly cubs while their mother lounges nearby. There are pictures of gangs of bears around his cabin, of individual bears in his cabin, and even close-ups of a grizzly's injured mouth.

It might all seem unbelievable if not for the fact that his photos are confirmed, in effect, by those taken by other photographers and by the black bear wandering around the yard.

Wildlife officials are having none of it; they say he's only a dice roll away from a severe mauling. But according to Snopes, it's worse than that, they say he's a criminal:


Quote:

As of April 2007, Alaska news sources reported that the state attorney general's office was considering bringing criminal and civil actions against Vandergaw for his continuing to violate state law by feeding wild bears.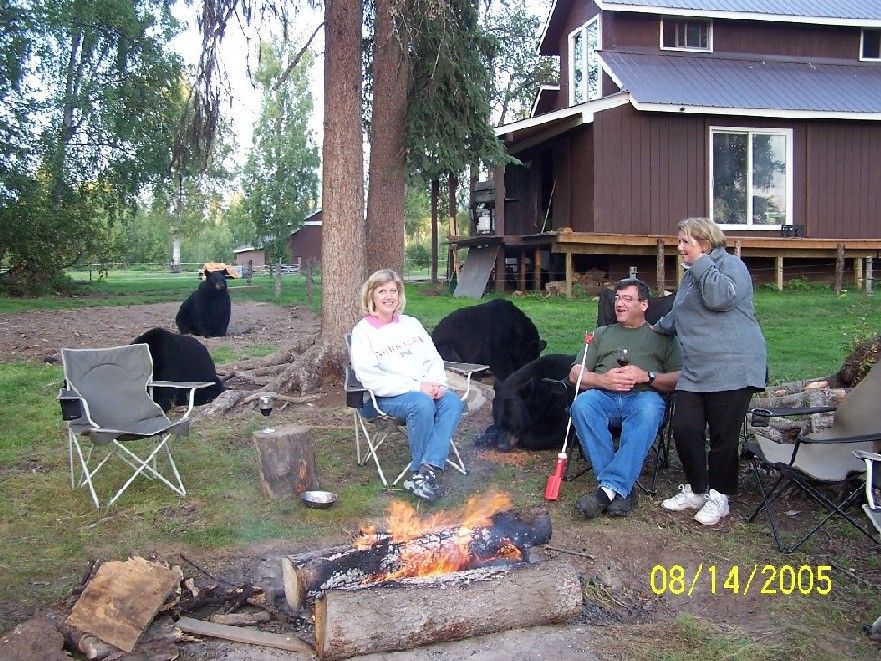 More story and three more pics at the Snopes entry.

---

monster Friday Jul 6 08:50 AM

Awesome Alliteration Announces And Adorns Extra-special End-of-week Image

---

piercehawkeye45 Friday Jul 6 08:55 AM

God, this reminds me of the Grizzly man.

---

odie number seven Friday Jul 6 09:02 AM

The bears probably see the old man as one of their own. Look at him!

---

Kitsune Friday Jul 6 09:14 AM

Timothy Treadwell not impressed.

---

TheMercenary Friday Jul 6 09:14 AM

Playing with fire. No different than owning a Pit Bull. All fun and games till someone gets hurt.

---

Hoof Hearted Friday Jul 6 09:52 AM

Not completely trusting...I noticed the cattle prod prominently on display and near to hand in the last posted photo.

---

Coign Friday Jul 6 11:31 AM

"Hey Boo-boo, did you bring the BBQ sauce and how do you like your human roasted?" -Yogi

---

Clodfobble Friday Jul 6 12:03 PM

Hey, there's no date in the thread title! Totally threw me off.

---

HungLikeJesus Friday Jul 6 12:11 PM

I thought a grizzly is a brown bear.

---

queenb Friday Jul 6 12:22 PM

Just an opinion but....
Cattle prod + thin skinned, placid cow = make a cow run away.
Cattle prod + thick furred, volatile bear = pissed off bear = getting your bloody ass handed back to you.
But I could be wrong.

---

Griff Friday Jul 6 12:32 PM

For some reason I'm reminded of the lioness taking care of the calf.

---

theotherguy Friday Jul 6 01:34 PM

Black bears maybe? They look alot like the ones in east Tennessee.

---

Griff Friday Jul 6 01:59 PM

I think those are blacks. Griz have a pretty distinctive snout. If they had a good side shot you could see the difference in body structure as well.

---

theotherguy Friday Jul 6 03:18 PM

The Snopes entry gives some more detail and does refer to them as black bears. There is also a shot there of him with a brown one which may be a grizzly.

---

TheMercenary Friday Jul 6 04:21 PM

http://www.centerforwildlifeinformat...rizzly_id.html

---

spudcon Saturday Jul 7 12:59 AM

Black bear, brown bear, grizzly, with enough barbque sauce, you can't tell the difference.

---

usarmydoctor Thursday Jul 12 10:50 PM

No Whining

Oh... A cattle prod. I wondered what that thing was. At first I thought it was a device to grasp out of reach objects without having to stand and possibly spill your wine. For example, should the bears rip the legs off the woman to the gentleman's right he could easily retrieve them for the paramedics -- all without standing and possibly spilling his wine. But a cattle prod makes more sense.

---

xoxoxoBruce Thursday Jul 12 11:00 PM

Welcome to the Cellar, usarmydoctor.



You get to see the really bad ones. shiver On behalf of America & England, thank you very much!

---

rkzenrage Friday Jul 13 12:33 AM

A grizzly has a big hump when older, a brown does not. Some say you can tell them from a brown by the face, I can't.
This guy is an asshole.
Sensitizing wild animals to humans is dangerous, to yourself and others.
These bears will now see humans and now think, Human=Food. When they don't get the food and the people run or do ANYTHING but give them what they want, how do you think they are going to react?

---

Griff Friday Jul 13 07:09 AM

---

xoxoxoBruce Wednesday Aug 8 11:16 PM

It seems there is a Bear Buddy in upstate PA, also. Only one bear but this one rides on the back of an ATV and jumps into the car to go to the gas station for M&Ms. No, they don't show Griff's face.

---

Rexmons Wednesday Aug 8 11:44 PM

i think theres certain things in life that if you die doing it, it's kind of one of those thing where people go, "well...". like skydiving for one, and of course this.

---

BrianR Thursday Aug 9 09:42 AM

I had a black bear (fully grown) raid my garbage can in Hazleton in May. My pit bull ran it off faster than I could grab the shotgun. I hear that it is still coming around from my neighbors. Funny thing was, there was no garbage in the can and hadn't been any for months.

Wish I had a pic though. Seeing an 800 lb bear running away from a 40 lb dog was verra interesting.

---

Griff Thursday Aug 9 04:59 PM

Quote:

Originally Posted by

xoxoxoBruce

It seems there is a

Bear Buddy

in upstate PA, also. Only one bear but this one rides on the back of an ATV and jumps into the car to go to the gas station for M&Ms. No, they don't show Griff's face.

I just can't say no when they ask for rides man.

---

xoxoxoBruce Thursday Aug 9 07:10 PM

Just don't hit a bump or you could loose a shoulder... or two

---

morie Friday Aug 10 10:30 PM

seems to me those bears are just fattening up the humans for Thanksgiving dinner. look at how fat that woman is.

---
Your reply here?

The Cellar Image of the Day is just a section of a larger web community: a bunch of interesting folks talking about everything. Add your two cents to IotD by joining the Cellar.