Undertoad Thursday Jul 5 02:28 PM

July 5, 2007: Awesome airborne 747-mounted laser cannon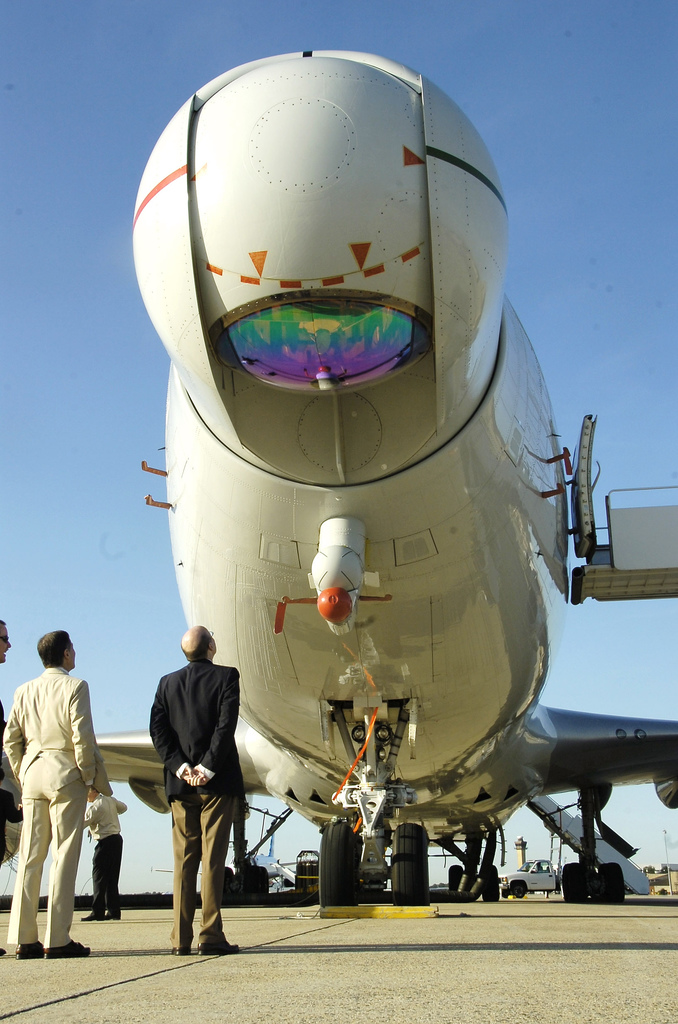 Coign suggests this items from a community news site called Press Esc.

I'd heard of this plane before but had never seen it, at least to my memory...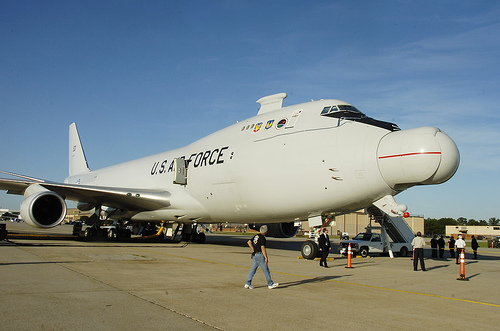 The idea is that the laser on the nose of that 747 identifies and shoots down incoming missiles. Sounds unlikely, but I think it's had more success than the old "Star Wars" SDI. The presence of this beast was loudly pointed out when the North Koreans ran their last missile test; as if to say, go ahead and try it Il, we'll have a test of our own to carry out.

And at the link there is a pic of something it has actually shot down. Just do not look into the laser with your exposed eyeball, or you'll find your entire head exploding.

---

Dypok Thursday Jul 5 03:35 PM

Does anyone else see tuition sitting there on wheels?

---

barefoot serpent Thursday Jul 5 03:53 PM

[GWB]Oh Vlady, guess what -- now about that missle shield in eastern Europe...[/GWB]

---

theotherguy Thursday Jul 5 04:06 PM

Is it just me or does Putin remind you of Lee Greenwood?

---

Flint Thursday Jul 5 04:07 PM

He's proud to be an American, where at least he knows he's free?!

---

Griff Thursday Jul 5 06:00 PM

---

theotherguy Thursday Jul 5 06:01 PM

A friend used to work for Lee, and, the way I understand it, he pretty much was a tyrant. So, we may be on to something here.

---

theotherguy Thursday Jul 5 06:03 PM

Also, I think the laser on the front of the plane is phallic.

---

barefoot serpent Thursday Jul 5 06:13 PM

could be...

---

xoxoxoBruce Thursday Jul 5 10:03 PM


---

Undertoad Thursday Jul 5 10:51 PM

Well, my friend Bill once said, considering engineering for a defense contractor, "I'm not really comfortable developing systems to kill people. On the other hand, holy crap, is some of that stuff cool as hell or what."

---

xoxoxoBruce Thursday Jul 5 11:20 PM

Clean room, suits, gloves, masks.... then hang it on the front of a 747 doing hundreds of miles per hour... go figure.

---

Coign Friday Jul 6 11:01 AM

An image I suggested got used. I am so happy!!




For my acceptance speech I would like to thank my family, my post-production editor, my publicist, my ferret Kiki, and to all those little people who did all my work for me so I could surf the web everyday from 8 to 5.

I DID IT EVERYONE! YOU LOVE ME, YOU REALLY LOVE ME!!!!

---

xoxoxoBruce Friday Jul 6 06:05 PM

You do realize on Monday it'll be, 'what have you done for us lately', don't you?

---

RellikLaerec Friday Jul 6 08:17 PM

I heard somewhere from anonymous sources that they have something like this mounted on destroyers that are capable of taking a target at 600 miles! Don't know if i should feel safer or not with this. At least it's on our side..... for now...

---

Weird Harold Friday Jul 6 09:33 PM

---

zippyt Saturday Jul 7 01:24 PM

" lazer beams in my dreams "

---

Kitsune Monday Jul 9 11:15 AM

I can't wait for them to aim it at the dean's house that has a giant JiffyPop in it.

---

Nikolai Monday Jul 9 11:45 AM

Just reminds me of family guy where at the UN the UN joke about giving Peter a satellite that can scratch his ass from space. Now they pretty much have that. :d

---

xoxoxoBruce Monday Jul 16 05:42 PM

Quote:

Originally Posted by Boeing

Airborne Laser passes critical test
In recent flight tests, the Airborne Laser successfully accomplished the basic
steps required to complete a fire control loop (sequence of events) to engage a
boosting ballistic missile, Lt. Gen. Henry A. "Trey" Obering, Missile Defense
Agency director, announced Monday. (Pam Keeton photo)The Airborne Laser on June
29 at Edwards Air Force Base, Calif., successfully accomplished the basic steps
to engage a boosting ballistic missile.
Lt. Gen. Henry A. Obering, Missile Defense Agency director, said Monday that the
exercise included the first in-flight propagation of the Surrogate High Energy
Laser through the modified 747-400 ABL aircraft's nose-mounted turret. The ABL
aircraft used its infrared and beam-control sensors to demonstrate a key system
capability -- to successfully find and track a target aircraft used for the
test.
Completing the basic fire control process of an engagement sequence marks a
significant step in the rapid technical and engineering progress achieved by the
program over the past three years, the agency said.
During the test, the modified Boeing 747-400 first used its infrared sensors and
beam control sensors to successfully find and track "Big Crow," the target
aircraft used for the test.

On this initial test of the SHEL, ABL made use of beacon lasers installed on Big
Crow to simulate the targeting return it would receive from a live missile
target.

The SHEL is a low-power laser used to simulate the characteristics of the
high-energy Chemical Iodine Oxygen Laser that will be installed on ABL beginning
later this year. The high-power laser has completed more than 70 successful
firings during ground testing.

In subsequent tests planned for later this month, the ABL will conduct a
complete engagement series using its tracking illuminator laser, its atmospheric
compensation laser, and the SHEL. The SHEL was installed on the ABL aircraft
during aircraft ground modifications and is an important component to test ABL's
ability to compensate for atmospheric distortions and deliver sufficient power
on target to destroy a boosting ballistic missile shortly after it is launched.

In other words, it don't work yet and won't for a while.

---
Your reply here?

The Cellar Image of the Day is just a section of a larger web community: a bunch of interesting folks talking about everything. Add your two cents to IotD by joining the Cellar.