Undertoad Monday Jul 2 08:22 AM

July 2, 2007: Cave cottage



It's the Monday Neatorama collaboration image!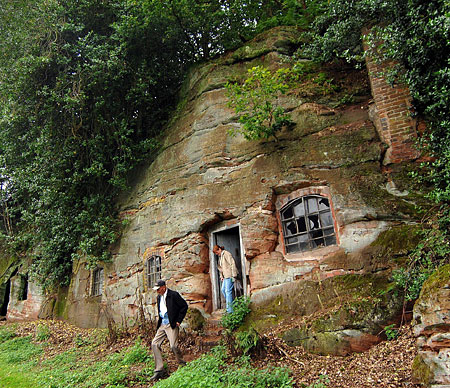 The UK Metro has this item, which is hereby presented for your light amusement and curiosity. Now this is the stuff of fairy tale stories about rabbits and elves and such. It turns out that in the 1940s, someone saw fit to actually create a living quarters in this four-room cave carved out of sandstone. It's not clear whether nature or the resident did the hard carving work, or whether the resident just worked at putting up amenities like windows and such...

The hills outside Wolverley, Worcestershire, have had eyes.

They are auctioning it off for L25,000, but I guess they expect it to be more of a museum piece than an actual, livable cave. Without running water, electricity, or anything else really, the town council is not expected to "deem it habitable".

Still, perhaps Britain's immigrant al Queda wannabes would like to recreate the Afghanistan quarters.

Be sure to visit our friends at Neatorama for more neato items all the time!

---

monster Monday Jul 2 08:49 AM

Love it. Want it. Have no idea what I would do with it.

---

Spexxvet Monday Jul 2 09:07 AM

---

Coign Monday Jul 2 10:58 AM

Looks like that habitat is in pretty rough shape though. Broken windows, no real walkway up to it, need to replace the front door. If the exterior looks like that I am guessing the inside must be a dump.

But hey, I already live up in the mountains and we have a local community that is completely off the grid called Fulford so living without water or electricity is not that weird to me.

http://www.peaktopeak.com/colorado/l...locationid=178

There are about 5-7 houses up there and in the winter time the place is only accessible by snowmobile. People who live up there park their vehicles at about 7,000 feet at a shared parking lot and then take their parked snowmobile up the remaining 1,000 foot elevation to get home. Even in the summertime you need a vehicle with some clearance to make the trek up the dirt road there.

---

odie number seven Monday Jul 2 10:58 AM

All it needs are some window treatments and it will be brand new! What a jem.

---

RellikLaerec Monday Jul 2 02:11 PM

This must be where they get the phrase "living under a rock" from

---

rkzenrage Monday Jul 2 02:16 PM

I could run water and electricity in there.

---

axlrosen Monday Jul 2 03:37 PM

UT, if this is not the second in an entire week of alliterative titles, I will be sorely disappointed.

---

glatt Monday Jul 2 03:44 PM

The challenge has been made!

---

xoxoxoBruce Monday Jul 2 07:33 PM

Going to have to buy a heavy duty dehumidifier. I wonder if if was built when the Germans were bombing England?

---

Sheldonrs Monday Jul 2 10:50 PM

Well it worked for the Flintstones.

---

seakdivers Wednesday Jul 4 01:40 AM

oh..my...god... I wantthatsobad!!!!

---

SPUCK Wednesday Jul 4 05:56 AM

What you can't see is the 8 lane freeway that's just to left of the frame. The 8 lane freeway in front of the refinery.

---

CzinZumerzet Wednesday Jul 4 01:54 PM

The Rock Cottage was sold today by auction, for one hundred thousand pounds, to the woman who's father lives just across the way and who has bought it in order to prevent its being developed into a cute holiday home. She is going to do nothing with it. Absolutely nothing. I love it!

---

rkzenrage Wednesday Jul 4 05:29 PM

What would be wrong with a holiday home?

---

limey Wednesday Jul 4 05:48 PM

erm ... holiday homes. That can be taken two ways here in Blighty.
1 A home for rental to lots of people wishing to holiday there, more properly referred to (IMNSHO) as a letting cottage, or, the greater evil
2 a "home" that is lived in for two or three weeks a year by people who think of it as their "holiday home" but don't live there long enough for the house to be a "home", or for the community in which the property is situated to feel the benefit of actual residents or even temporary residents (see 1 above).
In this case, 1 above seems preferable to 3 "buying a house to stop anyone else doing anything with it", the worst variation. I live in a tourist/holiday area where the owner of a type 2 holiday home has bought the house next door so that his two-four week holiday here is not impinged upon by neighbours of any sort. This reduces the housing stock for those of us that want to live and WORK here, providing the services that make this guy's holiday home so nice to be in for a few weeks a year) ... I'm probably drunk and this probably doesn't make sense ...

---

rkzenrage Wednesday Jul 4 05:50 PM

So this guy made it the third kind of home, one that no one gets to enjoy.

---

xoxoxoBruce Wednesday Jul 4 06:14 PM

Does anyone have the Google Earth coordinates?

---

limey Friday Jul 6 04:21 PM

---

rkzenrage Friday Jul 6 08:56 PM

Again, I could make it so (at least under my tutelage, now).

---

Sundae Saturday Jul 7 03:00 AM

Effectively it's a land deal - 5 acres of woodland is sold "with" the property.
Bearing in mind the cave is barely habitable, I would suggest the lady bought it to keep both the land and the unusual dwelling out of the hands of developers.

---

Aliantha Saturday Jul 7 03:10 AM

People live in caves over here. There are some brilliant ones. I think there's been pictures of them on this site before, but I'll get some pics if anyone wants to see.

---

DanaC Saturday Jul 7 10:56 AM

I'd like to see!

---

rkzenrage Tuesday Jul 10 07:01 PM

Spain has some too.
There is a whole cave town in Australia near an old opal mine.

---

Nikolai Tuesday Jul 10 08:22 PM

THey say that place is so bad you cant live in it because theres no water gas eletricity etc... but havent we lived for hundreds of years without those "basic necessities" for hundreds of years?

---

Cloud Wednesday Jul 11 01:47 AM

not no water, no.

---

Nikolai Wednesday Jul 11 06:38 AM

We lived without water being pipped to our houses is what I mean cloud, Im not silly enough to go as far as we couldnt live without water lol

---

Griff Wednesday Jul 11 07:48 AM

I carried water while building my house. We were totally used to it and found ourselves thinking how wasteful we were when we got the well.

---

xoxoxoBruce Wednesday Jul 11 08:55 AM

Been there, done that. Electricity for a couple months, too.

---

Griff Wednesday Jul 11 08:57 AM

---

xoxoxoBruce Wednesday Jul 11 09:10 AM

Yes. I wouldn't call it desirable but certainly doable.
My grandparents didn't get electricity or an indoor toilet until I was 4 and had gotten along fine for 50 odd years.
My folks got along with a pitcher pump and outhouse for a year... and kerosene lamps for a couple months.
Anything more than a cave and a brontosaurus bone to gnaw, is luxury.

---

Coign Wednesday Jul 11 12:58 PM

If you didn't have electricity where did you plug in your PC? I freak out when my Internet goes down. I could not live without electricity.

---

xoxoxoBruce Wednesday Jul 11 04:11 PM

I guess Red Dawn wasn't about you.

---

CzinZumerzet Thursday Jul 12 06:11 PM

The house I grew up in, two up two down, had neither electricity, gas, sewerage services or water. We had a 'wash-house' in the back garden with a hand water pump delivering cold hard water, and a 'privy' at the end of the garden shared by three other cottages. The wash house also housed a copper, literall a big water boiloer which we lit a fire underneath on washday in order to boil wash the whites.
My mother cooked on a range fuelled by coal and wood and we used oil lamps, candles and later, gas mantles for lighting. That's coal gas not the sort cars run on. We had a pressed earth floor which I recall being so cold in winter... And no we didn't glow with rude good health, I seem to think we had perpetual runny noses and chilblains.
Makes you think about how very many advances there've been of the purely domestic variety which are now commonplace. I don't want to be without my satellite link or my wireless internet but things like hot water and phones and a flushing indoor loo are just basic aren't they.

---

SPUCK Friday Jul 13 05:59 AM

CzinZumerzet: Interesting story! Where did you grow up?

---

Coign Friday Jul 13 11:26 AM

---
Your reply here?

The Cellar Image of the Day is just a section of a larger web community: a bunch of interesting folks talking about everything. Add your two cents to IotD by joining the Cellar.