Undertoad Wednesday Jun 20 08:19 AM

June 20, 2007: Albino fawn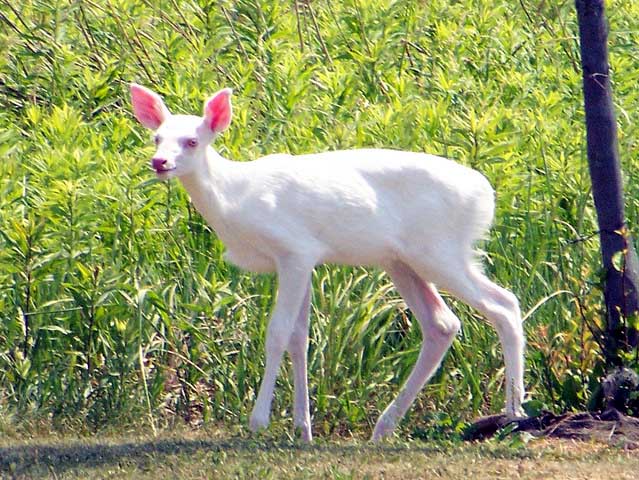 We've had several albinos recently so why wait until Friday? XoB finds this beaut at Weather Underground; there is no further information on it, but hey, what would there be?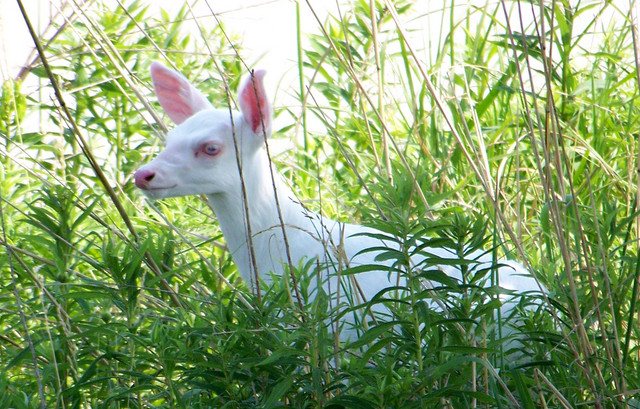 ---

piercehawkeye45 Wednesday Jun 20 09:01 AM

Sad thing is that it won't live long.

---

artemis05 Wednesday Jun 20 09:49 AM

its beautiful and yet creepy...

partially reminds me of malachi from children of the corn, but then again, it is such an awesome example of the sporadic (sp?) way genes mutate

rock on little freak deer! rock on

---

monster Wednesday Jun 20 10:03 AM

---

skysidhe Wednesday Jun 20 10:24 AM

how beautiful!

Well if it isn't going to live long then it needs to be moved to a safe wildlife park.

Probaby the powers that be will just rather let nature take it's course.

---

rupip Wednesday Jun 20 10:38 AM

nice
but
the albino hedgehog is the best!

http://cellar.org/showthread.php?t=14151

---

xoxoxoBruce Wednesday Jun 20 10:44 AM

It's been hanging around a campground at Clinton Lake, IL. Maybe somebody will adopt it... or bar-b-que it.

---

frankchicarelli Wednesday Jun 20 10:52 AM

has anyone else noticed that deer are becoming less timid lately? Many of them don't even run away anymore when you encounter them. They just stand there for a while and then slowly walk away. And there are the turkeys that just sit there in the middle of the highway and don't move.

---

wolf Wednesday Jun 20 11:56 AM

I like the fact that the deer seem to be starting to figure out cars ... not 100%, but better than they have been.

---

odie number seven Wednesday Jun 20 12:52 PM

I bet it does great during the winter.

---

ferret88 Wednesday Jun 20 01:21 PM

Oh sorry wrong thread.

---

Silazius Wednesday Jun 20 01:58 PM

Mmmmmm...

...white meat.

---

xoxoxoBruce Wednesday Jun 20 02:00 PM

Welcome to the Cellar odie number seven.

---

SPUCK Wednesday Jun 20 06:39 PM

Ah man... Godzilla won't have ANY problem spotting that bugger.

---

Sheldonrs Wednesday Jun 20 11:50 PM

Doh! A deer. A real pale deer.

---

monster Thursday Jun 21 12:05 AM

very poor

---

Gravdigr Thursday Jun 21 12:49 AM

Mmm...Somebody slay it...I'll set the potatos, onions, and carrots to boiling!

---

HungLikeJesus Thursday Jun 21 11:01 AM

Dos Equis, a Mexican beer,
Ray, my friend who buys me beer,
Me, the guy Ray buys beer for,
Fa, a long way to the bar,
So, I'll have another beer,
La, la la la lots of beer,
Tea, f*** no, I want some beer,
Which will bring us back to doe, doe, doe ...
---

jester Thursday Jun 21 12:55 PM

i received these from someone a while back - it would be really odd if it happened to be the same one -

Attachment 13279

Attachment 13280

---

Shawnee123 Thursday Jun 21 01:12 PM

Those pics circulated last year, I think. I've never seen the one UT posted.

http://www.snopes.com/photos/animals/albinodeer.asp

---

chrisinhouston Thursday Jun 21 01:48 PM

---

chrisinhouston Thursday Jun 21 01:54 PM

This one looks like he's left a huge stain on the carpet!

---

xoxoxoBruce Thursday Jun 21 06:02 PM

---

bluecuracao Thursday Jun 21 08:21 PM

---

zippyt Friday Jun 22 11:58 PM

Doh! A deer. A real pale deer.




---

Sheldonrs Saturday Jun 23 02:09 AM
Great job, better pay and better hours but no time for the net at work. :-(

---

TheMercenary Saturday Jun 23 03:14 PM

Wonder what it would look like mounted on my trophy wall?

---

Sheldonrs Saturday Jun 23 04:09 PM

---

Sundae Saturday Jun 23 07:46 PM

Hey Sheldon! Missed you (esp in IoTD)

---

Sheldonrs Sunday Jun 24 01:31 AM
Thanks! I miss you and coming here. The one bad thing about my new job.

---

xoxoxoBruce Sunday Jun 24 01:08 PM

When your contract comes up for renewal, negotiate the Cellar as a benefit.
Our benefit.

---

mitzy259 Monday Jun 25 01:07 PM

---

xoxoxoBruce Monday Jun 25 03:04 PM

Welcome to the cellar, mitzy259.


You said the fawn is protected... is it a state park or something like that?

First, how close did you get to take those pictures?
Secondly, how did you find us?
Oh, and kudos on two fine shots.

---

mitzy259 Monday Jun 25 03:13 PM

---

xoxoxoBruce Monday Jun 25 04:25 PM

There is a rule/law against hunting albinos? In the park or state wide? I've never heard of that, I wonder if others states do it?
If you get more shots, come back and post them. We'd love to see this deer grow up.

---

barefoot serpent Monday Jun 25 05:26 PM

Now an albino mountain goat in Italy.

---

mitzy259 Monday Jun 25 05:28 PM

In Illinois it is illegal, if you google hunting albino deer it will give you a listing. BTW that is how I found my picture on this site. If I take anymore I will post them, Thanks.

---

xoxoxoBruce Monday Jun 25 06:55 PM

That would be great, thanks a million.

---

cjbutton Monday Jun 25 10:55 PM

White deer can't jump

The Seneca Army depot in upstate NY is filled with white deer. Everybody still jokes..."they're in the fence 'cause everyone knows white deer can't jump." Seneca is famous for neither confirming or denying nuclear or chemical weapons storage - and the deer aren't telling.

---

SPUCK Wednesday Jul 4 06:07 AM

Man.
Such a nice white canvas...

Where's my tie-die kit.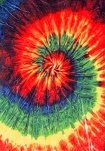 ---
Your reply here?

The Cellar Image of the Day is just a section of a larger web community: a bunch of interesting folks talking about everything. Add your two cents to IotD by joining the Cellar.