Undertoad Thursday Jun 14 03:19 PM

June 14, 2007: guy dresses as croc to study them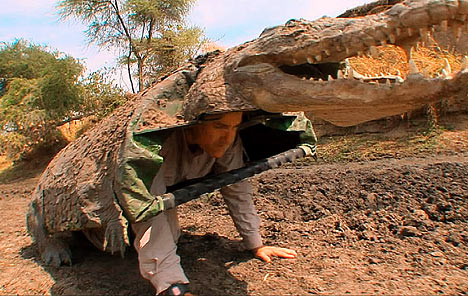 xoxoxoBruce forwards this Daily Mail article which explains that the gentleman above, Dr. Brady Barr, clearly insane, has built this croc-like-box to study a group of Nile crocs.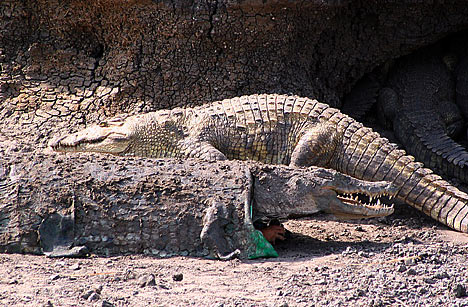 ---

Shawnee123 Thursday Jun 14 03:24 PM

This made me laugh. Not very realistic, though. Here's a better costume:

---

xoxoxoBruce Thursday Jun 14 03:36 PM

I don't think that outfit would have helped him much, if the Mama Hippo had decided to stomp him into the Crock poo.

---

elSicomoro Thursday Jun 14 03:40 PM

It looked and sounded ridiculous to me at first, but now I'm impressed with the construction of the replica and Barr's plan.

---

Spexxvet Thursday Jun 14 03:42 PM


Oh..... Croc costume.

---

Shawnee123 Thursday Jun 14 03:43 PM

lol, Spexx. I think I"m going to go with that idea. I'll get me one of those costumes you posted, then go live amongst them so I can study them.

---

Spexxvet Thursday Jun 14 04:06 PM

---

HungLikeJesus Thursday Jun 14 04:21 PM

He has a crocbox, but if he has to pee he'll need a crocpot.

---

Shawnee123 Thursday Jun 14 04:47 PM



---

artemis05 Thursday Jun 14 04:59 PM

it reminds me of jim carey in ace ventura (2?) when he was in a rhino costume and it overheated so he had to climb out its ass... hahaha.... delicious poop jokes

---

Cloud Thursday Jun 14 05:02 PM

no, reminds me of the faux-gorilla in Trading Places.

---

BigV Thursday Jun 14 05:30 PM

If this had been the Friday IoTD, we could be swapping recipies for the "other" other white meat.

Clearly insane--understatement of the day. Did he not get the memo on how kevlar works? Um, crushing forces (well over 2000 pounds) are not affected in any way by kevlar. Tearing forces, meh, maybe. So he'll be mashed to a bloody pulp, but he'll only make one puddle. Adorned with hippo poo. Sheesh, this guy gives crazy people a bad name.

---

Spexxvet Thursday Jun 14 05:47 PM

I hope one of the male crocs doesn't mate with him.

---

Shawnee123 Thursday Jun 14 06:11 PM

He loves him. He wants to date him, and kiss him, and have a million babies.

---

Gravdigr Thursday Jun 14 07:12 PM

---

artemis05 Friday Jun 15 03:08 AM

i bet the crocs know its just a dude in a suit

croc 1: oh jeez... don't look now. here comes that poser
croc 2: i swear, i'm going to go over there and kick his ass!
croc 1: no no... just leave him be... hey, let's mess up his data!
croc 2: haha! yeah, let's go try to dance ballet with the hippos.

---

Shawnee123 Friday Jun 15 08:51 AM

---

xoxoxoBruce Friday Jun 15 04:16 PM

Why? Happens all the time.

---

richlevy Friday Jun 15 08:02 PM

All I could think of was Ace Ventura and the fake rhino.

---

HungLikeJesus Friday Jun 15 08:34 PM

LJ, is that what you mean by tail posting?

---

rkzenrage Saturday Jun 16 07:18 AM

I wanna' see him do it with a rhino.

---

Yznhymr Saturday Jun 16 06:17 PM

I can't help but thnk of this scene from Trading Places...imagine this but with an alligator!


---

Cloud Saturday Jun 16 06:22 PM

I believe I said that already!

---

magilla Sunday Jun 17 09:22 AM

And then the male started to sing to the female. With these low-pitched croaking sounds.

And they didn't have a tape recorder.

All the professor said was, "It's time for beer."

Rule Number One of Animal Behavior: The animal will do what it wants to do, when it wants to do it, in the manner you least expect it to.

Chris

---

Elspode Sunday Jun 17 05:32 PM

---

xoxoxoBruce Sunday Jun 17 09:48 PM

And the costume wouldn't cost her a dime.

---

skysidhe Monday Jun 18 11:18 PM

I saw this the other morning. Great article! thanks!

---

classicman Saturday Jun 20 03:03 PM

Speaking of Dr. Brady and Hippos....

[/quote]

---

lumberjim Saturday Jun 20 03:24 PM

jim carey pretends to be a rhino baby


---
Your reply here?

The Cellar Image of the Day is just a section of a larger web community: a bunch of interesting folks talking about everything. Add your two cents to IotD by joining the Cellar.