Undertoad Friday Jun 1 08:22 AM

June 1, 2007: Three-year-old swims with whale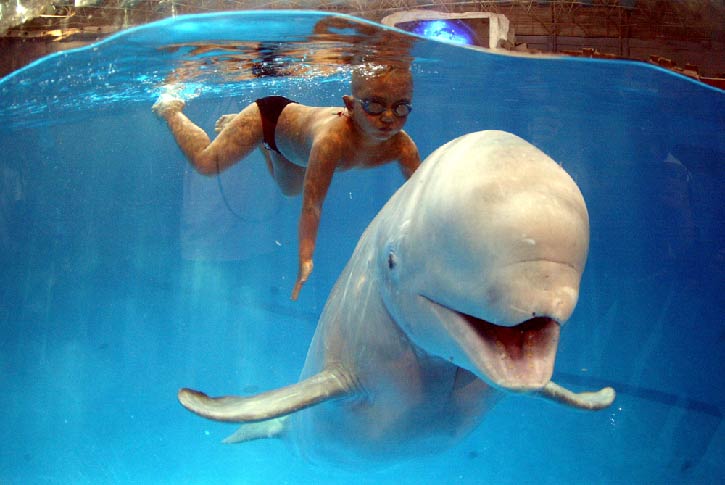 The swimming boy is Yang Yang - he's three, and he's been swimming since he was one. The beluga whale is all white... it's the one on the right. Together they swim in China to mark June 1 as the International Children's Day.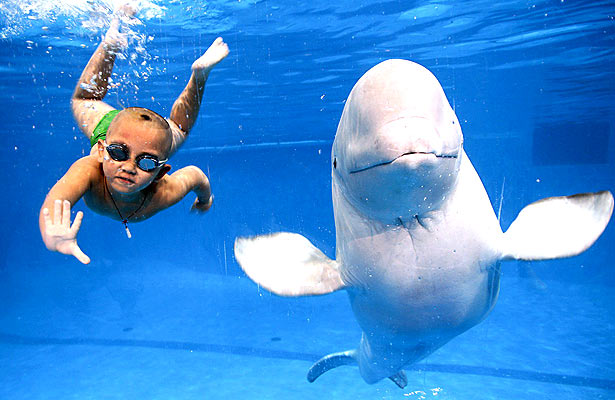 Teh boy is a natural, but the whale is a stronger swimmer.

---

piercehawkeye45 Friday Jun 1 08:25 AM

---

Aliantha Friday Jun 1 08:25 AM

It looks like something out of a childrens tv show.

Lucky Yang Yang is from China and not Japan or he might be turned into play lunch.

---

Beestie Friday Jun 1 08:32 AM

Well that's an interesting way to enforce China's one kid per couple rule.

---

ferret88 Friday Jun 1 08:43 AM

I thought Yang Yang was a giant panda...

---

Aliantha Friday Jun 1 08:47 AM

How come he's got green togs in one pic and black togs in the other?

He must have had two swims that day.

---

Beestie Friday Jun 1 08:57 AM

---

Aliantha Friday Jun 1 09:03 AM

Dunno. I think I'm waiting for the midyear sales to start so I can rejuvenate my own lingerie drawer. That could be it.

Or...I could just be responding to the threads...

Or, maybe I'm horny.

---

Cloud Friday Jun 1 09:50 AM
I noticed that too!

---

BigV Friday Jun 1 11:11 AM

It must be a chick thing.

I was organizing the digital photos (big job >60 thousand photos.. eerrrrg) and came across a set of DaughterofV and her cousin taken about six years ago. They were working on a science project, a very involved science project that had to be built outside because of its size and complexity. There was fire, power tools, safety glasses and work gloves. They built an incredible edifice and I took 20-30 pictures of the process.

She looked so cute, so young. Some were funny with her holding the propane torch with one hand and her hair back from her face with the other.

Upon showing the recently rediscovered set of pics to her, her very first reaction was "I don't remember those pants."

wtf?

---

Cloud Friday Jun 1 11:20 AM

LOL!

---

Trilby Friday Jun 1 01:39 PM

Killer!

---

Trilby Friday Jun 1 01:40 PM

PS for Flint: the baby whale is smiling, you fool. SMILING COZ HE'S HAPPY!!!

---

Cupper Friday Jun 1 01:47 PM

I saw this in the newspaper this morning

, was wondering if id see it here to.

And i must say, the kids a excellent swimmer, reminds me of a young asian, Thorpedo!

---

xoxoxoBruce Friday Jun 1 01:59 PM

---

Flint Friday Jun 1 02:13 PM

NO I WILL NOT MAKE OUT WITH YOU



---

Trilby Friday Jun 1 04:43 PM

You won't make out with me? Why not? Coz you're doin' it with Dagney?

You cheatin' bastard!

---

artemis05 Friday Jun 1 05:33 PM

i've swam with barracudas, but not whales or dolphins... i'm jealous.

i had surgery today and tried to convince the surgeon to take a picture of my incisions.... *sigh*

but to no avail.

---

piercehawkeye45 Friday Jun 1 08:18 PM

---

monster Friday Jun 1 08:23 PM
Cool name -my 5yo is called Thor, also swimming since a toddler. I think he has a new nickname....

---

busterb Friday Jun 1 09:07 PM

OK. Folks pick one for the grill. Sick yeah I know, but I'll not let someone beat me to the post.

---

lizzymahoney Friday Jun 1 09:33 PM

Well I was looking at that whale and thinking that would be a hella lot of caviar, only I knew that was a really dumb joke.

So, given that, I'd pick the longpig for the grill.

---

Karenv Saturday Jun 2 12:43 AM

I took my kid swimming with dolphins, and the dolphins prefer children to adults. They interacted more with the children, and came closer. (It is very weird to be swimming underwater and see a dolphin come up to your child.) I will bet that whales are the same way.

---

xoxoxoBruce Saturday Jun 2 01:09 AM

When you see a group of critters, aren't you attracted to the little ones?

---

artemis05 Saturday Jun 2 03:58 AM

---

DucksNuts Saturday Jun 2 06:57 AMThorpedo is the nickname of Ian Thorpe (Thorpie), our wicked, hunky (well, he was...and REAAAALLLLYYY big...feet) world arse kicking swimmer

---

milkfish Saturday Jun 2 10:13 AM

I like to think that every time I go to the seaside, I am swimming with dolphins. Dolphins, somewhere in that ocean.

By the same token, everybody at the shore is taking a dip in whale poop.

---

monster Saturday Jun 2 10:12 PM

---

xoxoxoBruce Tuesday Jun 5 09:06 PM

Revisited.

---

monster Tuesday Jun 5 09:17 PM

Well that either begs a headline:

"pedophile whale arrested"
"human child shape seen in dolphin snot. The Baby Booger is not up for auction on Ebay"

or to become a thread bomb...

I'm sure all y'all can do better

---

xoxoxoBruce Tuesday Jun 5 10:34 PM

Pssst... not dolphin, whale.

---

monster Tuesday Jun 5 10:37 PM

---
Your reply here?

The Cellar Image of the Day is just a section of a larger web community: a bunch of interesting folks talking about everything. Add your two cents to IotD by joining the Cellar.